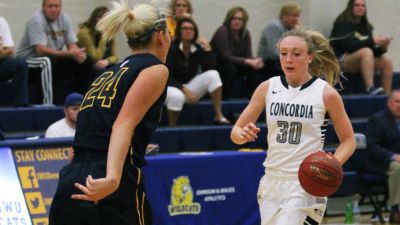 DENVER, Colo. – Though its biggest star from last season's national title team has graduated, No. 1 Marian University (Ind.) still proved formidable. In a season-opening showdown, the 14th-ranked Concordia University women's basketball team got outgunned, 72-64, by the Knights in a contest that took place on the Johnson & Wales University (Colo.) campus on Friday afternoon.
The outing marked the first season-opening loss for 11th-year head coach Drew Olson's program since 2010. The Bulldogs made a late push on Friday, but failed to overcome their 40.4 percent (19-for-47) shooting and 25 turnovers.
"We did not play well enough to beat a great team, and they're a great team," Olson said. "It's those little things that really cost you. We didn't win the hustle plays. There were a couple loose balls late that they got. The real thing was the turnovers. We had 21 turnovers in the first three quarters. You're just not going to beat teams if you do that. We just didn't do the little things to win."
A methodical 12-2 run that began in the third quarter and stretched into the fourth allowed the Bulldogs to cut what had been a 20-point deficit in half. But Jessica Almeida delivered with two clutch buckets as the biggest thorn in Concordia's side. She drilled a right-wing trey with just under four minutes left and then banked in a dagger of a runner in the lane with under a minute remaining. The ladder bumped the Marian lead to nine points and essentially sewed up the game.
The Bulldogs clawed back into the contest by tightening the screws after a leaky first quarter defensive effort. Over the final two periods, the Knights made only 10-of-31 (.323) shots from the floor and went through a scoring drought that lasted more than seven-and-a-half minutes. A whirling layup by sophomore Quinn Wragge with 1:14 left gave Concordia life (67-60 deficit) before Almeida dashed its hopes.
Wragge and fellow 2015-16 all-GPAC honoree Mary Janovich provided the most production. The team's leading scorer as a freshman last season, Wragge piled up 17 points, five rebounds and two steals in 29 minutes of action. Meanwhile, Janovich went for 14 points, six rebounds and two thefts.
Olson made use of all 14 players that traveled to Denver. Four of them made their debuts as Bulldogs. That list included Philomena Lammers, who notched 12 points, six boards and three blocks in her first career collegiate game. Midland transfer Dani Andersen also donned the Concordia uniform for the first time. Her only points came on her first shot attempt – a trey that gave the Bulldogs an early lead.
"Credit them. They didn't play a lot of bodies," Olson said. "They had a couple kids play big minutes. I thought to myself that we could wear them down, but I could tell after that first quarter it wasn't going to be them that was going to wear down. They were well conditioned and they were ready to go."
Marian, which knocked off Southern Oregon University in last season's NAIA Division II national title game, distanced itself from Concordia with an 8-0 third quarter run that bulged the lead to 20. The spurt was capped by two Sarah Corbin layups. Almeida's 15 points led the way for a Knight team that placed five players into double figures in scoring.
The Bulldogs will again shoot for their first win of the season when they return to the court in Denver on Saturday. Tipoff versus host Johnston & Wales University is set for 5 p.m. MT / 6 p.m. CT. The Wildcats went 13-18 last season under head coach Jeff Neal. A live webcast will be available HERE.