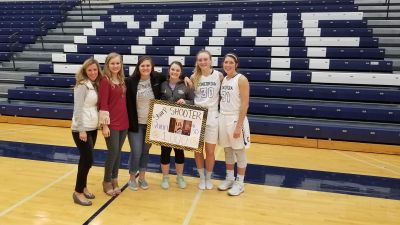 SEWARD, Neb. – The Concordia University women's basketball team got the entire band back together on Wednesday night (Nov. 29). The results were about what one would have expected in a GPAC conflict between the nation's second-ranked team and another that still has yet to claim victory this season. The Bulldogs poured in a preposterous 39 points in the opening quarter on the way to a 114-56 rout of visiting College of Saint Mary.
Twelfth-year head coach Drew Olson's squad, which moved up a spot to No. 2 in this week's national poll, motored to 8-0 overall and to 4-0 in conference play. Junior Quinn Wragge and company did not take the Flames lightly.
"Coach did a good job leading up to this," Wragge said. "Going into the game today, he said we need to focus on us. What can we do to get better today? It's not about the score. It's about whether we get better or not. That was our emphasis going into the game."
The only drama centered upon how long it would take Wragge to join the program's 1,000-point club. The answer: not long. Red hot right out of the gate, the Bulldogs obliterated any dreams the Flames had of ending the home win streak. Needing seven points to notch 1,000 for her career, Wragge cracked quadruple digits with a layup at the 2:16 mark of the opening quarter.
Concordia essentially named the score by doing as it pleased on the offensive end. It racked up 11 3-point field goals in the opening 20 minutes. Philly Lammers nearly had a double-double in the first half (13 points, nine rebounds) and finished with 19 points and 15 rebounds in 17 minutes of action. The Bulldogs shot 49.4 percent (44-for-89) for the game. What could Olson really nit-pick about on this night? Well, his team did allow 19 points in the opening quarter.
Otherwise, the night went as scripted. Wragge (10 points, five assists, four steals) did not disappoint friends and family members who came with signs or even painted their chests in honor of the career milestone.
"It was a little bit of pressure but at the same time, I was like, 'It's fine. Just go out and play your game. It's going to come,'" Wragge said. It was a lot of fun though. The people were awesome."
This was the first time this season that Olson could unleash his full arsenal upon an opponent. Reigning GPAC Defensive Player of the Year Mary Janovich sat out the first six games due to injury and Wragge missed last week's blowout of Mount Marty. Regardless of the lineup, Concordia has overwhelmed nearly every opponent, with the exception of close road victories over No. 8 Dakota Wesleyan and No. 9 University of Jamestown.
The wide spreads have allowed for playing time up and down the roster. Senior Sydney Feller came off the bench for the first time this season and lit up from deep (4-for-5 from beyond the arc) and tallied 14 points. Thirteen different Bulldogs found their way into the scoring column, including reserves Taylor Cockerill (10 points, five assists) and Colby Duvel (nine points, seven rebounds). As a team, Concordia knocked down 18 treys on 46 tries (39.1 percent).
It's been a struggle for College of Saint Mary (0-9, 0-4 GPAC), which has already played three ranked foes and another three "receiving votes" squads. Keona Cadore and Corryne Millett shared a team high with 12 points apiece on Wednesday.
The Bulldogs will hit the road on Saturday for a trip to Dordt (6-6, 2-2 GPAC). The matchup in Sioux Center, Iowa, is set for 2 p.m. CT. Concordia has won each of the last 10 meetings with the Defenders, who topped Mount Marty, 72-57, in Wednesday's action.