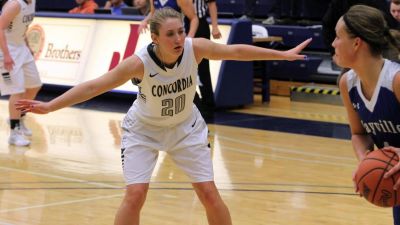 SEWARD, Neb. – A huge second half of the 2015-16 season helped propel freshman Quinn Wragge to first team all-conference recognition, as announced by the GPAC on Wednesday. Teammate Mary Janovich garnered second team all-conference laurels despite missing each of the last 13 games due to injury. Honorable mention selections were senior Becky Mueller and junior Shelby Quinn.
Wragge, a native of Crofton, Neb., has made herself comfortable in her first collegiate season. She leads Concordia in scoring (14.5), rebounding (4.5), steals (1.87), blocked shots (0.61), field goal percentage (.581) and minutes per game (27.0). Since Janovich's injury on Jan. 16, Wragge has averaged 18.2 points per game. On Feb. 6 she tallied a career high 29 points in a loss at GPAC champion Morningside. She was also named the MVP of the Concordia Invitational Tournament.
Few freshmen in program history have reached the heights Wragge has. She is the first rookie to lead the team in scoring since Concordia Athletic Hall of Famer Sarah Harrison did so in 2001-02. She joins a list of recent Bulldog freshmen to earn some form of all-conference recognition, including Janovich, the 2014-15 GPAC freshman of the year. Several freshmen during head coach Drew Olson's tenure received honorable mention all-conference: Katie Rich (2009-10), Kristen Conahan (2010-11), Bailey Morris (2011-12) and Mueller (2013-14).
Janovich has totaled 531 points over her first 53 games as a Bulldog. This season the native of Gretna, Neb., averaged 10.4 points, 2.9 rebounds, 2.7 assists and 1.9 steals per game and shot 53.8 percent from the field. She equaled a career high with 19 points in the win over Briar Cliff on Jan. 2. Her season was cut short when she suffered a torn ACL during practice on Jan. 18.
Mueller now has two honorable mention honors and a second team all-conference award to her credit. She currently ranks 22nd on the program's all-time scoring list with 1,048 career points. She eclipsed 1,000 points in the win over Northwestern on Feb. 13. This season the native of Elkhorn, Neb., is averaging 10.4 points, 4.3 rebounds, 1.1 assists and 1.0 steal while shooting 35.9 percent from the floor and 77.9 percent from the free throw line.
Quinn, who hails from Bellevue, Neb., has been cited with all-conference honors for the first time in her career. Quinn has taken over the point guard role this season while extending her consecutive games played streak to 89. She is averaging 7.5 points, 4.1 rebounds, 2.9 assists and 1.2 steals while shooting 35.8 percent from the field. She totaled a career high 18 points in the win at Doane on Nov. 24.
Ranked 17th in last week's national coaches' poll, Concordia now awaits today's announcement (March 2) of the field of national qualifiers. The Bulldogs expect to make their fifth-straight national tournament appearance and 15th in program history.