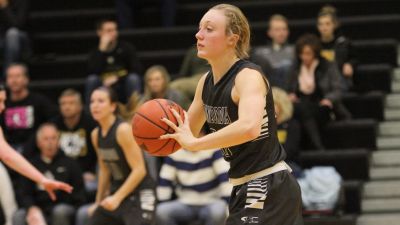 Few freshmen are asked to carry the load in the way that rookie Quinn Wragge has for Concordia women's basketball in 2015-16. Few freshman can dominate a game the way that the Crofton native can. Few freshman score 29 points on the road against the top team in the GPAC and then a couple weeks later chase down 18 rebounds.
Simply put by head coach Drew Olson after a late-season home win, "Quinn's phenomenal."
The lanky 6-foot product of Crofton High School uses her gazelle-like quickness to beat opponents for easy buckets in transition. She possesses the handles of a guard, impressive touch around the basket and a winning pedigree complete with three high school state titles to her credit. She's also mature beyond her years. Says Olson, "She's got a great demeanor. Nothing ever rattles her."
The cucumber cool Wragge is on track to become the first freshman to lead the team in scoring since Concordia Athletic Hall of Famer Sarah Harrison did so in 2001-02. Olson has asked her to play more minutes than any other Bulldog this season, and she's delivered in a big way.
"I wasn't expecting that actually," Wragge said of her hefty workload. "I wanted to come in and do my best and help this team in any way that I could. I wasn't really expecting myself to have this role. All the girls have been great helping me out and getting me to where I need to be. I'm thankful that they're supportive of me in this role."
Daughter of Mark Wragge, who tallied 1,821 career points at Doane, Quinn is the face of Bulldog basketball present and future. She's exactly what Olson's program needed after graduating a pair of All-Americans from last season's national runner-up team. Without Wragge, the season very likely would have ended in February.
Olson won an intense recruiting battle to land his next star, who turned down interest from several rivals, including Briar Cliff, Hastings, Doane, Morningside and Mount Marty.
"It was a really tough decision just as it is for everyone," Wragge said. "When it came to choosing Concordia, I loved Coach Olson most out of all the people that were recruiting me. I also really like track. When I came here they said I could do both which was a pull for me. And I didn't want to be that far from home. It's only two, two-and-a-half hours which isn't that bad. At first it seemed like it was so far.
"I liked coach. I liked the team and I liked the Christian aspect of it a lot. Those were my main reasons for coming."
Little did she know, she would become the immediate centerpiece of a fifth-straight national tournament team at Concordia. There would be no easing into her freshman season. That point was made especially clear when standout guard Mary Janovich went down with a torn ACL at practice on Jan. 18.
That news dealt a significant blow to a young team still in the learning process. That gave Wragge the opportunity to take off. It's your team now, kid. All she did was lead the Bulldogs to wins in eight of their next 11 games. During that stretch she dominated the Concordia Invitational Tournament, earning MVP honors. CIT provided another example of the team's resilience with it fresh off a rough home loss to Doane that saw Wragge go 3-for-9 from the floor.
Wragge purposely caught amnesia. It's like that game never happened. Her maturity shined through. She's believed all along despite the names that departed after last season and through the injury to Janovich.
"We knew things were going to be different. I think we all thought we could still be a good team," Wragge said. "Coach was really big on that. He was telling us that people aren't going to believe in you this year. He was like, 'let's go prove them wrong. I believe in this team and I hope that you guys do, too. Let's show them that we still can be that team.'"
Wragge and the Bulldogs enter the tournament in more of an underdog role in 2016. But don't expect the big-game tested Wragge to be intimidated. She showed she can flourish in hyper-charged environments like that of CIT and she's found comfort in her role as Concordia's top scorer.
"I'm definitely excited for (the national tournament)," Wragge said. "State is one of the best atmospheres. I think being (in Sioux City) will be like that. I'm glad that I have that experience. I also think that CIT helps a little bit. It's probably a little different, but it's the kind of crazy atmosphere where everyone is ready to go. I think it will be a lot of fun."