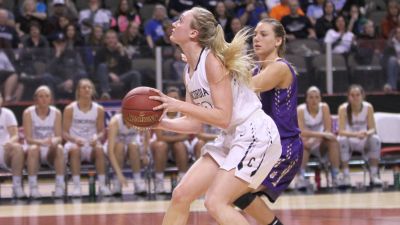 SIOUX CITY, Iowa – Through two outings at the national tournament, the second-ranked Bulldogs look like a team on a mission. Fifteenth-ranked Taylor University (Ind.) became the latest team to run into the brick wall in the form of Concordia's defensive pressure. Via Friday's (March 9) 71-50 win over the Trojans, the Bulldogs are moving on to the national quarterfinals for the 10th time in program history.
Twelfth-year head coach Drew Olson's squad has won each of its first two games at the Tyson Events Center by margins of greater than 20 points. Concordia has moved to 34-1 overall.
"I thought defensively we were fantastic with our effort," Olson said. "The ability to rotate in our press was really, really good. It just showed that we were the more athletic team. Both games (at the tournament) we've played really well defensively. We weren't bad on offense, it's just a little different environment and Taylor played a good defensive game."
The Bulldogs have suffocated national tournament foes Stillman College (Ala.) and Taylor, holding them to shooting percentages of 31.0 and 32.7, respectively. After playing straight up half-court man-to-man in the first round, Concordia and its press tortured the Trojans (24-11) into 29 turnovers, including one in which a Taylor player tossed the ball right at Mackenzie Helman for the easiest two points of her life.
Philly Lammers may have scored only eight points (3-for-5 shooting), but her activity in the passing lanes led to her nabbing eight of the team's 21 steals. Three Taylor starters were guilty of five or more turnovers. Those giveaways made for a second half runaway that featured a Bulldog lead as large as 27 points.
"We wanted to pressure and really have that game going up and down," said junior Quinn Wragge, the game's most effective offensive weapon. "They didn't play a lot of girls, didn't have a ton of depth and we did. We were like, let's use that. Let's get them tired. We had 20-some steals and were able to get points off that."
Concordia scored 34 points off turnovers to be exact. The mounting miscues and missed shots crushed the Trojans in the third quarter. Up 10 (32-22) at the half, the Bulldogs outscored Taylor, 26-13, in the third quarter that included 13 Wragge points. She went for 20 on the game. She was feeling it. She even nailed both of her attempts from 3-point range.
With the game out of hand in the final period, senior Brenleigh Daum became the fourth Bulldog this season to reach 1,000 career points. She ended the day at 1,003 after splashing in a pair of late triples. Daum has been a constant for 2014-15 through 2017-18 teams that have now produced a combined 125 wins, the most in program history for a four-year stretch.
"It's phenomenal to win that many games in this conference and some of the nonconference games we've had to win, too," Olson said. "It speaks volumes about what they're about. They're talented but they're also really tough kids that want to win."
Colby Duvel (11 points, seven rebounds, four steals) was the only Bulldog other than Wragge to reach double figures. Sydney Feller, Helman and Lammers added eight points apiece. Helman and Wragge both plucked three steals. Concordia shot 44.3 percent (27-for-61) from the floor.
Taylor standout Kendall Bradbury posted 18 points and 12 rebounds for the Trojans, the Crossroads League tournament runner up. Fourth-seeded Taylor advanced to the second round after claiming a 61-54 win over fifth-seeded Northwest Christian (Ore.) in the first round.
Now they meet again. Concordia and Jamestown have become friendly rivals even before matching up as conference opponents. Way back on Nov. 10, the Bulldogs rallied for a 91-83 overtime win over the Jimmies in Jamestown. Though star guard Bryn Woodside has been limited by injury, eighth-ranked Jamestown looked sharp while pummeling No. 9 Indiana Tech, 82-63, early on Friday morning. Saturday's quarterfinal tilt is set to tip off at 3 p.m. in will be the final in the Liston Bracket.