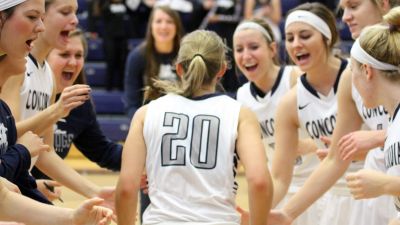 SEWARD, Neb. – For the second time in the history of the Concordia Invitational Tournament, Walz Arena will serve as the host for the grand event that is now in its 66th year. The Bulldog women's basketball team cruised past Concordia-Wisconsin, 75-53, in last season's CIT championship tilt in River Forest, Ill. Blackboard and Chartwells are sponsoring this year's CIT.
Head coach Drew Olson's squad will take the floor at 6 p.m. on Friday in the third of four games on CIT's opening day. CUNE will match up with Concordia-Wisconsin in the opening round. All four men's and all four women's games will be streamed live via the Concordia Sports Network. Bulldog games will also be carried live by 104.9 Max Country with Tyler Cavalli calling the action.
Wednesday vs. Hastings: CIT is always meaningful for the Bulldogs, but Wednesday's contest also carries a lot of weight. Olson's bunch hosts No. 7 Hastings (18-4, 11-2 GPAC) at 6 p.m. CT on Wednesday in a battle between rivals that currently occupy the top-two spots in the GPAC standings. The Broncos were upset at home, 76-69, by 25th-ranked Northwestern in their most recent outing. On the other hand, Concordia steamrolled No. 11 Morningside, 90-60, over the weekend, pushing its winning streak to 20. It's been more than a year since the Bulldogs and Broncos last meeting, which resulted in a 75-72 CUNE victory in Seward.
2017 CIT SCHEDULE
Friday, Jan. 27 (all times Central)
1 p.m. - Ann Arbor vs. Chicago (women)
3 p.m. - Ann Arbor vs. Wisconsin (men)
6 p.m. - Nebraska vs. Wisconsin (women)
8 p.m. - Nebraska vs. Chicago (men)
Saturday, Jan. 28
Noon - Women's consolation game
2 p.m. - Men's consolation game
5 p.m. - Women's championship game
7 p.m. - Men's championship game
Trophy presentation and all-Concordia devotions following last game
CUNE women's CIT titles (26)
1983 | 1987 | 1988 | 1989 | 1990 | 1991 | 1992 | 1994 | 1996 | 1997 | 1998 | 1999 | 2000 | 2001 | 2002 | 2003 | 2004 | 2005 | 2006 | 2008 | 2009 | 2010 | 2012 | 2014 | 2015 | 2016
CUNE has established a history of dominance at CIT. The Bulldogs have won 24 of the last 30 tournaments, including three titles in a row under Olson. From 1996 to 2006, CUNE won 11-straight CITs while under the direction of three different head coaches (Mark Lemke, Micah Parker and Todd Voss). Not only has Olson coached in the last 10 CITs, he played for three CIT championship men's teams coached by Grant Schmidt between 2001-03. Olson's women's teams have captured CIT titles in seven of his 10 seasons at the helm of the program.
Sophomore Quinn Wragge collected CIT MVP honors last year after totaling 35 points, 12 rebounds, five steals and four blocked shots over the two tournament wins. Last season's CIT run in the Windy City also included a 64-52 win over Concordia-Chicago in the opening game of the event. CUNE's most recent CIT loss came by a 73-69 at the hands of Concordia-Ann Arbor in the 2013 championship game played in Seward. Wragge was joined on the 2016 CIT all-tournament team by Becky Mueller, a senior on last season's squad.
CUNE's 26 all-time CIT titles far and away leads the field of four. CUC comes in next with four championships. However, the Cougars are on an extended drought with their most recent CIT title having come in 1986. CUAA won two of three CIT titles (2011 and 2013) in recent years. The latter championship came inside Walz Arena. Meanwhile, CUW broke through with a CIT championship in 2007, ending a 12-year title drought for the program.
Wragge had rave reviews for her first CIT championship experience as a freshman in 2016. "It was crazy," said the Crofton, Neb., native. "It's so loud. You're trying to yell at your teammates and they can barely hear you. It just makes for an awesome, awesome atmosphere. It was a good game so that just made it even more exciting."
SCOUTING THE FIELD
Concordia University, Nebraska
2016-17 Record: 20-1
Head Coach: Drew Olson (11th season)
All-Time CIT Titles: 26 (most recent: 2016)
Top Player: Mary Janovich (11.7 ppg, 3.5 apg, 3.2 rpg, 2.8 spg, .541 fg%)
Offensive PPG: 85.8 (4th in NAIA Division II)
Defensive PPG: 58.2 (14th in NAIA Division II)
Quick Hitter: Ranked No. 2 in NAIA Division II, the Bulldogs have been as dominant as any team in the nation this season. Of the team's 20 wins, 18 have come by double-digit point margins. Olson's balanced squad includes four players who average more than 10 points per game.
Concordia University, Ann Arbor
2016-17 Record: 14-7
Head Coach: Thad Sankey (4th season)
All-Time CIT Titles: 2 (most recent: 2013)
Top Player: Kari Borowiak (16.3 ppg, 5.0 rpg, 4.2 apg, 2.7 spg, .533 fg%)
Offensive PPG: 74.0 (26th in NAIA Division II)
Defensive PPG: 65.9 (61st in NAIA Division II)
Quick Hitter: CUNE alum Thad Sankey's 2016-17 club is his best team in his four seasons leading the Cardinals. CUAA jumped out to a 7-0 start before finally suffering its first loss. Do-it-all Kari Borowiak supplies firepower in the backcourt.
Concordia University, Chicago
2016-17 Record: 10-6
Head Coach: Rusty Rogers (3rd season)
All-Time CIT Titles: 4 (most recent: 1986)
Top Player: Taylor Jacobsen (17.7 ppg, 3.0 rpg, 2.6 apg, 1.4 spg, .439 fg%)
Offensive PPG: 71.4 (63rd in NCAA Division III)
Defensive PPG: 67.1 (301st in NCAA Division III)
Quick Hitter: The Cougars have steadily improved under head coach Rusty Rogers, who is in his third season at CUC. At 10-6 overall, the Cougars have already equaled their win total from the 2015-16 campaign. After averaging 6.6 points last season, Taylor Jacobsen has shouldered a much larger role offensively.
Concordia University, Wisconsin
2016-17 Record: 13-3
Head Coach: Stacey Brunner-Jones (13th season)
All-Time CIT Titles: 3 (most recent: 2007)
Top Player: Taylor DeLong (13.8 ppg, 5.6 rpg, 1.1 spg, .603 fg%)
Offensive PPG: 63.9 (209th in NCAA Division III)
Defensive PPG: 51.3 (27th in NCAA Division III)
Quick Hitter: At 11-2 in Northern Athletics Collegiate Conference play, the Falcons sit just one game out of first place in the league standings. CUW's biggest asset is its defense, which has limited opponents to just 35.5 percent shooting. The Falcons have dropped their last six meetings with CUNE, its opponent on Friday.