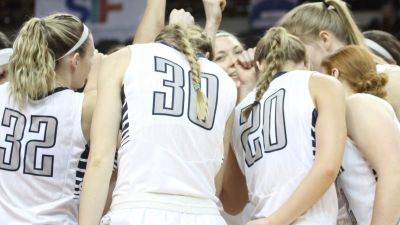 2017-18 Women's Basketball Schedule | PDF
SEWARD, Neb. – Fresh off GPAC regular-season and postseason titles and a national semifinal appearance, the Concordia women's basketball program will put itself in the national spotlight again in 2017-18. The team's schedule for this coming winter was rolled out on Tuesday (June 20). In addition to the usual GPAC grind, the Bulldogs will also challenge themselves significantly by playing four nonconference opponents that were ranked in the top 10 of the 2016-17 postseason coaches' poll.
Head coach Drew Olson's squad will return four of five starters from a team that eclipsed 30 wins for the fifth time in school history. Three players who earned some form of All-America recognition this past season are back in the fold: Philly Lammers (second team), Mary Janovich (honorable mention) and Quinn Wragge (honorable mention). The Bulldogs are the only program in NAIA Division II women's basketball to have reached the national semifinals in three of the past six seasons.
The 2017-18 season will open up at the 18th annual Cattle Classic (Nov. 3-4) inside Walz Arena. After hosting Viterbo University (Wis.) on day one of the Cattle Classic, Concordia will test its mettle in a showdown with the University of St. Francis (Ill.), which also advanced to the national semifinals in 2017. The Bulldogs will also take their act on the road against powerful programs like No. 8 University of Jamestown (N.D.) (Nov. 10), No. 6 College of the Ozarks (Mo.) (Dec. 19) and No. 2 Saint Xavier University (Ill.) (Dec. 29). Concordia will have the opportunity to avenge this past season's national semifinal loss to Saint Xavier.
Additionally, the Bulldogs will attempt to win their fifth-straight Concordia Invitational Tournament title and 28th all-time. CUNE cruised to an 89-62 CIT championship game victory over Concordia-Ann Arbor inside Walz Arena in 2017. The Bulldogs will draw CU-Ann Arbor on day one of CIT (Jan. 26-27), which will be hosted by Concordia-Wisconsin in Mequon, Wis.
GPAC play will get underway on Nov. 15 when Midland makes the short journey to Seward, where Olson's squad went a perfect 17-0 in 2016-17. Three days later, Concordia will play at Dakota Wesleyan, the only GPAC team to tag the Bulldogs with a loss during the 2016-17 campaign. Concordia was one of five league schools to earn top-25 rankings in the final poll. The others were No. 9 Dakota Wesleyan, No. 11 Morningside, No. 18 Northwestern and No. 21 Hastings.
GPAC tournament dates are set for Feb. 21, 24 and 27. The NAIA Division II Women's Basketball National Championships will again be held at the Tyson Events Center in Sioux City, Iowa. The national tournament will be held March 7-13.
Opponents with final 2016-17 national rankings
No. 2 Saint Xavier (Ill.)
No. 4 St. Francis (Ill.)
No. 6 College of the Ozarks (Mo.)
No. 8 Jamestown (N.D.)
No. 9 Dakota Wesleyan (twice)
No. 11 Morningside (twice)
No. 18 Northwestern (twice)
No. 21 Hastings (twice)