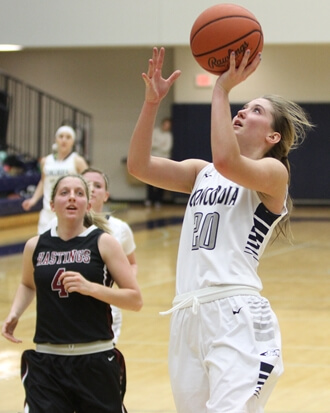 Women's basketball to take national tournament floor on Thursday
NAIA DII WBB Bracket | CUNE WBB press guide
SEWARD, Neb. – The 32nd national tournament game in the history of Concordia women's basketball will get underway at 1:45 p.m. CDT on Thursday when the No. 1-seeded Bulldogs (31-2) take on eighth-seeded Bryan College (Tenn.) (21-8). Concordia is set to make its fourth-straight national tournament appearance and 14th in program annals. Ninth-year head coach Drew Olson is headed to the national stage for the seventh time at the helm of the Bulldogs.
GAME INFO
No. 3 Concordia vs. Bryan College
Thursday, March 12 | 1:45 p.m. CDT
Sioux City, Iowa | Tyson Events Center
Live webcast: NAIAnetwork.com (fee required)
Live stats: Dakstats
Tickets: available at arena ticket office or via tysoncenter.com
STATISTICAL BREAKDOWN
*National rank in parentheses
Concordia (31-2)
Head Coach: Drew Olson – 222-77 (9th season)
OFF PPG: 84.6 (4th)
DEF PPG: 62.2 (34th)
OFF FG%: .428 (25th)
DEF FG%: .374 (40th)
3PT FG%: .311 (55th)
3PT FG/GM: 8.2 (9th)
FT%: .708 (42nd)
REB +/-: -0.3 (71st)
TO +/-: +11.0 (2nd)
Scoring +/-: +22.4 (4th)
SPG: 16.8 (2nd)
BPG: 3.2 (40th)
AST/TO: .955 (23rd)
Scoring: Bailey Morris – 18.6 ppg
Rebounding: Jericca Pearson – 4.8 rpg
Assists: Bailey Morris – 5.13 apg
Steals: Bailey Morris – 4.13 spg
Blocks: Becky Mueller – 0.53 bpg
Bryan (21-8)
Head Coach: Jason Smith – 72-47 (4th season)
OFF PPG: 65.2 (86th)
DEF PPG: 56.1 (6th)
OFF FG%: .434 (19th)
DEF FG%: .355 (17th)
3PT FG%: .320 (43rd)
3PT FG/GM: 5.5 (78th)
FT%: .660 (95th)
REB +/-: +4.7 (29th)
TO +/-: +.660 (56th)
Scoring +/-: +9.1 (26th)
SPG: 9.6 (49th)
BPG: 1.6 (114th)
AST/TO: .894 (33rd)
Scoring: Megan Billingsby – 15.2 ppg
Rebounding: Megan Billingsby – 9.0 rpg
Assists: Keila Formont – 3.64 apg
Steals: Keila Formont – 1.89 spg
Blocks: Sydney Rau – 0.59 bpg
OUTLOOK
Concordia carries momentum into the national tournament after winning the GPAC postseason championship with a thrilling 80-72 title game victory at No. 1 Morningside. Two-time GPAC player of the year Bailey Morris and fellow seniors Kelsey Hizer and Tracy Peitz are each appearing on the national stage for the fourth-straight season. The talented senior class is flanked by the blossoming Mary Janovich, who was named GPAC freshman of the year, and second team all-conference sophomore Becky Mueller.
The Bulldogs present a difficult matchup with their ability to force turnovers (28.0 per game) and push the tempo. On the other hand, Bryan prefers a slower pace. The Lady Lions hoist an average of 56.3 shots per game compared to a figure of 68.8 for Concordia. Bryan has been an efficient team, ranking 17th among all NAIA Division II teams in field goal percentage defense (.355) and 19th in field goal percentage offense (.434). Head coach Jason Smith has led the Lions to 20-win seasons in two-straight campaigns. They are making their fifth all-time national tournament appearance and first since 2007. They are 1-4 in five national tournament games.
The Appalachian Athletic Conference runner up is powered by all-conference selections Megan Billingsby (first team), Keila Formont (second team) and Kristin Lane (second team). All three averaged nine points or more. Billingsby tops the team in both scoring (15.2) and rebounding (9.0).
Concordia owns a record of 8-5 in its first 13 opening-round national tournament contests. The last two seasons have ended with first-round defeats coming at the hands of Cardinal Stritch University in 2013 and Olivet Nazarene University in 2014. The 2011-12 team, which featured then freshmen Morris and Peitz, reached the national semifinals.
The winner of Thursday afternoon's contest will advance to play either fourth-seeded College of Saint Mary (26-6) or fifth-seeded Huntington University (22-9) at 1:45 p.m. CDT on Friday. The Flames of Omaha, Neb., are set to join the GPAC starting with the 2015-16 athletics season.
NOTES
In its first 13 appearances at the national championships, Concordia has posted a record of 18-13 with three trips to the national semifinals and four quarterfinal finishes. The Bulldogs are 8-5 overall in first-round games, including a 7-3 mark in the last 10 first-round contests. All of the program's 14 national qualifying seasons have come since 1992 – the same year the NAIA split into two divisions for both men's and women's basketball.
Concordia carries a record of 8-2 this season against teams that have qualified for the national tournament. The eight wins have come against Briar Cliff (two), Hastings (three), Jamestown (one), Morningside (one) and Saint Xavier (one). Both setbacks came at the hands of Morningside.
Nine of the 15 players on the Bulldogs' official national tournament roster have prior experience at the national tournament. These nine individuals have combined for 30 career games over appearances in 2012, 2013 and 2014. Three of Concordia's seniors have each played in six national tournament games: Kelsey Hizer, Bailey Morris and Tracy Peitz. Jericca Pearson, who missed last season's national tournament due to an ACL tear, has appeared in five career national tournament contests.
Morris has tallied 61 points over her six career national tournament games with her career best at the Tyson Events Center being 17 points in the first-round loss to Cardinal Stritch in 2013. Among current Bulldogs, Peitz's 23 points in last season's national tournament defeat versus Olivet Nazarene stand out as a team high on the national stage. National tournament scoring averages for Concordia's experienced seniors: Morris (10.2), Peitz (6.0), Pearson (4.6) and Hizer (3.7).
In the program's first 31 games at the national tournament, the Bulldogs have averaged 70.8 points per game while allowing an average of 65.2 points. The school record for most points in a single tournament game came in 2003 when Concordia defeated William Jewell (Mo.) 88-44 in the second round. The Bulldogs' stingiest defensive effort occurred in 2005 when they held Western Baptist to just 28 points in a 70-28 first-round victory.
Head coach Drew Olson has been at the controls for each of Concordia's past seven national tournament appearances (including 2015). Olson also helped the Bulldog men to two national tournaments as a player and was part of three such trips to the grand stage as an assistant men's coach at Bellevue University (Neb.). Former eleven-year assistant coach Amy Harms served on Olson's staff for each of the first six national tournament appearances between 2008 and 2014 and played in national tournaments in 2002 and 2003 as a member of the Bulldogs. The 2003 squad owns the school record with 36 wins and advanced to the national semifinals. Current assistant Debi Smith is headed to the national tournament for the second year in a row.
Olson became the fifth coach in program history to lead the Bulldogs to the national tournament when he made his first appearance as head coach in 2008. Now with seven national tournament appearances, Olson has four more than Todd Voss for the most among head coaches in school history. Here are the all-time records for Bulldog coaches at the national tournament:

Todd Voss: 8-3 (three appearances; two Fab Fours; one quarterfinal finish)
Drew Olson: 7-6 (seven appearances; one Fab Four; two quarterfinal finishes)
Mark Lemke: 2-2 (two appearances; one quarterfinal finish)
Micah Parker: 1-1 (one appearance)
Carl Everts: 0-1 (one appearance)

Concordia has made a living in the top 10 of the national rankings. With its No. 8 positioning in Wednesday's new poll, the Bulldogs have now appeared in the top 10 in 49 of the last 50 polls. Concordia held down the top spot on four occasions during the 2012-13 season. The current senior class has played for a ranked Bulldog team every single game over the past four seasons. The senior class owns a four-year record of 114-20.
Great Plains Athletic Conference members have won 11 of the last 14 NAIA Division II Women's Basketball National Championships. Northwestern has five national titles during that stretch while Hastings and Morningside each have three. The GPAC had advanced at least two teams into the Fab Four six-straight years until the streak was snapped last season. Two or more GPAC teams have reached the semifinals in 12 of the past 14 years. In 2012, Concordia, Briar Cliff and Northwestern all appeared in the semifinals.