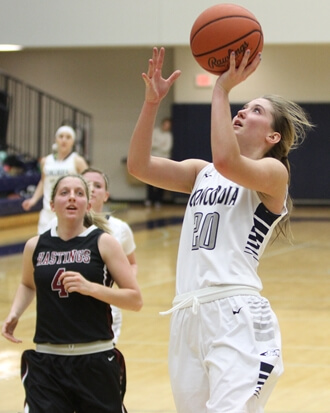 Women's basketball slotted second in league preseason poll
SEWARD, Neb. – After earning a four-way share of first in the conference last season (second GPAC regular-season title in three seasons), the high-powered Concordia University women's basketball program has been pegged in a tie for second in the league's 2014-15 preseason coaches' poll. The Bulldogs picked up 87 points and two first-place votes to equal Hastings. Morningside topped the poll with 97 points and seven first-place nods.
A top-two placement in the GPAC almost assures that ninth-year head coach Drew Olson's squad will enter the season inside the nation's top 10. The first national poll will be released on Oct. 28. But it's not like lofty expectations are anything new for Bulldog women's basketball.
"It's hard if you have those expectations and you let them burden you," Olson said. "We don't really think about them once the season starts going. It's cliché, but we take one game at a time and keep our focus on the next step. We don't think of it as a burden. We want to have fun and we want those expectations. We want to embrace them and take on the challenge. I don't think it hurts us at all."
With All-Americans Bailey Morris (GPAC player of the year) and Tracy Peitz returning as part of a deep and experienced senior class, Concordia will shoot for the top at both the conference and national level. Morris took off as a junior in one of the best seasons ever for a Bulldog women's basketball player. After two-first round exits in a row at the national tournament, Olson and company have designs on a longer stay in Sioux City, Iowa, at the end of this season.
2014-15 GPAC Women's Basketball Preseason Coaches' Poll
1. Morningside – 97 points (7 first-place votes)
T2. Concordia – 87 (2)
T2. Hastings – 87 (2)
4. Northwestern – 73
5. Midland – 60
6. Briar Cliff – 50
7. Doane – 43
8. Dakota Wesleyan – 39
9. Mount Marty – 32
10. Dordt – 27
11. Nebraska Wesleyan – 10