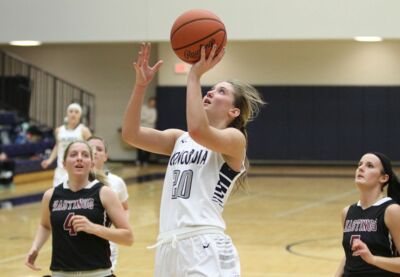 Women's basketball aims for eighth win over top 25 foe in Wednesday home contest
SEWARD, Neb. – The third-ranked Concordia University women's basketball team carries a 14-game winning streak and seven wins over top 25 opponents into Wednesday night's affair with No. 17 Hastings (13-6, 7-4 GPAC). Tipoff is slated for 6 p.m. from Walz Arena, where the Bulldogs are 52-7 (.881) since the start of the 2011-12 season. A win would give Concordia (19-1, 12-1 GPAC) a season sweep of the rival Broncos.
A live webcast of the contest will be available via the Concordia Sports Network.
Run of dominance continues
In last week's only contest, the Bulldogs outscored No. 25 Briar Cliff, 44-24, in the second half to run away with a 76-60 win in Sioux City, Iowa, on Jan. 17. Concordia remained undefeated (9-0) on the road and won by a margin of 10 or more points for the 10th-consecutive game. Over the first 20 games, only four have been decided by fewer than 10 points.
The Bulldogs' 19-1 overall record ranks as the best 20-game start in Olson's nine seasons and the second best in school history. The 2002-03 Concordia Athletics Hall of Fame team won its first 33 games and finished with a program record win total (36-2). Olson led the 2011-12 and 2012-13 teams to records of 18-2 after 20 games. The 2011-12 squad ended up 34-3 for the second best final record in school annals.
Bulldogs make home in top 10
Tuesday's release of the national rankings marked the 43rd time over the past 44 NAIA Division II polls that Concordia has been ranked inside the top 10. The Bulldogs own an active streak of 45-consecutive national rankings dating back to the 2011-12 preseason poll. The current senior class has played as a ranked team in every single game over the past four seasons. Olson's program rose to the No. 1 ranking for the first four polls of the 2012-13 season. Concordia's highest final national ranking during Olson's tenure was third following the 2012-13 campaign.
Morris puts career scoring record in danger
With 14 points in the win at Briar Cliff, senior All-American point guard Bailey Morris passed Stephanie Schilke (1,736) for fourth on the program's all-time scoring list. Morris' 1,748 career points are 52 shy of Sarah Harrison's school record 1,800 points over her career from 2001-05. A native of Clay Center, Neb., Morris already owns the program record for points in a single game thanks to her 45-point effort in last year's 89-78 win over Northwestern. The 2013-14 GPAC player of the year is averaging 18.0 points per contest, putting her on track to eclipse Harrison's total at the Concordia Invitational Tournament, Jan. 30-31.
Concordia all-time scoring leaders
1. Sarah Harrison (2001-05) – 1,800
2. Kari Saving (2001-05) – 1,773
3. Whitney Stichka (2004-09) – 1,765
4. Bailey Morris (2011-15) – 1,748
Peitz cracks top 20 in scoring
Eight points in Saturday's victory over Briar Cliff bumped Tracy Peitz to 1,057 for her career, pushing her past Rachel Witzel (1,050) for 20th on the program's all-time scoring list. Peitz became the 23rd Concordia women's basketball player to reach 1,000 points when she surpassed that figure in the Dec. 19 win at Dakota Wesleyan. The native of Hartington, Neb., also ranks sixth in program history in steals with 270.
National leaders
One of four teams nationally with one or no losses, Concordia ranks highly among NAIA Division II teams in several key statistical categories, including:
Second in steals per game (18.0)
Second in scoring margin (22.4)
Second in turnover margin (12.1)
Fourth in scoring offense (85.5)
Seventh in 3-point field goals (161)
11th in 3-point field goals made per game (8.1)
11th in assists per game (17.0)
19th in assist/turnover ratio (.955)
Hastings' nine-game win streak snapped
From Nov. 29 through Jan. 14, Hastings won nine-straight games – five versus conference opponents – before a 60-46 loss at No. 1 Morningside on Jan. 17. The win streak allowed the Broncos to go from unranked to No. 17 in the national poll. One of four teams to share the GPAC regular-season crown last season, Hastings garnered a No. 5 ranking in the preseason. Head coach Carrie Hofstetter's squad has suffered five of its six losses against ranked teams (all to squads ranked in the top 15). Star guard Jamie Van Kirk paces the Broncos with 19.3 points per game (second in the conference).