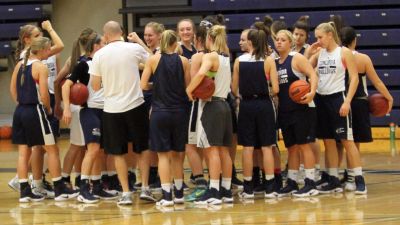 SEWARD, Neb. – The Concordia University women's basketball program lives inside the top 25. On Tuesday (Oct. 25), head coach Drew Olson's Bulldogs landed at No. 14 in the 2016-17 NAIA Division II women's basketball preseason coaches' poll. Concordia moved up five spots from where it sat in the 2015-16 postseason poll and has now appeared in each of the last 67 national coaches' polls, a streak that dates back to the 2011-12 preseason rating.
This also marks the ninth-consecutive year that Olson's program has garnered a preseason national ranking. The Bulldogs garnered top-25 rankings in all 13 polls during the 2015-16 campaign. They peaked at the No. 4 position. During Olson's first 10 years as head coach, Concordia has ended a season in the rankings seven times. In five of those instances the Bulldogs were placed inside the top 10. Their highest finishes were second and third, respectively.
Concordia defeated four teams ranked in front of it (all at home) in the 2015-16 postseason poll: No. 5 Mount Marty, No. 8 Dakota Wesleyan, No. 14 Briar Cliff and No. 16 University of Jamestown (N.D.). Last year's Bulldogs advanced to the national tournament for the 15th time in program history. The season culminated with a first-round loss to Goshen College (Ind.), which reached the national semifinals.
The women's basketball program has held the No. 1 ranking a total of 11 times, including the final seven polls of the 2002-03 season and the first four ratings of the 2012-13 campaign. The 2014-15 Bulldogs became the first in program history to reach the national title game and was the fourth Concordia women's basketball team to advance to the national semifinals.
This year's team was picked third in the GPAC by league coaches. Four GPAC teams were ranked inside the top 25 of the 2016-17 preseason poll: No. 3 Dakota Wesleyan, No. 4 Morningside, No. 14 Concordia and No. 15 Briar Cliff.
The season opens up in Denver, Colo., on Friday with a showdown against top-ranked and defending national champion Marian University (Ind.). Tipoff is slated for 1 p.m. CT from Johnson & Wales University.
Preseason top 25 rankings under Olson
2016-17: 14
2015-16: 4
2014-15: 9
2013-14: 5
2012-13: 1
2011-12: 22
2010-11: 11
2009-10: 22
2008-09: 7
2007-08: NR
2006-07: NR
Final end of season top 25 rankings under Olson
2015-16: 19
2014-15: 2
2013-14: 13
2012-13: 9
2011-12: 3
2010-11: NR
2009-10: NR
2008-09: 8
2007-08: 10
2006-07: NR