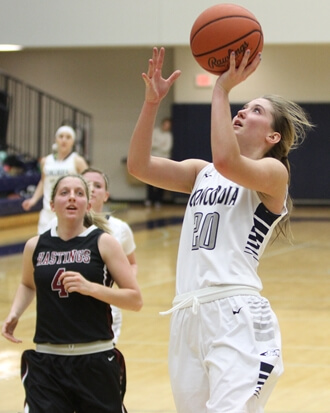 Women's basketball to honor loaded senior class on Saturday
SEWARD, Neb. – The Concordia University women's basketball senior class, led by All-Americans Bailey Morris and Tracy Peitz, will play a regular-season game for the final time inside Walz Arena on Saturday when the Bulldogs host Dakota Wesleyan (14-12, 7-9 GPAC). Tipoff is slated for 2 p.m. in Seward.
Ninth-year head coach Drew Olson's squad has won 19-straight games and each of the last three meetings with the Tigers. The Bulldogs (24-1, 15-1 GPAC) own a home record of 54-7 (.885) since the beginning of the 2011-12 season. Dakota Wesleyan is 6-7 in true road games.
A live webcast of the contest will be available via the Concordia Sports Network. Saturday is also Fan Appreciation Day in partnership with Wild Chiropractic and Acupuncture of Seward. Temporary tattoos and ice cream will be available between the women's and men's games at Walz.
Accomplished senior class
Concordia's senior class owns a four-year record of 108-19 (.788), two GPAC regular-season titles, a GPAC tournament championship and a national semifinal appearance. The seniors are on track for a fourth-straight national tournament appearance, which would make them the second class in program history to do so. The group of six has produced a collective 4,469 points, 1,932 rebounds, 947 assists and 942 steals.
Morris tops the charts
With 30 points in last week's 86-77 win at Doane, senior Bailey Morris became the program's all-time leading scorer, surpassing former record holder Sarah Harrison (1,800). Currently averaging 18.3 points, Morris has run her career total to 1,846 points with five regular-season games, the conference tournament and the national tournament left on the slate. She also ranks in the top five in school history in both steals (third, 368) and assists (fifth, 443). Among GPAC players, the Clay Center, Neb., native ranks No. 1 in both steals per game (4.40) and assists per game (5.08) and third in scoring.
Bench mob
Over the past three outings, the Concordia bench has seen extensive action as the Bulldogs have won by margins of 36, 52 and 31 points. Of the team's 264 points during that stretch, the reserves have chipped in 121 points. In the 73-42 dismantling of Nebraska Wesleyan, all 15 Bulldogs played between 12 and 16 minutes with all but one registering in the scoring column.
Chasing history
In the more than 50-year history of Concordia women's basketball, only one Bulldog team has produced a better record than 24-1 after a season's first 25 games. The 2002-03 GPAC champion and national semifinalist team won its first 33 games and finished 36-2 overall for a school record win total. The two losses were the fewest in a season for any Concordia women's basketball team. The Bulldogs' active win streak of 19 ranks as the third longest in program history behind the streaks posted by the 2011-12 (21) and 2002-03 (33) teams.
Best 25-game starts
2002-03: 25-0
2014-15: 24-1
2011-12: 23-2
2007-08: 22-3
2004-05: 22-3
2001-02: 22-3
2012-13: 21-4
2003-04: 21-4
2013-14: 20-5
Cruise control
Only two teams in NAIA Division II women's basketball own a larger scoring margin than Concordia's figure of plus-23.3 per game. Nineteen of the Bulldogs' 24 victories have come by at least 10 points and 12 have been by 20 or more points. In cruising to its 25th CIT title last week, Drew Olson's squad trounced both CU-Chicago, 102-66, and CU-Wisconsin, 89-37. The 102 points against the Cougars marked the sixth time that Concordia has reached the century mark this season.
Scouting Dakota Wesleyan
Head coach Jason Christensen's team enters the weekend with consecutive wins after defeating both Doane (80-64) and Dordt (64-54) at The Corn Palace. An efficient offensive team, the Tigers rank third nationally in free throw percentage (.755), eighth in assists per game (17.1), 13th in assist-to-turnover ratio (1.0) and 21st in 3-point field goal percentage (.341). Senior guard Celeste Beck powers the attack with a team high 12.3 points per game and 69 triples (ninth among all NAIA Division II players). In the first meeting with Concordia, Dakota Wesleyan got outscored 64-33 in a dominant second half performance by the Bulldogs in Mitchell, S.D. Bailey Morris tallied 17 of her 29 points over the last 20 minutes.