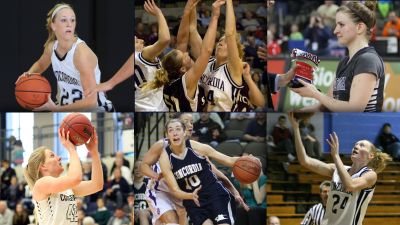 The purpose of this piece is to answer the question quite simply: who wore it better? Below is our list of top Concordia women's basketball performers at each jersey number during the GPAC era (first season in 2000-01). In the sport of basketball, players are not allowed to wear a single digit greater than 5. Since 2000, several numbers have been issued infrequently or not at all within the program. Other numbers (like 32) have considerable depth of talent.
Top performers by number, GPAC era (20 seasons)
#1–3 – No Bulldog has worn 1 or 2 during the GPAC era and 3 had not been donned since Averie Lambrecht wore it as a freshman in 2019-20.
#4 – Riley Sibbel became the program's first player to wear No. 4 when the number became available in 2017-18. She wore it well. She accumulated career totals of 462 points and 193 steals as a key role player during the winningest four-year period in program history. She was named honorable mention All-GPAC as a senior.
#5 – She's the only one to wear it, but Taylor Cockerill would have been a strong choice anyway at No. 5. Unfortunately, she missed the 2019-20 campaign due to injury but had already established herself as star over her freshman and sophomore campaigns. Cockerill topped the 2018-19 national championship team in scoring (15.4 ppg) and was named an honorable mention All-American.
#10 – As one of the program's all-time best guards, Whitney Stichka sports school career rankings of sixth in points (1,765) and 14th in assists (323). She collected second team All-America honors in 2007-08 and first team All-America recognition in 2008-09. One of the signature plays of her career was a last-second shot to beat Cornerstone in the second round of the 2009 national tournament.
#11 – This number was worn for the first time by Claire Cornell, a member of the 2019-20 national championship team.
#12 – The choice here is an easy one. Bailey Morris remains the program's only NAIA National Player of the Year (2014-15). The dynamic point guard garnered back-to-back GPAC Player of the Year awards and led the Bulldogs to the 2015 national championship game. She owns career program rankings of first in scoring (2,054), second in steals (394), fourth in assists (502) and fifth in 3-point field goals (201). Her 45 points versus Northwestern in 2014 remain a school single-game record.
#13 – Another uncommonly worn number – Rebecca Higgins took it on in 2019-20.
#14 – Somewhat overshadowed by Bailey Morris, Tracy Peitz picked up back-to-back All-American awards (third team in 2013-14 and second team in 2014-15) as a star post player. She posted career totals of 1,277 points, 594 rebounds, 306 steals and 281 assists. Over her four years, Concordia won a combined 119 games. Amy Streuter (known by many at Concordia now as Amy Harms) was a senior on the 2002-03 GPAC championship team and scored more than 1,000 points in her career.
#15 – The first 15 is Taylor Farrell, who enjoyed a nice freshman season in 2019-20. She averaged 7.5 points while making 31-of-61 attempts from 3-point range.
#20 – An immediate impact performer in the backcourt, Mary Janovich earned GPAC Freshman of the Year honors in 2014-15 on her way to a stellar career. She was an honorable mention All-America selection and GPAC Defensive Player of the Year honoree in 2016-17. For her career, she amassed 1,159 points and 244 steals.
#21 – A likely future 1,000-point scorer, Mackenzie Koepke is working on making this number famous. She garnered second team All-GPAC honors as a sophomore in 2019-20.
#22 – No Bulldog has ever filled it up from long range like Kristen Conahan, whose 323 career 3-point field goal makes ranks No. 1 all-time in school history. Conahan racked up 1,656 career points (ninth in program history) and would have had more if not for an injury she suffered as a senior. She was chosen as a first team All-American in 2012-13. Brenleigh Daum (2014-18) also wore 22 and was a 1,000-point scorer with 232 career 3-point field goals to her credit.
#23 – Not worn.
#24 – A Concordia Athletic Hall of Famer, Kari Saving piled up 1,773 points during her career from 2001-05. That total still ranks fifth in school history. During her four seasons, Saving helped the Bulldogs to 121 combined wins and to two NAIA national semifinal appearances. She was tabbed a second team All-American in 2004-05. Another senior on the 2014-15 squad, Kelsey Hizer also wore 24 and was a major defensive pest throughout her career.
#25 – This is another number with little history, but Rylee Pauli (junior to-be) currently sports No. 25.
#30 – There is no wrong answer here between Quinn Wragge and Elizabeth Rhoden. Wragge finished her collegiate career in 2018-19 by going out in the best way possible – as a national champion. She was exactly what the program is about and put up career totals of 1,776 points, 833 rebounds and 251 steals (all top 10 in school history). Wragge was twice named an All-American. Meanwhile, Rhoden played from 2000-04 and posted 1,337 career points. She collected second team All-America honors for the 2002-03 team that went 36-2 overall.
#31 – There are limited choices at 31, but Colby Duvel is certainly worthy of mention here. She switched from No. 50 to 31 after her freshman season. Duvel was known for doing the dirty work during the winningest four-year run in program history (2016-20). She notched 792 points, 639 rebounds and 167 steals for her career.
#32 – This is the number with the greatest depth of talent. It has been worn by All-GPAC players in Dani Hoppes, Keyna Kobza, Katie Rich and Melissa Tinkham. All four players went past 1,000 career points. Hoppes provided some impressive sharp shooting after transferring from Midland with 171 3-point field goals over two seasons. Kobza managed to pile up 1,110 career points while playing alongside the likes of Sarah Harrison, Elizabeth Rhoden and Kari Saving. Rich collected two GPAC Defensive Player of the Year awards and was twice an honorable mention All-America choice. Finally, Tinkham drained 266 3-point field goals and 1,452 points for her career.
#33 – Not worn.
#34 – A solid scoring option, TaLisa Krejci wound up with 916 career points to go along with 446 rebounds and 152 steals. She was an honorable mention All-GPAC choice for the 2008-09 squad that reached the national quarterfinals.
#35 – Over the past two seasons, Elsie Aslesen has worn 35. It had not previously been worn during the GPAC era.
#40 – A two-time NAIA honorable mention All-American, Hayle Kobza's career spanned the transition from NIAC to GPAC membership. The leading scorer for the 2000-01 squad, Kobza finished her college career with 1,302 points and 645 rebounds.
#41 – Not worn.
#42 – Arguably the program's best ever player, Philly Lammers switched from No. 52 as a freshman to No. 42 for her final three seasons. She is the only player in school history to earn first or second team All-America accolades all four years. She was named the GPAC Player of the Year for the 2018-19 national championship team. Lammers concluded her college career with school all-time rankings of second in points (2,033), second in blocks (181), third in rebounds (1,026) and fourth in steals (357).
#43 – Not worn.
#44 – There are two elite options here in Sarah Harrison (2001-05) and Amber Kistler (2010-12). Harrison is most certainly one of the top post players in program history and is a member of the Concordia Athletic Hall of Fame. She was a first team All-America selection for the 2002-03 GPAC championship team. She amassed 1,800 points, 945 rebounds and 203 blocked shots. On the other hand, Kistler played two seasons at Concordia after transferring. She was a first team All-American for the 2011-12 squad that reached the national semifinals. Kistler averaged 14.2 points that season.
#45 – Not worn.
#50 – This is a bit of a stretch since she started her career at No. 34, but Becky Mueller wore No. 50 in her final collegiate season. A three-time all-conference honoree, Mueller compiled 1,071 career points and 423 rebounds. She was a starter on the 2014-15 national runner-up team.
#51 – Not worn.
#52 – A key role player, Libby Hirssig grabbed 540 rebounds over three varsity seasons and was part of the 2007-08 national quarterfinal team.
#53 – Not worn.
#54 – 54 has been used sparingly, but Ashley Kuntz (2011-15) and Katie Herther (2009-12) wore it for multiple seasons. Several players also rotated at 54 during the 2016-17 season, including MacKenzie Helman and Riley Sibbel, two key seniors on the national championship team.
#55 – Grace Barry put No. 55 on the map in a big way for the program. No one else had worn it during the GPAC era. The transfer from the University of Nebraska-Kearney enjoyed her finest hour while earning the 2019 national tournament MVP award during the national title run. She was also tabbed a second team All-American this past season. Despite playing only two seasons as a Bulldog, Barry ranks in the top 10 in school history in both assists and steals.