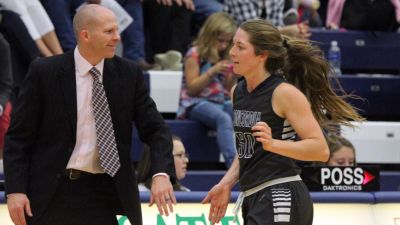 SEWARD, Neb. – Members of the 14th-ranked Concordia University women's basketball team won't want to slow themselves down with too many helpings of turkey and mashed potatoes with games on the docket for both Friday and Saturday during Thanksgiving weekend. But up first is another GPAC road game. The Bulldogs will take their act to Doane (4-3, 1-0 GPAC) for a 6 p.m. tipoff on Tuesday (Nov. 22).
Tuesday's contest will be carried by 104.9 Max Country with Tyler Cavalli calling the action. Doane will have a live webcast HERE. As part of the Bruin Thanksgiving Classic, Concordia will take on No. 25 Haskell Indian University (Kan.) at 3 p.m. CT on Friday and then University of Saint Mary (Kan.) at 1 p.m. CT on Saturday. Both weekend games will be played at the Lozier Athletic Center on the Bellevue University campus.
Eleventh-year head coach Drew Olson's squad rides a six-game win streak into this week's action. The Bulldogs have already won two GPAC road games, triumphing at Northwestern and at Midland. This year's Concordia team has gotten back to feasting on turnovers, taking the ball away from its opponents an average of 25.2 times per game. Junior Mary Janovich and freshman Philly Lammers are both averaging more than three steals per game.
The Bulldogs feature four players averaging double figures in scoring: Dani Andersen (12.0), Quinn Wragge (11.4), Janovich (11.0) and Lammers (10.3). Twelve different players average nine minutes or more for a balanced squad. Led by Andersen's sharpshooting, Concordia ranks eighth nationally in 3-point field goals per game (9.9).
In the most recent meeting with Doane, the Bulldogs were shocked at home by the Tigers, 91-55, on Jan. 27, 2016. Head coach Tracee Fairbanks' squad lost star Heather Broman from last year's squad. Senior guard Hanah Barnard is the headliner for Doane. She broke a program record for points in a single game with 38 in the Tigers' 83-78 win at Northwestern on Nov. 19. Barnard is averaging 23.1 points. Teammate Morgan Hill is averaging 14.1 points and 6.9 rebounds.
Haskell reached the 2016 national tournament and is off to a 6-3 start so far this season. Senior guard Cerissa Honena-Reyes paces the Indians with an average of 12.9 points per game. Saint Mary sports a record of 1-4. A member of the Kansas Collegiate Athletic Conference, the Spires went 12-16 overall in 2015-16.
Tuesday's projected lineups
Concordia (6-1, 3-0)
G – Shelby Quinn: 5.9 ppg, 5.0 apg, 3.0 apg, .818 ft%
G – Dani Andersen: 12.0 ppg, 1.0 spg, .489 3-pt%
G – Mary Janovich: 11.0 ppg, 4.0 rpg, 3.3 spg, .491 fg%
F – Quinn Wragge: 11.4 ppg, 4.3 rpg, 1.9 spg, .554 fg%
F – Philly Lammers: 10.3 ppg, 6.1 rpg, 3.3 spg, .596 fg%

Doane (4-3, 1-0)
G – Hanah Barnard: 23.1 ppg, 4.0 rpg, 2.1 apg, .491 fg%
G – McKenna Dodd: 9.3 ppg, 3.3 rpg, 2.6 apg, .315 fg%
G – Morgan Hill: 14.1 ppg, 6.9 rpg, 4.4 apg, 3.1 spg, .516 fg%
G – Jenna Nieveen: 4.4 ppg, 5.3 rpg, 2.1 apg, .406 fg%
F – Allie Satterly: 4.6 ppg, 5.3 rpg, .516 fg%