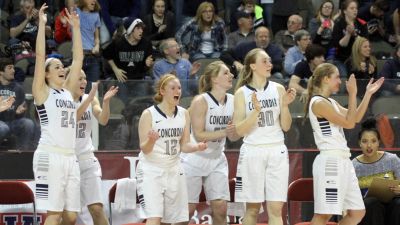 SEWARD, Neb. – A year after a national runner up academic finish, the 2016-17 Concordia women's basketball team landed at No. 5 on the Women's Basketball Coaches Association (WBCA) Academic Top 25 list of top GPA's for NAIA women's basketball programs. This past academic year, head coach Drew Olson's squad combined for a GPA of 3.673.
Olson has led the only NAIA Division II program to reach the national semifinals in three of the past six seasons. His 2016-17 team is the only squad in collegiate women's basketball, at any level, to finish in the top five nationally both on the court and in the classroom.
This marks the 14th time in the last 18 years that Concordia has placed among the top 10 in the NAIA on the WBCA's official rankings. The WBCA Academic Top 25 annually recognizes NCAA Division I, II and III, NAIA and junior/community college women's basketball teams across the nation that carry the highest combined grade point average inclusive of all student-athletes on their rosters for the entire season. The 2016-17 season is the 22nd in which the WBCA has compiled the honor rolls.
From 2000 to 2008, Concordia women's basketball ranked No. 1 in the NAIA in eight out of nine seasons. The top team GPA during that stretch was 3.786, achieved by the 2004-05 Concordia squad that also reached the semifinals at the national tournament.
The 2016-17 Bulldogs were recognized with six NAIA Scholar-Athletes: Dani Andersen, Sydney Feller, Carissa Gutz, Laurel Krohn, Shelby Quinn and Erin Vieselmeyer.