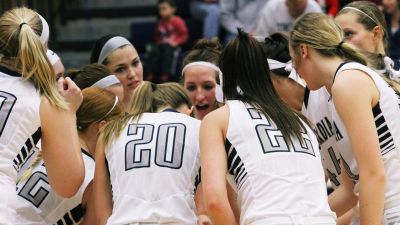 SEWARD, Neb. – Perennially a top-of-the-GPAC contender and national tournament qualifier, 11th-year head coach Drew Olson's program has been pegged third by league coaches in the 2016-17 preseason poll released on Wednesday by the GPAC. The Bulldogs collected 76 points, putting them behind only Dakota Wesleyan (95) and Morningside (95), who tied for the top spot.
A year ago Concordia finished 22-10 overall and 14-8 in conference play, tying for fourth in the GPAC. Led by star freshman Quinn Wragge, the Bulldogs advanced to the national tournament for the fifth-straight year and for the eighth time in nine seasons. The 2016-17 edition returns 11 varsity players from last season's roster.
A third-place GPAC ranking virtually guarantees that Concordia will extend its active streak of consecutive national poll appearances, which sits at 66.
"I don't think the outside pressure is overwhelming," said senior guard Laurel Krohn. "We probably put the most pressure on ourselves. We have great expectations for this season. We have a standard that we hold ourselves to. We do what we do every day and let those other things take care of themselves."
The Bulldogs welcome back four players who started 18 or more games last season: junior guards Brenleigh Daum and Mary Janovich, senior guard Shelby Quinn and Wragge. Concordia will open the 2016-17 season in Denver, Colo., on Oct. 28 when it takes on defending NAIA Division II national champion Marian University (Ind.).
2016-17 GPAC Preseason Poll
(First-place votes in parentheses)
1. Dakota Wesleyan – 95 (6)
1. Morningside – 95 (5)
3. Concordia – 76
4. Briar Cliff – 72
5. Northwestern – 67
6. Hastings – 60
7. Doane – 39
8. Mount Marty – 31
9. College of Saint Mary – 27
10. Dordt – 22
11. Midland – 21