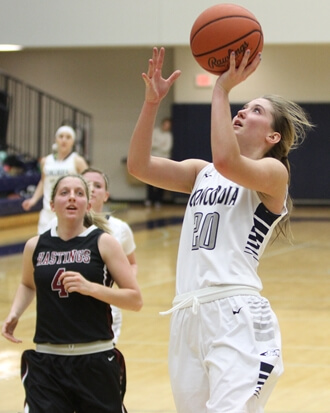 Women's basketball carries seven-game win streak into Saturday home tilt
SEWARD, Neb. – The third-ranked Concordia women's basketball team enters the weekend coming off back-to-back 100-point performances in blowout wins over Nebraska Wesleyan and York. The Bulldogs will put a seven-game winning streak on the line when they host Mount Marty (7-5, 2-4 GPAC) at 2 p.m. on Saturday. With a win, Concordia can earn a regular-season sweep of the Lancers, whom the Bulldogs defeated 63-59 in Yankton, S.D., on Nov. 12.
Fans are encouraged to dress accordingly for the Christmas-themed afternoon that includes a men's basketball game that tips off at 4 p.m. A live webcast of the contest will be available via the Concordia Sports Network.
Home cooking
Since the beginning of the 2011-12 season, Concordia has been nearly unbeatable at home, posting a home record of 47-7 (.870) during that stretch. In addition, the Bulldogs are 36-1 when playing unranked opponents inside Walz Arena since the start of the 2011-12 campaign. The only home loss to an unranked foe over that time period was a 94-89 defeat on Nov. 26, 2013, at the hands of Hastings, which ended up at No. 7 in the postseason poll. Since then, the Bulldogs have won 12-consecutive home contests against non-top 25 squads.
Morris keeps elite company
Senior Bailey Morris, the 2013-14 GPAC player of the year, continues to state her case as arguably the top player in the history of Concordia women's basketball. She is the only player in program annals to eclipse 1,500 points, 350 rebounds, 350 assists and 300 steals (see school ranks below). The native of Clay Center, Neb., has averaged 14.1 points, 3.5 rebounds, 3.4 assists and 2.8 steals over 113 career games.
Morris all-time program ranks
Points – 1,598 (8th)
Steals – 315 (4th)
Assists – 382 (7th)
Peitz nears 1,000 points
Averaging 15.0 points over her last three games, senior Tracy Peitz has put herself within striking distance of becoming the 23rd player in program history to reach 1,000 career points. She enters the weekend with 982 points over 113 career games. This season the Hartington, Neb., native sports averages of 10.2 points, 4.2 rebounds and 2.4 steals.
Bench press
With wins by margins of 41 and 67 to begin this week, head coach Drew Olson's bench has received plenty of action. Ten different reserves combined for 48 points in the 103-62 win at Nebraska Wesleyan. One night later, eight Bulldog backups collaborated on 66 points as part of a 112-45 victory at York College. Redshirt freshman Laurel Krohn appears to have earned additional playing time with her marksmanship this week. In 22 minutes of action over the past two games, Krohn has piled up 23 points on the strength of 6-for-9 shooting from beyond the arc.
Seniors chase 100 wins
The 2014-15 Concordia senior class, led by All-Americans Bailey Morris and Tracy Peitz in addition to Kelsey Hizer and Jericca Pearson, owns a record of 96-19 (.835) since beginning their careers in 2011-12. The best four-year run in the history of the program occurred from 2001-05 when Concordia went a combined 123-21 (.854) and made two national tournament semifinal appearances.
Heating up
Carried throughout the early going by its stifling defense, Concordia has heated things up on the offensive end this week. The Bulldogs, who entered the week ranked 52nd nationally in field goal percentage offense (.410), have posted percentages of 49.3 and 48.7 while making a combined 28 treys in this week's pair of routs. The outbursts have pushed Concordia all the way up to No. 11 among NAIA Division II teams with an average of 82.8 points per game.
Lancers looking to snap three-game skid
Mount Marty began this season by winning seven of its first nine games before dropping each of their last three contests. Those losses have come against No. 1 Morningside (72-58), No. 21 Doane (79-73) and Northwestern (69-61). The Lancers are led by sharpshooting junior guard Alex Kneeland, who ranks seventh nationally with 35 3-point field goals. As a team, Mount Marty averages 9.8 made 3-pointers per contest (No. 3 among NAIA Division II teams). Head coach Tom Schlimgen's squad averages 78.4 points and allows 68.9 per game.