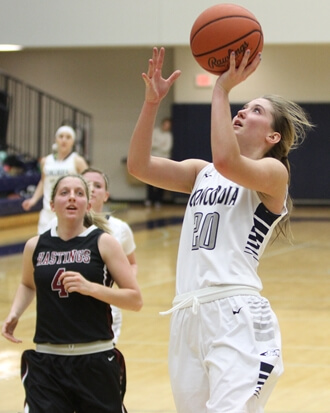 Women's basketball announces 30-game 2015-16 regular-season slate
SEWARD, Neb. – The 10th season of Concordia women's basketball under head coach Drew Olson is set to get underway on Nov. 6 at the 16th annual Cattle Classic hosted by the Bulldogs. The Cattle Classic tips off a 30-game regular-season slate for a team that will feature 2014-15 GPAC freshman of the year Mary Janovich. The complete schedule, officially announced on Wednesday, can be viewed HERE.
On the second day of the season, Concordia will go up against University of Jamestown (N.D.) in a rematch between two teams that met up in the quarterfinals of the national tournament in 2015. The nonconference slate also includes a trip to Redding, Calif., to take on California Pacific Conference foes in Simpson University and Pacific Union College (Dec. 29-30). Then in late January, the annual Concordia Invitational Tournament will be held in River Forest, Ill.
The first rematch of the 2015 national title game will take place on Nov. 21 when Morningside visits Seward for a 2 p.m. tipoff. That contest is one of nine on the schedule against teams that ended the 2014-15 campaign ranked among NAIA Division II's top 25 squads.
Olson, the winningest coach in program history, will move on without two graduating All-Americans. Janovich and fellow second team all-conference selection Becky Mueller will shoulder more responsibility for a new-look Bulldog bunch.