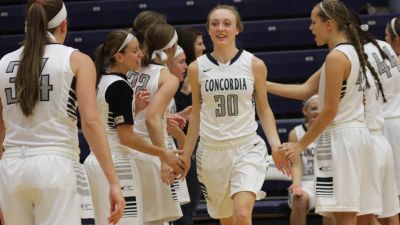 OMAHA, Neb. – The most dominant team in NAIA Division II women's basketball keeps rolling. The second-ranked Concordia University women's basketball team held only a slight advantage in the turnover battle (plus-four), but still managed to win handily, 101-77, over host College of Saint Mary on Wednesday night.
Eleventh-year head coach Drew Olson's remains undefeated in GPAC action with a league mark of 12-0. Winners of 19-straight games, Concordia stands at 19-1 overall.
"I thought Philly (Lammers) came out and dominated, but we didn't finish as well as we normally would," Olson said. "Credit to CSM. They played really hard. They played a great game. That's the most points we've given up in a while, so that's frustrating. We didn't control them in the press like we normally do. That's a credit to them."
Lammers finished with 18 points and eight rebounds. She and teammate Quinn Wragge (13 points, 12 rebounds) helped Concordia control the boards. Lammers and company outrebounded the Flames, 52-32. Off the bench, Erin Vieselmeyer chipped in 11 points and six rebounds.
It may not have been the most crisp performance of the year for the Bulldogs, but they still led 18-10 after the opening quarter and controlled much of the action. Junior Mary Janovich made the most of her 16 minutes and totaled 13 points on 3-for-4 shooting from the field. The Gretna native nailed 7-of-8 shots from the free throw line.
An 'off' night for Concordia means shooting 46.7 percent (35-for-75) from the field in a win by a 24-point margin. The Flames shot 42.2 percent (27-for-64) from the floor. They got a team best 15 points from Miranda Acuna.
Again, Wragge picked up the 'quiet numbers' on Wednesday after a rookie year during which she was counted on for big offensive production.
"She finishes with a double-double and you didn't know it," Olson said in his interview on the radio show following the game. "Erin also had 11 points and six rebounds. I felt like we could have done a better job taking advantage of our size inside. Despite how the numbers looked, I thought we could have done even better.
"Mary played great. She was very efficient in her minutes tonight. I thought Laurel Krohn (nine points) was awesome. She is somebody who hasn't been playing a ton of minutes but believed in herself to knock down some shots. She played really, really well tonight."
Wednesday night's effort marked the 17th win by double digits this season for the Bulldogs. Concordia has completed a season sweep of College of Saint Mary. Olson's squad dominated the Flames, 95-56, in Seward on Nov. 30.
A rematch awaits on Saturday for the Bulldogs, who will host No. 11 Morningside on Saturday. The Mustangs (16-5, 7-4 GPAC) have won eight-consecutive games since a 77-73 loss to Midland on Dec. 16. Nine days earlier, Concordia defeated defending GPAC champion Morningside, 80-52, in Sioux City, Iowa.