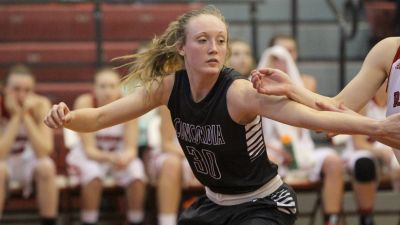 ORANGE CITY, Iowa – A closely-contested opening half gave way to the Kassidy De Jong show in the third quarter. De Jong drained 15 of her game high 29 points during the opening four minutes of the second half in powering host Northwestern to a 99-80 win over the 10th-ranked Concordia University women's basketball team in a contest played inside the Bultman Center on Saturday afternoon.
The Bulldogs failed to duplicate their 83-57 blowout in Orange City a year earlier. The loss snapped Concordia's eight-game winning streak. Meanwhile, tenth-year head coach Drew Olson's squad dropped to 12-4 overall and 7-4 in league action.
"Northwestern played really well," Olson said. "I just don't think we did enough to beat a good team that played well at their place. It was an entertaining game – back and forth. In the third quarter I regret going zone to start. I think it set the tone for them and got them off a little bit.
"I'm really proud of our kids for fighting back. They did a great job chipping away. Really, we were right there."
Though Northwestern mounted a 22-point third-quarter lead, the Bulldogs made the Red Raiders earn it. Concordia slashed its deficit all the way down to five (81-76) and nearly got within three when Brenleigh Daum missed a layup in transition midway through the final stanza. The Northwestern defense tightened, allowing it to rattle off a 13-0 run that put the game out of reach.
Long distance shooting brought the Bulldogs back. Down 76-59 late in the third quarter, Daum drained a trey and Mary Janovich followed with a 3-point play. The flurry of hot shooting continued into the fourth quarter when a pair of threes by Aubri Bro and another one from Jade Gottier got Concordia within seven (81-74) with more than seven minutes left in the game. But after Janovich's layup at the 5:56 mark, the Bulldogs went scoreless for more than four minutes.
De Jong and company shot a blistering 74.1 percent (20-for-27) from the field in the second half while also netting 21-of-25 (.840) free throws for the contest. De Jong was the ring leader for a Red Raider squad that placed four members in double figures in scoring, including Whitney Vander Maten (18), Renee Maneman (14) and Darbi Gustafson (12 points).
Janovich finished with a team high 18 points. Daum let it fly (6-for-20) on the way to 16 points. Off the bench, Bro chipped in nine points on the strength of 3-for-4 shooting from beyond the arc. Concordia hung in the game by going 13-for-37 (.351) from 3-point range.
Named GPAC freshman of the year last season, Janovich has scored at least 18 points in two of the last three games.
"I think the whole team is starting to understand how Mary is such a weapon for us," Olson said. "She runs the lanes so well. She's getting to be a little bit more aggressive-minded."
Northwestern, a national champion as recently as 2012, has been a giant killer this season. The Red Raiders are the only team that has defeated No. 2 Morningside. They also topped then No. 7 Briar Cliff, 77-64.
The Bulldogs complete a run of three-straight road games when they take the floor at the Lied Fitness Center in Omaha. Concordia and College of Saint Mary (9-8, 3-7 GPAC) will tip off at 6 p.m. CT on Wednesday. The contest will be a rematch of last year's national tournament second round game in which the Bulldogs defeated the Flames, 92-82.