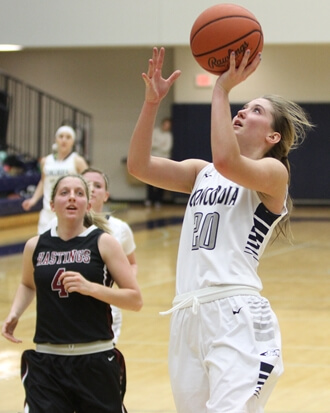 Win streak grows to 13 with 90-80 victory over Northwestern
SEWARD, Neb. – Minus a starter, the third-ranked Concordia University women's basketball team managed to keep its win streak intact by toppling a hot Northwestern team. Senior Bailey Morris recorded her first career double-double to help fuel a 90-80 win over the Red Raiders inside Walz Arena on Saturday afternoon.
Ninth-year head coach Drew Olson's squad boosted its season records to 18-1 overall and 11-1 in conference action with its 13th-consecutive victory. The Bulldogs have won four of the last five meetings with Northwestern (10-7, 4-5 GPAC) that have taken place in Seward. But unlike recent blowout wins, Concordia had to earn it late in the second half.
"We had the lead but it wasn't like we were really in control of the game," Olson said. "But I was really proud of our kids in the second half. They continued to battle. We just really found ways to get stops in the half court."
While Morris went 8-for-23 from the field, her lightning quick dribble drive broke down the Red Raider defense. Morris totaled 24 points and 11 assists, helping put three teammates in double figures in scoring – Mary Janovich (16), Shelby Quinn (14) and Jericca Pearson (10).
Making her fourth start of the season, Quinn provided a spark during both of Concordia's big scoring runs. She went on a personal 5-0 run midway through the first half that included a whirling layup and corner triple. Quinn's energy helped spur a 13-2 run that turned a 20-14 deficit into a 27-22 lead.
After Norhwestern made a second half push, the more balanced Bulldogs went on an 11-2 spurt and regained control and a 70-60 advantage, thanks in part to the career best scoring total from Quinn, a sophomore guard from Bellevue, Neb. During the run, Quinn went 6-for-6 from the foul line and finished 9-for-10 on free throws. She made both of her shot attempts from the field.
"Coach talked to me about it halftime about driving it," Quinn said of her approach. "They were kind of hugging on me. He said to make sure you're aggressive and go after them and either go for your own shot or look to get your teammates open."
Down by as many as 10 points in the first half, Northwestern rallied back to tie the score at 56-56 with 13:42 left in the game. The Red Raiders stayed within striking distance on the strength of another big offensive performance from GPAC leading scorer Karen Ettleman, who led all players with 33 points on Saturday. But the Bulldogs soon found the answer that put away Northwestern.
Even without All-American Tracy Peitz, who is expected back next time out, Olson showed off a deep bench in using all nine of his reserves. Those fresh legs helped the Bulldogs overcome their 38.6 percent shooting. Concordia also went 32-for-42 from the foul line (.762). Peitz's absence appeared to make the Bulldog press less effective, as Concordia generated 23 turnovers (entered the night forcing a 30.4 per game).
"Northwestern's a tough team. They're playing really well," Olson said. "They had a lot of fight to them and that fight made us fight a little bit harder. We really needed a game like this where it was a little bit closer."
Morris, who added five steals (33-straight games with a steal), moved into fifth-place on the program's all-time scoring list with her 1,734 points. She surpassed Lynda Beck (1,720) and sits just two points behind Stephanie Schilke (1,736) for fourth.
Morris and company have cruised past 15 of opponents by 10 points or more this season. Each of the last nine victories have come by double figures.
The Bulldogs now enjoy a midweek bye before going on the road next Saturday (Jan. 17) when they take on Briar Cliff (14-5, 7-3 GPAC) in Sioux City, Iowa. Tipoff is set for 2 p.m. Concordia, which has not played a road contest since defeating Dakota Wesleyan, 100-70, on Dec. 19, won the by a score of 69-59 in this season's first meeting with the Chargers.