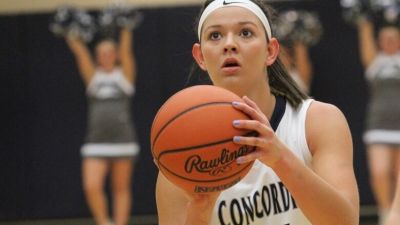 REDDING, Calif. – The 14th-ranked Concordia University women's basketball team rattled off the first 13 points of Wednesday's contest and ran away with a 93-55 victory over Pacific Union College (Calif.) in a game played on the Simpson University campus in Redding, Calif. Eleven different Bulldogs splashed in at least one 3-point field goal and junior Erin Vieselmeyer fueled the win with a career high 15 points.
Tenth-year head coach Drew Olson's squad pushed its overall record to 10-3 by way of its sixth-straight triumph. The Bulldogs are a perfect 5-0 against nonconference opponents.
"We played well. I'm glad we were able to cut down on our turnovers," Olson said. "Our bench played much better and we moved the ball really well. We're looking forward to coming back and getting back to conference play."
Vieselmeyer tallied 11 of her 15 points over the opening 20 minutes and even contributed to the 3-point barrage with a triple just before the halftime buzzer sounded. Entering the game ranked fourth nationally in made 3-point field goals per game, Concordia went 13-for-26 (.500) from long range on the way to torching the winless Pioneers (0-13) of the California Pacific Conference.
Said Olson of Vieselmeyer, "She was always in the right spot. Her spacing was good and her teammates found her."
Olson credited backup point guard Jade Gottier (four assists, one turnover) for her ability to get the offense humming on Wednesday. She helped set up Vieselmeyer (7-for-9 from the field) and company for point-blank looks. All 14 Bulldogs who traveled saw action with each registering at least three points in the scoring column.
Freshman Quinn Wragge (10 points and seven boards) joined Vieselmeyer with double figures in scoring. Wragge and fellow rookie Maddie Egr (five points, eight rebounds) played key roles in Concordia's massive advantage on the boards (53-25) against the outmanned Pacific Union team. Sophomores Sydney Feller and Mary Janovich chipped in nine points apiece.
Jade Mena came off the bench to provide a bright spot for the Pioneers. She totaled 18 points on 7-of-15 shooting from the field. Pacific Union knocked down 8-of-17 shots (.471) from beyond the arc.
The biggest roar surfaced from the Concordia bench when senior Jenna Lehmann put an exclamation mark on the victory with her first career trey, which occurred late in the fourth quarter with the Bulldogs padding an insurmountable lead.
The team's California tour included a dinner at the house of Becky Mueller's aunt on Sunday, a trip to the Warriors-Kings NBA game on Monday, a win over Simpson University on Tuesday and a victory over Pacific Union to cap it off on Wednesday. Concordia will fly out of California on Thursday morning.
The Bulldogs will then quickly turnaround and host No. 4 Briar Cliff (12-2, 5-2 GPAC) on Saturday. Tipoff is slated for 2 p.m. In appreciation for Seward community fans, admission will not be charged. The contest will be a rematch of last year's national semifinal in which Concordia defeated the Chargers, 72-62.