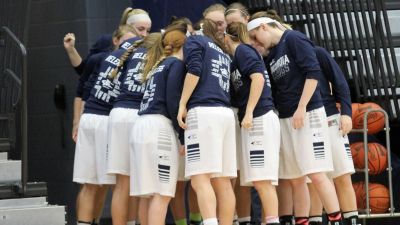 SIOUX CITY, Iowa – Another brilliant performance from freshman Quinn Wragge failed to make up for a rash of turnovers committed by the 13th-ranked Concordia University women's basketball team. The Bulldogs struggled mightily in the third quarter and fell by a count of 75-55 at No. 10 Briar Cliff on Saturday afternoon.
The loss means 10th-year head coach Drew Olson's squad settles for a tie for fourth in the final GPAC regular-season standings. Concordia will enter the postseason with records of 22-8 overall and 14-8 in the conference.
"Briar Cliff did a great job defensively on us," Olson said. "We played rushed and never got comfortable on offense. We didn't take care of the ball enough and didn't play nearly well enough to beat a really good team on the road."
Fresh off a career-high 18 rebound performance in Wednesday's win over College of Saint Mary, Wragge notched her second-straight double-double by racking up game highs of 25 points and 14 rebounds. She played 35 minutes and was again nearly unstoppable in the paint, making 11-of-12 shots from the floor. On the down side, Bulldogs not named Wragge shot a combined 11-for-45 (.244).
Not only did the Chargers (21-8, 14-8 GPAC) lock down Concordia, they also feasted on 24 Bulldog turnovers. Briar Cliff owned an advantage of 27-9 on points off turnovers and pulled away from Concordia with a dominant third quarter. Morgan Hansen, who had a team best 20 points off the bench, tallied eight points during the torrid third quarter shooting effort from the Chargers.
Wragge was the lone Bulldog to reach double figures in scoring. Becky Mueller chipped in nine points, but was 3-for-12 from the field. Eight different Bulldogs committed multiple turnovers.
On the other side, Briar Cliff got a combined 37 points from Hansen and Jessi Corrick (17 points, six rebounds). The Chargers shot 42.0 percent (29-for-69) compared to 38.6 percent shooting (22-for-57) by Concordia.
Concordia won five of its nine regular-season games versus top-25 opponents. Three of those victories came against GPAC teams: No. 4 Briar Cliff, No. 6 Dakota Wesleyan and No. 10 Hastings.
Over the past five games Wragge has reached 20 points on three occasions. Since Dec. 9 she has bumped her season scoring average up from 9.8 to its current stature of 14.3.
The Bulldogs will return to the Flanagan Center on Wednesday for a 6 p.m. tipoff as part of the quarterfinals of the GPAC tournament. Fifth-seeded Concordia will take another run at fourth-seeded Briar Cliff. The two teams split the regular-season series.