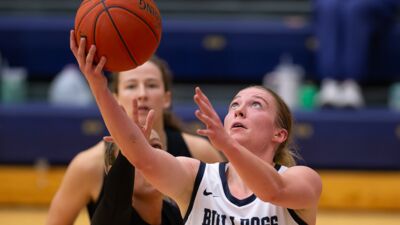 SEWARD, Neb. – Just one game will make up the Thanksgiving week for Concordia University Women's Basketball team. After opening conference play with two victories last week, the Bulldogs will be headed to Omaha for a matchup with College of Saint Mary on Tuesday. Head Coach Drew Olson's squad has rolled to a 4-0 start. In last week's action, Concordia routed Morningside at home, 86-62, before hitting the road for the first time and knocking off Northwestern, 77-69.
This Week
Tuesday, Nov. 21 at College of Saint Mary (1-4, 0-2 GPAC), 6 p.m.
--Max Country | Live Webcast | Live Stats | Location: Lied Fitness Center (Omaha, Neb.)
By the numbers
· It's rare that the Bulldogs have been able to handle perennially strong Morningside the way that they did on Nov. 15. The Mustangs struggled mightily in the face of Concordia's full-court pressure and turned it over 32 times. The Bulldogs were especially dominant in the first and third quarters and led by as many as 32 points. Three Concordia players reached double figures in scoring: Taysha Rushton (15), Kendal Brigham (10) and Sadie Powell (10). Mackenzie Toomey supplied nine points and pilfered seven of the team's 20 steals. Off the bench, freshman Bree Bunting chipped in with eight points. The Bulldogs easily overcame a 50-29 rebound disadvantage while shooting 45.8 percent (33-for-72) from the floor and 35.3 percent (12-for-34) from 3-point range. Olson's program has won each of the past three meetings with the Mustangs.
· The scoring margin got a bit closer than Concordia wanted it to at Northwestern in a game the Bulldogs took control of in the third quarter. Concordia built its advantage to 19 (71-52) midway through the fourth quarter. The Red Raiders made things interesting with a 13-0 run. Ultimately, the Bulldogs were able to salt away the win by going 6-for-6 from the foul line over the contest's final 30 seconds. The Lincoln North Star High School product Krieser wound up with a career high 24 points on 8-for-15 shooting from the floor. Other double-figure scorers were Brigham (17), Rushton (12) and Kristin Vieselmeyer (11). Off the bench, Abby Heemstra led her side with eight rebounds. Meanwhile, Rushton added five steals, four assists and two blocks. Concordia has won at Northwestern in back-to-back seasons.
· Krieser may have made a larger leap forward than anyone in the program from 2021-22 to 2022-23. The 5-foot-8 junior guard went from averaging 2.8 points as a freshman to 9.8 points per game as a sophomore as she took on a starting role. The 24 points she posted at Northwestern eclipsed her former career high of 23 points in last season's 92-80 win at Doane. Through four games this season, Krieser is averaging 12.5 points, 3.3 rebounds, 2.3 assists and 1.8 steals per game. Krieser piled up more than 1,000 points during her prep career at North Star.
· Concordia's first four opponents have averaged 26.5 turnovers per game (106 total turnovers) for the eighth highest average in the NAIA. Fifty-seven of those turnovers have come via steals. Toomey plucked nine steals last week and has a team high 14 thefts for the year. A Lincoln Southeast High School product, Toomey teams up with the likes of Brigham, Krieser and Rushton in giving opponents nightmares in the backcourt. In 91 career games, Toomey has compiled 521 points, 334 rebounds, 163 assists and 154 steals.
· The late Northwestern run may have prevented another win by a double-digit margin, but the Bulldogs have been dominant to start 2023-24. Their first four victories have come by margins of 25, 13, 24 and eight, respectively. Concordia has ambushed its foes in the third quarter, outscoring them by a combined total of 101-56 in that period. The win over No. 5 Marian University (Ind.) at the Cattle Classic gave the Bulldogs a boost in the NAIA coaches' poll as they went from No. 17 to No. 11 in the ranking released on Nov. 6. The next poll will come out after Thanksgiving. Concordia is one of three GPAC teams without a blemish on the record. The other two are Dordt (7-0, 2-0 GPAC) and Briar Cliff (6-0, 2-0 GPAC).
· The win count for Drew Olson in his head coaching tenure has reached 447. No. 446 came against Morningside and carried significance in that it made Olson the winningest head coach in the history of Concordia Athletics, regardless of sport. Olson passed his college coach, Grant Schmidt, who went 445-276 over his 23 seasons leading the Concordia Men's Basketball program. Schmidt was the one who took a chance on a young Olson prior to the 2006-07 season. As men's basketball coach and AD, Schmidt hired Olson to lead the women's basketball program. Olson had previously served as a graduate assistant coach for Bellevue University men's basketball but had never before coached a women's team. Olson's remarkable career reached the pinnacle in 2019 when the program celebrated its first ever national championship.
The opponent
College of Saint Mary opened its 2023-24 season with a 67-63 win over future GPAC member Waldorf University (Iowa). Since then, the Flames have been beaten four times in lopsided fashion – 69-37 by York University, 84-46 by Peru State College, 77-47 by Northwestern and 103-47 by Briar Cliff. The Flames graduated their one All-GPAC honoree from last season, Madelyn Turner. The series win streak for Concordia versus CSM has reached 22. Head Coach Kirk Walker's squad is averaging 48.8 points per game while allowing an average of 79.2 points.
Next week
GPAC play will continue as the Bulldogs will play at Midland on Nov. 29 and then will host Jamestown on Dec. 2. The meeting with the Jimmies will be Concordia's lone home game during the month of December.