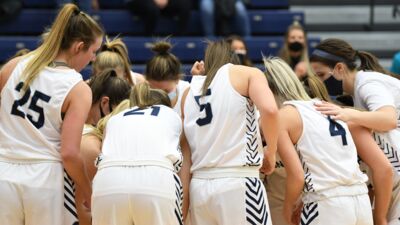 2021 National Tournament Press Guide (PDF)
As Head Coach Drew Olson likes to say, "tradition never graduates" and "never underestimate the heart of a champion." Those were monikers to keep in mind heading into the 2020-21 preseason as the Concordia University Women's Basketball program just so happened to graduate an impressive senior class that greatly enhanced the richness of its tradition. At one point this season, the Bulldogs stood at 6-5 overall and did not receive a single vote in the national poll.
That's not to say this is some sort of underdog story. Concordia has been too good under Olson to think of the program in those terms. However, the Bulldogs were going to have to kick it into gear if they were to extend their streak of national tournament appearances.
Even in defeat in the GPAC tournament title game, Concordia seemed to grow its confidence. This clearly isn't the same team it was back in November and December. Said Olson, "We showed a ton of fight. This team has really grown. We've developed that toughness and togetherness. That was awesome to see."
Olson would likely argue that this team never lost that heart of a champion mentality. That trait was most certainly on display in the conference championship game when the Bulldogs rallied from a 36-15 first half deficit to take the lead in the fourth quarter. Since Jan. 6, Concordia has lost only two games – and both of those were two-point defeats to GPAC champion Morningside.
Following the latest close call, Olson reinforced the idea within the locker room that this is a team that can do damage at the national tournament. With a backcourt led by first team All-GPAC stars Taylor Cockerill and Taysha Rushton, the Bulldogs have reason to believe. Stated Olson after the GPAC title game, "We feel really good. We're confident and we know we can play with anybody. We're excited that we're still playing. We're ready to play another team right now."
This is only the start for Rushton, a Lubbock, Texas, native who has put together one of the finest freshmen seasons in school history. She rose to another level during a GPAC tournament run that saw her post a combined 64 points while going 12-for-24 from 3-point range. Cockerill took over at Morningside with a 19-point second half.
The way this team wins is a little bit different than the way the past two Concordia teams dominated. Two seasons in a row (2018-19 and 2019-20), the Bulldogs had the services of one of the nation's best passing point guards in Grace Barry and the top post player in Philly Lammers (more than 2,000 points and 1,000 rebounds for her career). The game planning was simplified by the presence of a wealth of veteran talent.
With a new-look team in 2020-21, the game plan has sometimes fluctuated drastically from one outing to the next. Olson has never been afraid to tinker with defensive alignments in order to maximize his team's ability to match up with a worthy adversary. Toughness and togetherness have been part of the formula for an impressive close to the regular season. At 0-3 with three home defeats to open this season, there could have been some doubts about where this season was headed.
Said Rushton, "I think the area that we have grown the most throughout this season is our communication on defense. We sometimes have a different defensive game plan when we play an opponent, but we find ways to adjust to be able to get stops in whatever defense we're in because of our communication on the court."
A leader based on her on-court play and veteran leadership, Cockerill's influence has played a vital role in this team's success. There is no more respected leader within the locker room than Cockerill, who has played in two national championship games and three GPAC title games. When the situation calls for it, the Waverly High School product can put a team on her back.
"This team is extremely special," Cockerill said. "We are truly like one big family. Everyone has bought into our program and puts the team first. I think the growth of this team from the beginning of the season to now is evident in many different aspects. Our young team has grown so much not only on the court but also in our friendships off the court. I truly am so grateful to be part of this family and can't wait to continue our journey."
Mackenzie Koepke is the lone returning starter from last season. She's been joined in the starting five by Cockerill, Rushton, junior Rylee Pauli and another freshman in Bailey Conrad. Naturally, it took some time for things to come together. Conrad's development has been immense as part of a backcourt that takes care of the ball, makes perimeter shots and can lockdown on the other end. Off the bench, the likes of Taylor Farrell, Rebecca Higgins, Averie Lambrecht, Kayla Luebbe, Sadie Powell, Mackenzie Toomey and others have each made an impact.
There's just something about Concordia Women's Basketball – and something about Olson's ability to inspire a team to reach its full potential. At one time unranked and slipping off the national radar, Concordia has reminded everyone that this is still Concordia. A lot of firepower may have graduated in 2020, but tradition never did.
"I think this team is special and unique because we had to grow and fight together," Rushton said. "We started our season off 0-3. We could've easily given up on each other, but instead we continued to work hard every day and continued to believe in each other and Coach Olson."