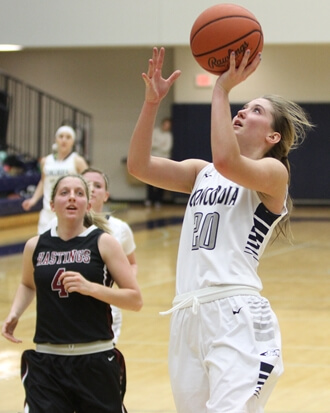 Top-ranked Mustangs edge Bulldogs in NAIA game of the week
SIOUX CITY, Iowa – In a contest that lived up to its billing as the NAIA Division II Women's Basketball Game of the Week, the third-ranked Concordia women's basketball team saw its 23-game win streak snapped. A free throw in the final seconds provided the deciding point and Morningside survived for a 77-76 victory in Sioux City, Iowa, on Saturday afternoon.
With the game tied at 76, the Mustangs regained the lead when Taylor Bahensky made one of two free throws with :6.2 left on the clock. Morningside then celebrated after Bailey Morris' driving layup in traffic misfired just before the buzzer.
"It was a great game between two really good teams," ninth-year Concordia head coach Drew Olson said. "We're disappointed that we lost, but I'm proud of how we played and how we competed. We got down in both halves and kept fighting and battling. We had several kids who played better today than they did in the first game against Morningside.
"We had the shot we wanted at the end. Bailey made the right read, she just kind of lost her balance on the way up."
Olson's squad will enter the postseason with an overall record of 28-2 and a league mark of 18-2. The Bulldogs settled for runner up to first-place Morningside (30-0, 20-0 GPAC) atop the league standings.
Concordia never led at any point on Saturday, but roared back down the stretch. Senior Kelsey Hizer twice pulled the Bulldogs even by knocking down a trey and then a layup off the dish from Morris. Her final bucket with 12.5 seconds left made it 76-76. Just over six seconds later, Bahensky was fouled by Jericca Pearson to set up the game's last tally.
The Mustangs held an advantage as large as 10 points early in the second half. The lead settled at eight with less than three minutes left before Concordia staged an 8-0 run that included threes on back-to-back possessions from Hizer and Mary Janovich.
Bahensky equaled Jessica Tietz's 17 points for a Morningside team high. With Concordia emphasizing containment of the Mustangs' second-chance opportunities, star senior post Ashlynn Muhl was held to eight points and nine rebounds. Head coach Jamie Sale's squad still managed to outrebound the Bulldogs, 40-33, and finished with a 38-28 advantage in points in the paint.
Morris dished out nine assists and grabbed seven rebounds while totaling a game high 24 points on 8-for-24 shooting in a much more aggressive performance than in the first meeting with the Mustangs – a 78-70 Morningside win in Seward. Hizer and senior Tracy Peitz booked 10 points apiece. Pearson chipped in nine points and four rebounds off the bench.
One of four teams to share last season's GPAC regular-season title, Concordia had hoped to earn its third conference championship in four seasons. Instead, Morningside ran through the entire GPAC season unscathed.
"We knew we would have to play really well to win. I thought we did play pretty well, but we had some mental errors that we can clean up," Olson said. "It's a tough loss, but we know we have more season to go."
The Bulldogs are now 7-2 versus ranked opponents. Saturday marked their first defeat on the road this season.
Postseason play begins on Wednesday when the second-seeded Bulldogs host No. 7 seed Mount Marty (19-11, 9-11 GPAC) at 7 p.m. in the quarterfinals of the GPAC tournament. Concordia swept the regular-season series from the Lancers, who are 12-5 away from home.