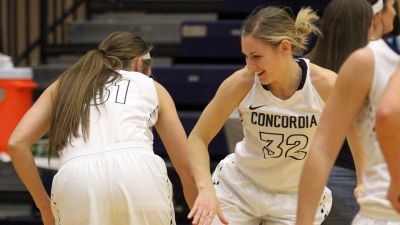 SEWARD, Neb. – Following another dominant week in the GPAC, the top-ranked Concordia University women's basketball team is poised to reach the 20-win mark for the seventh season in a row. During last week's action, the Bulldogs (19-0, 11-0 GPAC) bludgeoned both Briar Cliff, 95-57, and Mount Marty, 73-51, while remaining unbeaten more than halfway through the conference slate. Two more GPAC games are on the docket this week.
This week's schedule
Wednesday, Jan. 17 at College of Saint Mary (2-17, 1-10 GPAC), 6 p.m.
Saturday, Jan. 20 vs. Dordt (9-11, 4-7 GPAC), 2 p.m.
The radio home of the Bulldogs, 104.9 Max Country, will feature live broadcasts throughout the week. Wednesday's game can be seen live online via College of Saint Mary's Stretch Internet portal. Saturday's contest will be carried live by the Concordia Sports Network.
Head coach Drew Olson's squad has already rolled through the most treacherous portions of its schedule, although three nationally-ranked foes are left on the remaining slate. The bad news for this week's opponents: Concordia has defeated unranked foes by an average margin of 33.7 points per game this season. The stars of last week included Brenleigh Daum (26 points on 7-for-13 3-point shooting vs. Briar Cliff) and Philly Lammers (21 points, six rebounds at Mount Marty). Senior guard Mary Janovich, who totaled 13 points in both of last week's outings, became the 26th member of the program's 1,000-point club on Jan. 10. Entering the week, Dani Hoppes needs 25 more points to reach 1,000 for a career that began at Midland.
On that same night, Olson picked up the 300th win of his head coaching career. Already the winningest coach in program history, Olson has the Bulldogs on track to make their 10th national tournament during his 12-year tenure. Last week Concordia rose to the No. 1 ranking for the first time since December 2012. Now on an active run of 79-straight appearances in the national poll, the Bulldog women's basketball program has achieved 14 No. 1 rankings during its history. The highest final ranking during Olson's tenure was second in 2015.
Concordia defeated College of Saint Mary handily, 114-56 (Nov. 29), in this season's first meeting between the two sides. Since then, the Flames have earned just one win – a 58-57 overtime triumph over Doane. It's been a rebuilding season for head coach Jesse Flanagan's offensively challenged bunch that averages 62.2 points and shoots 35.5 percent from the floor. The team's brightest star is senior guard Miranda Acuna, who tops the team with an average of 15.6 points per contest.
Dordt's most lopsided loss (101-55) of the season came at the hands of the Bulldogs. The Defenders had the weekend off following their 76-62 Jan. 13 home win over College of Saint Mary. Sophomore Rachel Evavold (14.8 ppg, 7.2 rpg) serves as a do-it-all post player for Kyle Lindbergh, who is titled the program's interim head women's basketball coach. Dordt will have two opportunities to claim a signature upset this week with eighth-ranked Dakota Wesleyan and No. 1 Concordia up next.
On paper, one of the Bulldogs' most challenging remaining games is coming up next Wednesday (Jan. 24) when they will play at No. 11 Hastings (16-3, 8-3 GPAC). That rivalry battle precedes the 67th annual Concordia Invitational Tournament (Jan. 26-27), which will take place in Mequon, Wis.
Projected lineups
Concordia (19-0, 11-0)
G – MacKenzie Helman: 5.1 ppg, 3.6 apg, 2.4 rpg, .370 fg%, .358 3-pt fg%
G – Dani Hoppes: 10.4 ppg, 1.7 rpg, 1.6 spg, 1.6 apg, .406 fg%, .387 3-pt fg%
G – Mary Janovich: 9.5 ppg, 3.4 apg, 2.2 rpg, 2.0 spg, .539 fg%, .517 3-pt fg%, .800 ft%
F – Quinn Wragge: 13.8 ppg, 5.7 rpg, 1.9 apg, 1.6 bpg, .630 fg%, .828 ft%
F – Philly Lammers: 13.1 ppg, 9.1 rpg, 2.5 spg, 1.5 bpg, .492 fg%, .692 ft%
College of Saint Mary (2-17, 1-10)
G – Alyssa Laudato: 5.1 ppg, 2.8 apg, 1.3 rpg, 1.2 spg, .381 fg%
G – Miranda Acuna: 15.6 ppg, 3.7 rpg, 1.8 spg, 1.7 apg, .359 fg%, .297 3-pt fg%, .867 ft%
G – Tyler Sumpter: 14.2 ppg, 3.6 rpg, 2.3 apg, 1.4 spg, .426 fg%, .333 3-pt fg%
F – Lacey Knudsen: 5.6 ppg, 5.6 rpg, .349 fg%, .533 ft%
F – Ashley Nelson: 3.1 ppg, 3.7 rpg, 1.7 spg, .246 fg%, .719 ft%
Dordt (9-11, 4-7)
G – Annie Rhinesmith: 12.7 ppg, 4.1 apg, 3.7 rpg, 2.0 spg, .459 fg%, .384 3-pt fg%, .826 ft%
G – Kenzie Bousema: 6.6 ppg, 4.9 rpg, 1.7 apg, .420 fg%, .609 ft%
G – Payton Harmsen: 7.0 ppg, 3.0 rpg, 1.8 apg, .311 fg%, .298 3-pt fg%, .611 ft%
F – Rachel Evavold: 14.8 ppg, 7.2 rpg, 2.7 apg, 1.1 bpg, .542 fg%, .863 ft%
F – Erika Feenstra: 11.4 ppg, 5.1 rpg, .463 fg%, .333 3-pt fg%, .882 ft%