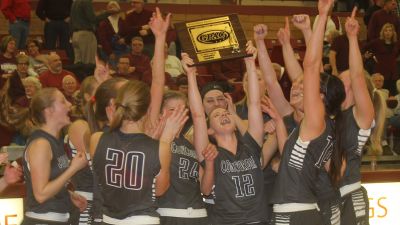 Since its first official season in 1967-68, the Concordia women's basketball program has steadily improved, eventually becoming a national power. Eunice Goldgrabe became the program's first stable coach. She helped pave the way for five different Bulldog head coaches to take women's basketball teams to the national tournament. In the present day, Concordia is a powerhouse under the direction of head coach Drew Olson. In our third installment of "top five moments," we recount the greatest team and individual moments produced by Concordia women's basketball. For this list, only specific athletic accomplishments were considered.
1. Unchartered territory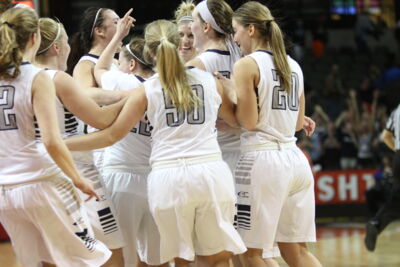 The 2014-15 Bulldogs had the makings of a national championship team with All-Americans Bailey Morris and Tracy Peitz leading the way. As part of a GPAC exclusive national semifinal (Morningside and Hastings on the other side of the bracket), Concordia toppled Briar Cliff, 69-60, advancing to the title game for the first time in program history. Though Morris went 2-for-16 from the field to begin the game, she clutched up with two late 3-point daggers that sewed up the first-ever national championship contest appearance in program history. As part of the national tournament push, the Bulldogs defeated Bryan (Tenn.), 76-35, College of Saint Mary, 92-82, Jamestown (N.D.), 76-59, and Briar Cliff. It looked like it was head coach Drew Olson's time to win a title when Concordia led by as many as 12 points in the first half of the championship tilt with Morningside. The Mustangs came back and clipped the Bulldogs, 59-57. "We had a good crowd, but it was basically playing in front of a Morningside crowd," Olson recalls. "You're on the road for a national championship game. That atmosphere was really cool."
Aside from an excruciatingly close call in the national title game, the 2014-15 season was one of many thrills and huge moments. Concordia put together a winning streak that stretched over 23 games, upset Morningside in Sioux City for the GPAC tournament title and recorded a total of 13 victories over teams with national rankings. It was a Bulldog squad that had greater substance than just Morris and Peitz. Other key contributors were seniors in Kelsey Hizer and Jericca Pearson, sophomore Becky Mueller and GPAC freshman of the year Mary Janovich. Said Olson, I'll probably remember their personalities a whole lot more than them as players. I'll remember how much joy I had coaching each one of them and how much better they made going to work every day. That's why they're such a special group." The seniors on the 2014-15 team were freshmen when Olson first made a semifinal run in 2012 behind other noteworthy stars like Kristen Conahan, Amber Kistler and Katie Rich. The Olson era has seen one standout after the other.
2. The Bailey Morris Game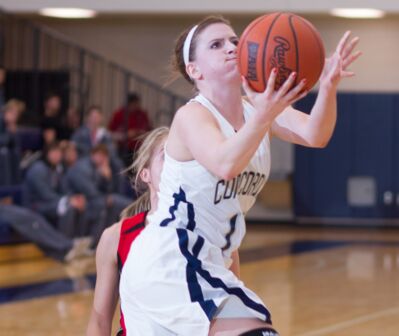 The Bailey Morris Game: Feb. 15, 2014. Then a junior, Morris had already made a name for herself as a playmaking point guard with a flair for theatrics. This game put her on another level. Up against third-ranked Northwestern, Morris went 12-for-26 from the field, including 4-for-8 from 3-point range, and a near perfect 17-for-18 from the foul line while racking up a school single-game scoring record of 45 points. That production lifted Concordia to an 89-78 win and helped Morris earn national player of the week honors. It was a signature moment for Morris, a product of Sandy Creek High School who was encouraged by head coach Drew Olson to take a score-first approach. In her shredding of Northwestern, Morris had piled up 28 points by the time the first half ended. What made the 5-foot-4 blur such a dynamic scorer was her ability to blister the nets in so many different ways. All of those skills were on display that mid-February day. Morris likely ended the conversation about who deserved GPAC player of the year on that day alone.
The honors continued to stream in for Morris, whose name is right at the top of many of the program's all-time statistical lists. Named GPAC player of the year as both a junior and senior, Morris became the first national player of the year in Concordia women's basketball history and finished her career atop the school's all-time scoring chart with 2,054 points. With Morris leading Olson's teams, the Bulldogs went to four national tournaments, appeared in the national semifinals twice (championship game in 2015), captured four GPAC titles (two regular season, two tournament) and put together a combined record of 119-21. She offered up plenty of other impressive individual performances, such as her 34-point, eight-rebound effort versus College of Saint Mary at the 2015 national tournament, but the 45-point game stands out as her defining individual moment as a Bulldog.
Following her playing career, Morris wrote, "When I look back on my career at Concordia, sure, I'll remember the scoring record, the national player of the year and all the accolades and recognition. But what I'll be most proud of are my teammates. I'm proud of everything they did for the teams I was on and the player they pushed me to be. I hope they remember me as passionate and hard-working person who loved the game of basketball but more importantly, loved them. Saying 'I'm so thankful for them' would be a giant understatement. I don't think they'll ever understand how much they mean to me. I'm so thankful for Coach Olson. Plain and simple, I wouldn't have become the player I did without him."
3. The Game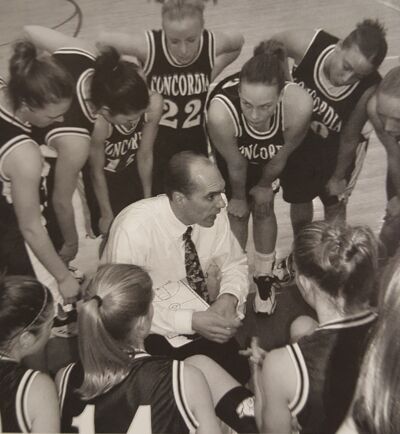 In the history of Concordia women's basketball, there can be only one, The Game. It occurred Feb. 12, 2003, when top-ranked Concordia ventured west on I-80 for a rivalry showdown with No. 2 Hastings. Fans lined the arena and then flooded it. As head coach Todd Voss recalls, fans actually gathered early to tailgate for a contest with plenty of hype attached to it. It didn't disappoint. Recalled Voss, "We got there and we got booed even before we got to the arena because there were people lined up. I had the good fortune to coach in a number of great arenas and in big venues in big games at various levels. As far as game atmospheres, that game at Hastings that 2002-03 season was as good or better than any atmosphere I was ever part of in my coaching career."
The Game lived up to the hype. Though the Broncos built an 11-point lead in the first half, a Concordia squad led by the likes of Sarah Harrison and Elizabeth Rhoden never flinched. The Bulldogs went on a 12-0 second-half spurt and grabbed a late lead in a pulse pounder that earned its place in program folklore. With her team down one, Harrison nailed a 10-foot turnaround jumper with 3.2 seconds left. The Bulldog faction of the audience exploded. Concordia won, 65-64, in a game that will never be forgotten by anyone involved in it. A photographer at the game captured the moment in an image that somehow ended up as a massive poster inside the arena at Hastings. Said Voss, "From the spot where the picture was taken you can see all of these hands up in the air. Well those are actually Bulldog fans, not Bronco fans behind our bench." Harrison totaled 17 points and seven rebounds. Said Harrison, "I can remember when we were running out for warmups their crowd was booing us. Naomi Laune looked at me and said, 'That's when you know you're good – when the other fans care enough to boo.' I think that's the memory that sticks out the most. I don't know if we actually knew how good we were until a moment like that."
The 2002-03 squad began the season at 33-0 and reached the national semifinals, where it fell, 66-60, at the hands of the same Broncos team it beaten just over a month earlier. Voss and previous head coach Micah Parker had built a monster of a program that also turned in big seasons in 2003-04 and 2004-05 before Voss wound down his career pacing the sidelines as a Bulldog. The 2002-03 team remains the school record holder for most wins in a season (36).
4. Third time's a charm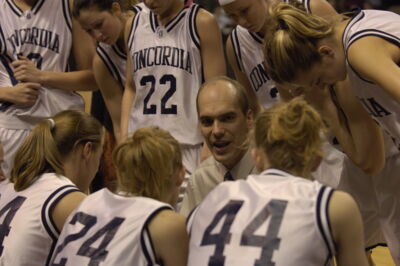 Morningside simply didn't lose at home. Coming off a national title in March of 2004, the 2004-05 Mustangs had gone 17-1 during conference regular-season play, were winners of 31 in a row at home and carried a No. 2 national ranking into the GPAC tournament championship tilt on March 1, 2005. Concordia made its way to Sioux City, Iowa, ranked sixth nationally, but had gone 0-for-2 against Morningside during the regular season. Ten days earlier, the Mustangs flattened the Bulldogs, 79-53, in Sioux City in the regular-season finale. Head coach Todd Voss' squad possessed too much senior leadership to let that defeat sink a potential deep postseason run. In that season's final meeting between the two conference powers, Concordia got out to a shocking 35-10 halftime lead over a Morningside team that went just 3-for-25 (.120) from the field over the opening 20 minutes. Voss told the Sioux City Journal afterwards, "There's no way we could have imagined being ahead of this team 35-10 at the half. The stars must have been aligned just right."
Future Concordia Athletic Hall of Famer Kari Saving poured in 17 crucial points in a game that was far from a thing of beauty. The Mustangs slashed their deficit to as few as eight points with less than a minute-and-a-half remaining. It was simply too little too late. Morningside shot a miserable 25.9 percent for the game and got kicked on the boards, 45-23, by the Bulldogs. It was a great lead in to the national tournament for Concordia, which went on to advance to the national semifinals for the second time in three seasons.
The victory over Morningside was one of the final big moments produced by the winningest four-year class in school history. The likes of Saving, Sarah Harrison, Keyna Kobza, Naomi Laune and Kayla Luehman went 123-21 between the 2001-02 and 2004-05 seasons. The group of seniors began their collegiate careers playing for Micah Parker, who left Concordia after the 2001-02 campaign.
5. The Game, Part II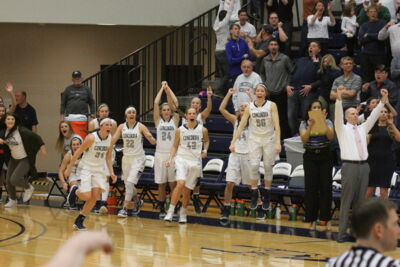 In another season chalk full of memories, nothing over the course of the 2016-17 campaign beat the atmosphere and the spectacle of the GPAC tournament championship game that Concordia hosted on Feb. 28, 2017. The contest was a gut wrencher for both sides in a matchup that featured the second-ranked Bulldogs and No. 9 Dakota Wesleyan, two teams that have developed a budding rivalry. Sometimes it's that shots that don't go in that are just as memorable as the shots that do go on. On the contest's final possession, the Tigers' Ashley Bray launched a trey that misfired. The ensuing two-hand tip by Sarah Carr came dangerously close to dropping through the bottom of the net, but the ball somehow rolled off the left side of the rim. The Bulldogs exhaled while students stormed the court in celebration of a 78-77 victory. Said head coach Drew Olson afterwards, "That was an amazing game. It was really fun to be part of. I think it's something our kids will always remember."
The all-timer of a championship game, which included 18 points and 12 rebounds by Quinn Wragge, made up part of a 34-win season complete with GPAC regular-season and tournament titles and a run to the national semifinals. There may not have been a more dominant regular-season team in the nation than the 2016-17 Bulldogs, which put together a 26-game win streak and lost only one conference game all season. That one defeat was avenged in the GPAC championship game. Olson's 11th Concordia women's basketball team was arguably his best. It featured second team All-American Philly Lammers along with fellow first team All-GPAC choices in Wragge and Mary Janovich. Transfer Dani Andersen put on a shooting display in the national semifinals and garnered all-tournament accolades.
Honorable mention No. 1: down goes No. 1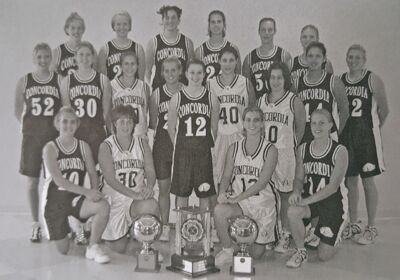 It would be difficult to put together a top moments list without mention of former head coach Dr. Micah Parker, one of the early architects responsible for the program's rise to power. Numerous times, Parker's squads upset teams ranked No. 1 in the national poll. These games were a prelude to the most glorious years in Concordia women's basketball history. The 1999-2000 squad did the unthinkable, winning at No. 1 Northwestern, 66-65, in a late January tilt. The fans in Orange City howled when a Concordia player basically tackled a Red Raider on an out-of-bounds play in the final seconds. The horn sounded and Parker hustled his team to the locker room. He didn't want the officials to have any chance to reconsider the no-call. Parker's squads made it a habit of beating top-ranked opponents. The 2000-01 Bulldogs also toppled a No. 1-ranked Northwestern team and then did the same to No. 1 Hastings the following season.
Honorable mention No. 2: the shot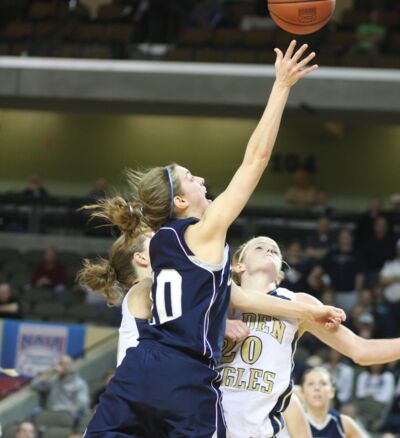 Everyone in the building knew the ball would be in Whitney Stichka's hands. Sometimes embarrassed by her own success, Stichka never backed away in crunch time. At the 2009 national tournament, Concordia trailed, 73-72, with :8.1 seconds remaining in a second-round game. Then a fifth-year senior, Stichka proceeded to go the length of the floor before sinking a highly contested driving layup to lift the Bulldogs to a dramatic win over Cornerstone (Mich.). The play-by-play announcer beamed, "You knew she was going to take it, and Cornerstone couldn't stop it." Said Stichka, "I remember that I didn't want it to be my last game. I just didn't want to be done. I loved to play basketball. I had that motivation. We were down by one and I knew I needed to score in the few seconds we had."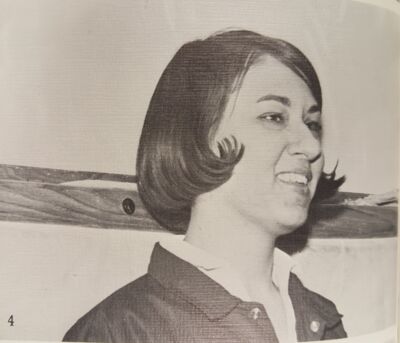 Must be mentioned: Eunice Goldgrabe is a pioneer when it comes to many female athletics teams at Concordia. It was Goldgrabe who took over the head coaching post for Concordia women's basketball for its first official season of intercollegiate competition in 1967-68. She held down the fort until passing the baton to Carl Everts in 1981. It was during the Everts era (1981-92) that the sport really took off in the NAIA. Suddenly the Bulldogs were consistently playing 30 or more games each season. In 1992, Everts' squad qualified for a national tournament, marking the first trip to nationals in school history. Everts became the winningest coach in Concordia women's basketball history until Drew Olson assumed that title in November 2014. And before Micah Parker was hired as head coach, Mark Lemke brought the program elevated stature.