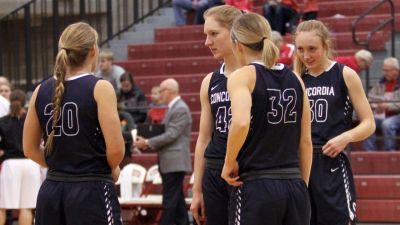 SEWARD, Neb. – The second-ranked Concordia University women's basketball team has already proven itself to be cut out for life on the road. Last week the Bulldogs escaped Orange City, Iowa, with a victory while recording their third road win this season over a nationally ranked opponent. Twelfth-year head coach Drew Olson's squad will aim for another on Tuesday when it visits No. 4 College of the Ozarks in a clash between two undefeated teams. That matchup highlights this week's action on the road.
This week's slate
Tuesday at College of the Ozarks, 6 p.m.
--Live webcast
Wednesday at Haskell Indian Nations, 5:30 p.m.
--Live webcast
Concordia fought back from double-digit deficits on the way to claiming wins in each of its last two outings. The Bulldogs have made it a common theme to turn on the jets in the fourth quarter. In wins over No. 19 Hastings and No. 18 Northwestern in recent action, Concordia outscored its opponents by a combined total of 52-32 in the final period. Those wins allowed the Bulldogs to find some breathing room in the conference standings in a league that appears to have a clear cut top five: Concordia (7-0 GPAC), Morningside (6-1), Dakota Wesleyan (5-2), Hastings (5-2) and Northwestern (5-2).
Eventually, the Bulldogs seem to wear out their opponents with a balanced squad that has been led in scoring by six different players through the first 11 games. A +14 turnover margin at Northwestern proved to be a major factor in allowing Concordia to pull out a victory despite being outshot, 56.3 to 40.0 percent. The Bulldogs now rank fifth nationally in turnover margin (+8.5). That figure compares favorably with each of the three teams Olson has led to the national semifinals: 2016-17 (+8.6), 2014-15 (+10.2) and 2011-12 (+9.7). Offensively, seven players average 7.8 points or more, led by Quinn Wragge's scoring average of 14.3.
Concordia and College of the Ozarks (13-0) are two of the five remaining unbeaten teams left in NAIA Division II. Like the Bulldogs, the Bobcats have been dominant in the early going. Head coach Becky Vest's squad ranks ninth nationally in scoring margin (+21.7) and owns a win over Morningside, which is currently ranked sixth in the NAIA coaches' poll. Ozarks also features balanced scoring with all five of its starters averaging 8.7 points or more. Returners Kelsie Cleeton (third team) and Cassidy Johnson (honorable mention) both received some form of All-America recognition last season.
Haskell (4-13) has struggled mightily in its two contests against GPAC opponents, falling by scores of 93-65 to Morningside and 72-41 to Hastings. The program reached the national tournament as recently as 2016. Despite getting 16.4 points per game from post player Keli Warrior, the Indians have struggled offensively. They average 63.3 points and shoot 36.5 percent from the floor. Haskell is located in Lawrence, Kan.
The Bulldogs took on both College of the Ozarks and Haskell on neutral courts last season. Concordia defeated Haskell, 99-44, in Bellevue, Neb., on Nov. 25, 2016. Later at the Hoop N Surf Classic, the Bulldogs downed the then eighth-ranked Bobcats, 78-68, in Honolulu, Hawaii, on Dec. 20, 2016. Concordia and College of the Ozarks have also met twice in the national tournament with the Bobcats coming out on top both times.
The Bulldogs will be idle for more than week following Wednesday's contest in Lawrence. They are scheduled to journey to Chicago for a classic hosted by Saint Xavier University Dec. 28-29.
Concordia (11-0)
G – MacKenzie Helman: 4.1 ppg, 3.7 apg, 2.9 rpg, 1.7 spg, .400 fg%, .393 3-pt fg%
G – Dani Hoppes: 9.4 ppg, 1.5 spg, 1.5 rpg, .400 fg%, .397 3-pt fg%
G – Mary Janovich: 7.8 ppg, 2.6 apg, 2.2 rpg, 1.8 spg, .469 fg%, .500 3-pt fg%
F – Quinn Wragge: 14.3 ppg, 5.1 rpg, 2.3 spg, 2.2 apg, .591 fg%, .850 ft%
F – Philly Lammers: 13.4 ppg, 9.0 rpg, 2.4 spg, 1.5 bpg, .475 fg%, .698 ft%
College of the Ozarks (13-0)
G – Madi Brethower: 8.7 ppg, 4.5 rpg, 2.7 apg, .353 fg%, .356 3-pt fg%, .862 ft%
G – Kelsie Cleeton: 13.2 ppg, 11.2 rpg, 4.1 apg, 3.3 spg, .438 fg%, .405 3-pt fg%, .756 ft%
G – Cass Johnson: 15.7 ppg, 3.5 rpg, 2.5 apg, 1.5 spg, .416 fg%, .406 3-pt fg%, .829 ft%
G – Shelby Roberts: 13.7 ppg, 3.6 rpg, 3.0 apg, 1.4 spg, .508 fg%, .532 3-pt fg%, .697 ft%
C – Lakin Simmerman: 13.4 ppg, 5.3 rpg, 0.8 bpg, .624 fg%, .691 ft%
Haskell Indian Nations University (4-13)
G – Janee Bates: 5.4 ppg, 2.5 rpg, 2.0 spg, 1.9 apg, .319 fg%, .322 3-pt fg%
G – Justina Coriz: 6.9 ppg, 4.3 rpg, 2.9 apg, 1.7 spg, .300 fg%, .282 3-pt fg%, .632 ft%
G – Tiana Guillory: 9.9 ppg, 6.1 rpg, 2.2 apg, 2.0 spg, .350 fg%, .685 ft%
G – Sierra Penn: 4.4 ppg, 2.0 rpg, 1.3 spg, .296 fg%, .220 3-pt fg%
C – Keli Warrior: 16.4 ppg, 5.8 rpg, 0.6 bpg, .500 fg%, .724 ft%