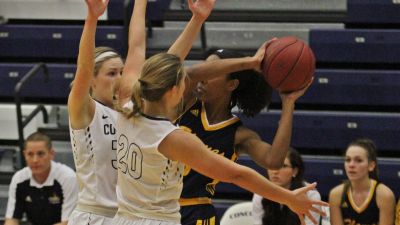 SEWARD, Neb. – On the heels of three lopsided GPAC wins in a row, the second-ranked Concordia University women's basketball team expects a serious challenge on Wednesday evening when No. 19 Hastings invades Walz Arena. Tipoff is set for 6 p.m. CT. The Bulldogs, who will have this weekend off from competition, have won each of the last three meetings with the rival Broncos.
Teams currently in the back half of the league standings have been pummeled by 12th-year head coach Drew Olson's squad. In its last three outings, Concordia has defeated Mount Marty, 84-42, College of Saint Mary, 114-56, and Dordt, 101-55. Those spreads have pushed the Bulldogs up to No. 1 nationally in scoring margin (33.6). At 9-0 overall and 5-0 in conference play, the Bulldogs are one of eight undefeated teams remaining in NAIA Division II. The latest win was a milestone achievement for four-year seniors like Brenleigh Daum and Mary Janovich, who have helped the program to a record of 100-16 since the start of the 2014-15 season.
Last week Quinn Wragge (team's leading scorer with 13.8 ppg) became the 25th member of the program's 1,000-point club. Wragge has tallied 1,009 points over 77 career collegiate games. Wragge could soon be joined on the 1,000-point list by teammates such as Mary Janovich (918), Dani Hoppes (860), Brenleigh Daum (719) and Philly Lammers (603). Olson has coached eight of the school's 1,000-point scorers. Only a sophomore, Lammers played a combined 33 minutes last week and still managed to pile up 27 points and 18 rebounds. She's leading the GPAC in rebounding average (9.0).
Hastings (8-1, 3-1 GPAC) is in the midst of its own run of blowout victories. During their four-game win streak, the Broncos have won by margins of 45, 26, 27 and 31. The team's only loss this season came by a 70-63 score versus No. 17 Northwestern on Nov. 21. Hastings has been an exceptional defensive team, holding opponents to an average of 46.0 points per game and to 35.7 percent shooting. Just two Broncos average double figures in scoring: Shandra Farmer (13.6) and Mackenzie Willicott (11.8).
Wednesday's action will be covered live by the Concordia Sports Network and by 104.9 Max Country radio. The Bulldogs will wait to return to action until a Dec. 15 road trip to Northwestern following Wednesday's tilt.
Projected lineups
Concordia (9-0, 5-0)
G – MacKenzie Helman: 4.1 ppg, 4.1 apg, 3.3 rpg, 1.7 spg, .394 fg%, .375 3-pt fg%
G – Dani Hoppes: 9.2 ppg, 1.6 spg, 1.4 rpg, 1.3 apg, .425 fg%, .409 3-pt fg%
G – Mary Janovich: 9.3 ppg, 2.0 apg, 1.0 spg, .579 fg%
F – Quinn Wragge: 13.8 ppg, 5.4 rpg, 2.4 apg, 2.3 spg, .612 fg%, .833 ft%
F – Philly Lammers: 12.7 ppg, 9.0 rpg, 2.4 spg, 1.4 spg, .490 fg%, .692 ft%
Hastings (8-1, 3-1)
G – Shandra Farmer: 13.6 ppg, 3.8 spg, 3.1 rpg, 2.4 apg, .500 fg%, .250 3-pt fg%
G – Holly Hild: 6.5 ppg, 2.5 apg, 1.1 spg, .362 fg%, .778 ft%
G – Jordan Johnson: 5.5 ppg, 2.9 rpg, 1.0 spg, .405 fg%, .346 3-pt fg%
F – Rachel Jelden: 6.0 ppg, 7.3 rpg, 1.0 spg, .333 fg%, .700 ft%
F – Mackenzie Willicott: 11.8 ppg, 5.3 rpg, 1.5 spg, .544 fg%, .783 ft%