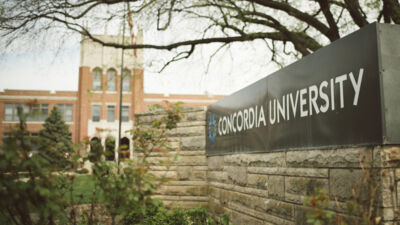 2018-19 Concordia women's basketball schedule | PDF
SEWARD, Neb. – Just a few short months after appearing in the 2018 NAIA Division II national championship game, the Concordia University women's basketball program has released its 30-game varsity regular-season schedule (JV schedule also available via the link above) for the upcoming 2018-19 campaign. Head coach Drew Olson's 13th season leading the Bulldogs is slated to open up Oct. 26 at the Viterbo Invitational in La Crosse, Wis.
While the schedule outside of the conference appears a bit less daunting than the one Concordia faced in 2017-18, it still offers plenty of challenges. The marquee date outside of league play will be Dec. 28 when the Bulldogs are set to play Southeastern University (Fla.) at the Arizona Christian Classic in Phoenix. The Fire finished last season with just a single loss, which came in the national semifinals.
Olson will also take his squad up against perennially strong NAIA programs such as Indiana Wesleyan University and the University of Saint Francis (Ind.) and potentially Cardinal Stritch University (Wis.) depending upon how the Viterbo Invitational plays out. The Concordia Invitational Tournament (Jan. 25-26) will be hosted by Concordia University, Ann Arbor, a program led by CUNE alum Thad Sankey. The Bulldogs will shoot for their sixth CIT title in a row.
The GPAC schedule grows to 22 contests this season with the addition of the University of Jamestown, a fellow regular at the national tournament. The Jimmies will make their way to Seward on Nov. 17 for the first ever meeting as conference rivals. Concordia ended Jamestown's season this past March in the national quarterfinals. The Jimmies will host the Bulldogs on Jan. 19. Rematches of the 2018 national championship game with Dakota Wesleyan will be contested in Mitchell, S.D., on Dec. 15 and in Seward on Feb. 9.
Conference tournament dates are set for Feb. 20 (quarterfinals), Feb. 23 (semifinals) and Feb. 26 (championship). Concordia will look to defend its back-to-back GPAC regular-season and postseason championships. Olson returns another strong roster featuring All-Americans Philly Lammers and Quinn Wragge. The other returning starter is point guard MacKenzie Helman. Graduating from last season's squad were starters Dani Hoppes and Mary Janovich.
The NAIA Division II national championships will again take place at the Tyson Events Center in Sioux City, Iowa. The dates for 2019 are March 6-12.
2018-19 nonconference opponents
*2017-18 record in parentheses; final 2017-18 national ranking also indicated
NR Arizona Christian University (20-9)
RV Cardinal Stritch University (19-11) / NR Viterbo University (6-23)
RV Concordia University, Ann Arbor (22-14) / NR Concordia University, Chicago (17-9)
NR Concordia University, Wisconsin (20-7)
No. 17 Indiana Wesleyan University (25-9)
NR Peru State College (3-25)
NR University of Saint Francis (Ind.) (17-14)
No. 1 Southeastern University (Fla.) (31-1)