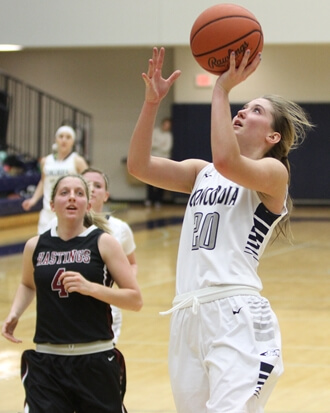 Third-ranked Concordia steamrolls No. 9 Friends, 94-67
SEWARD, Neb. – The third-ranked Concordia University women's basketball team wasted little time knocking off the rust accumulated over a 10-day stretch without a game in its latest impressive outing. The Bulldogs quickly built a double-digit advantage and cruised to a 94-67 win over Kansas Collegiate Athletic Conference leader and ninth-ranked Friends University inside Walz Arena on Tuesday afternoon.
By claiming its sixth win over a top 25 foe – fourth versus a top 10 team – head coach Drew Olson's squad ran its winning streak to 10 and improved to 15-1 overall.
"I was really pleased with our effort," Olson said. "We played really hard. For having 10 days off you would think we would be a little bit rusty, but we had good rhythm together."
Senior All-American point guard Bailey Morris provided the sizzle on both ends of the floor once again. She torched the visiting Falcons with 25 points (10-for-10 free throw shooting) while serving as a pest on the defensive end. Jericca Pearson then enjoyed a monster second half on her way to tying a career best with 18 points. Morris and Pearson were two of three double figure scorers for a Bulldog team with 11 individuals registering in the scoring column.
With Morris attacking Friends relentlessly, Concordia held a lead of 10 points or greater for every bit of the final 30:52 of game time. The Bulldogs forced 33 Falcon turnovers in ballooning the lead to as many as 37 points in the second half.
Clearly the Christmas break did little to slow a Concordia team that had won its previous five games by an average margin of 38.2 points.
"It shows the kind of players we have," Morris said. "We had six or seven days off (practice), but I know everybody was in the gym, not taking days off and getting shots up and staying sharp. It's a credit to the hard work of my teammates and coaches and not wanting to let down even though we weren't together (during break)."
Five Bulldogs notched between six and nine points. Senior Kelsey Hizer splashed nine of her 11 points in the first half, knocking down a trio of triples that helped Concordia take a 44-27 lead to the halftime break. Fellow senior Tracy Peitz added nine points, five steals and three assists while Morris' line included seven rebounds, six assists and five steals.
Friends (12-3), which went 25-8 and reached the national tournament last season, entered play 2-0 against GPAC foes having already beaten then No. 5 Hastings (61-53) and Doane (74-60). The Falcons played on Tuesday without leading scorer Kayla Mollere, who was sidelined by injury. In addition, Concordia held Friends standout Kayla Justice to 0-for-7 shooting and no points in 28 minutes of action.
The short-handed Falcons had no answer for Morris and company, who hoisted 15 more shots from the field and seven more free throw attempts in another dominant outing.
"We shot well. When Bailey comes to play, she's the best player in the country," Olson said. "She looked it today and really looked to score. Once she gets going, it opens up the game for everybody else. We shot really well in the first half."
With her 29th career game of 20 or more points, Morris (1,675 career points) moved past former teammate and current assistant coach Kristen Conahan (1,656 points) for sixth on the program's all-time scoring chart. In team history, Morris also ranks fourth in steals (328) and sixth in assists (394).
"It's definitely an honor," Morris said of passing Conahan. "I played with Connie for three years and to know that I've reached that level that she was at is a good feeling. Everyone knows that if she wouldn't have gotten injured last year I probably wouldn't be having this conversation because she'd probably have the (scoring) record right now. It's just an honor."
The Bulldogs return to conference play on Saturday (Jan. 3) when they host Dordt (7-8, 0-7 GPAC) at 1 p.m. Concordia will vie for a season sweep after having defeated the Defenders, 80-58, in Sioux Center, Iowa, on Dec. 6. Olson's program has won 37 of its last 38 home games versus unranked opponents.