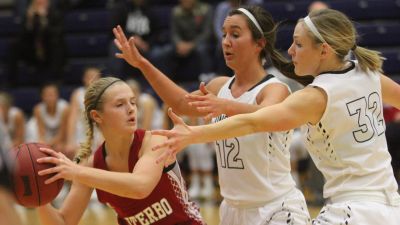 SEWARD, Neb. – A pair of wins during last week's North Dakota swing kept the third-ranked Concordia University women's basketball team unbeaten through four nonconference tilts. Twelfth-year head coach Drew Olson's squad has already made victims of two opponents ranked in the top 10 nationally: No. 5 University of St. Francis (Ill.) and No. 9 University of Jamestown (N.D.). Another date with a top 10 foe looms this weekend.
This week's schedule
Wednesday vs. Midland (3-2), 6 p.m. CT
-Webcast: Concordia Sports Network
Saturday at (8) Dakota Wesleyan (5-0), 2 p.m. CT
-Webcast: Stretch Internet
The Bulldogs have won three games in blowout fashion, triumphing by margins of 58, 29 and 35 points, respectively. The other victory was not nearly as breezy. A second team All-American last season, Philly Lammers posted career highs of 31 points and 14 rebounds in the 91-83 overtime win over Jamestown on Nov. 10. Lammers is averaging 14.5 points and 10.5 rebounds and should be a candidate for GPAC player of the year. Senior Sydney Feller (58.8 percent from beyond the arc) has helped pick up the slack with Mary Janovich sidelined. Freshman standout Taylor Cockerill is averaging 14.5 points off the bench.
Concordia has scored at least 91 points in each outing this season. The Bulldogs are shooting 44.3 percent from the floor, 37.7 percent from 3-point range and 69.2 percent from the free throw line. Sharpshooter Dani Hoppes and company have already drained 52 treys. They have forced their opponents into an average of 26.8 turnovers per game and are limiting them to 36.0 percent shooting and 62.8 points per game.
Midland possesses one of the GPAC's most experienced backcourts with seniors Joelle Overkamp (13.3 ppg) and Megan Kucks (10.5 ppg) leading the charge. Overkamp has tallied 1,208 points over 93 career games as a Warrior. Head coach Shawn Gilbert's squad participated in the Viterbo Invitational last week when it dropped a 74-69 game with Clarke University (Iowa) and then defeated St. Ambrose University (Iowa), 82-75. Midland is coming off a 15-15 season and eighth-place GPAC finish in 2016-17.
The rivalry between Concordia and Dakota Wesleyan has intensified in recent seasons. The last time these two teams met, the Bulldogs survived a last second field goal attempt and eked out a 78-77 home win in the 2017 GPAC tournament championship game. Head coach Jason Christensen returned nearly every key piece from last season's 27-win team. The unbeaten Tigers have not had a close call yet, winning each of its five games by margins of at least 18 points. Dakota Wesleyan is averaging 96.6 points while shooting 54.8 percent from the field and 38.5 percent from beyond the arc.
The only contest on next week's Thanksgiving break schedule will be a home game with Mount Marty on Tuesday, Nov. 21.
Projected lineups
Concordia (4-0)
G – MacKenzie Helman: 1.5 ppg, 4.3 apg, 1.8 rpg, 1.8 spg, .182 fg%
G – Dani Hoppes: 9.5 ppg, 1.5 rpg, 1.5 spg, 1.3 apg, .382 fg%, .429 3-pt fg%
G – Sydney Feller: 9.0 ppg, 2.5 apg, 2.3 rpg, .571 fg%, .588 3-pt fg%
F – Quinn Wragge: 13.0 ppg, 6.3 rpg, 2.5 apg, 2.3 spg, .543 fg%, .750 ft%
F – Philly Lammers: 14.5 ppg, 10.5 rpg, 3.0 spg, 0.8 bpg, .481 fg%, .700 ft%
Midland (3-2)
G – Joelle Overkamp: 13.3 ppg, 8.3 rpg, 3.0 apg, 2.5 spg, .400 fg%, .867 ft%
G – Megan Kucks: 10.5 apg, 4.0 rpg, 2.8 apg, 1.0 spg, .333 fg%, .385 3-pt fg%
G – Madison Severson: 4.0 ppg, 1.3 rpg, 1.0 spg, .545 fg%
G – Amanda Hansen: 11.5 ppg, 3.3 rpg, 1.5 apg, .333 fg%, .278 3-pt fg%
F – Maddie Egr: 10.0 ppg, 6.0 rpg, .615 fg%, .800 ft%
Dakota Wesleyan (5-0)
G – Rylie Osthus: 10.2 ppg, 4.4 apg, 4.4 rpg, 3.2 spg, .656 fg%
G – Kynedi Cheeseman: 15.8 ppg, 4.6 apg, 3.6 rpg, 1.4 spg, .476 fg%, .375 3-pt fg%
G – Chesney Nagel: 3.2 ppg, 5.6 rpg, 2.2 apg, 1.2 spg, .500 fg%
F – Amber Bray: 15.0 ppg, 7.0 rpg, 2.6 apg, 1.4 spg, .659 fg%, .895 ft%
F – Ashley Bray: 14.4 ppg, 5.8 rpg, 4.4 apg, .542 fg%, .391 3-pt fg%