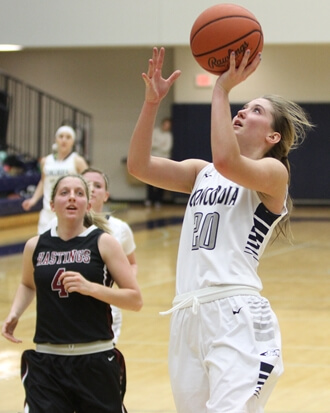 Third-ranked Bulldogs scorch Mount Marty, complete week of domination
SEWARD, Neb. – A tight contest early on turned into another blowout victory for the third-ranked Concordia University women's basketball team. The Bulldogs devastated the Lancers with a near-perfect second half on the way to a 92-61 victory inside Walz Arena on Saturday afternoon.
Ninth-year head coach Drew Olson's squad won for the eighth-straight time, moving to 13-1 overall and 7-1 in conference action. In the process, the Bulldogs completed a 3-0 week with wins by margins of 41, 67 and 31.
"I was really proud of how hard our kids played," Olson said. "Our defensive effort was phenomenal. Mount Marty had about eight points in the first 10 minutes of the second half. That was the key for us to really build our lead. The flurry at the end of the first half really helped to extend the lead."
Following a familiar theme, Concordia struggled to knock down jumpers early on. But point guard Bailey Morris heated things up with 18 of her 23 points in the first half and redshirt freshman Laurel Krohn stayed red hot from 3-point range. Krohn connected on a pair of first-half triples, making her eight for her last 11 from beyond the arc. She later added a layup on a nifty give-and-go collaboration with senior Tracy Peitz.
The Bulldogs also outworked the Lancers on the boards as evidenced by a 53-39 rebounding advantage. Sophomore Alayna Daberkow served as the ringleader, pulling down 10 rebounds. Freshman guard Mary Janovich snared a career best nine boards.
A chaotic final minute of the first half saw Concordia build a 43-32 halftime advantage after a hotly-contested first 19 minutes. The Bulldogs enjoyed a 28-point lead on the strength of a 35-7 run that started late in the first half and spilled into the second half. Nine-straight points in the middle of the spurt came from treys splashed in by Brenleigh Daum, Morris and Janovich. The rout was on.
The bench again provided big production with 11 points from Daum, eight apiece from Jericca Pearson (seven rebounds) and Krohn and five from both Daberkow and Rachel Royuk.
"Our bench knows we need to come in, play good defense and hit shots," Krohn said. "I think we understand our role. Mostly it starts with defense. If we play good defense we're able to score."
And score is exactly what Concordia did over the closing 21 minutes, a period that saw the Bulldogs total 57 points. After shooting 37.2 percent in the first half, the Bulldogs warmed up to 50 percent in the second half to finish at 43.2 percent for the game. The Lancers were held to 34.0 percent shooting and were flustered into 27 turnovers.
"We've had a good week," Olson said. "Our bench kids are starting to get a lot more confident, understanding their roles and understanding what the good shots are. They saw it go in the last couple games and that just builds your confidence."
Mount Marty (7-6, 2-6 GPAC), which has lost four-straight games (three to ranked opponents), got a good outing from Raquel Sutera, who posted a double-double (18 points and 10 rebounds).
Peitz (10 points, six rebounds, four assists) joined Morris and Daum as double figure scorers. Morris added six steals and a block.
Concordia improved to 48-7 at home since the start of the 2011-12 season. The Bulldogs are 37-1 when playing unranked foes inside Walz Arena over the past four seasons.
The Bulldogs have nearly a week off before returning to action on Friday, Dec. 19 when they trek to Mitchell, S.D., to take on Dakota Wesleyan (9-4, 4-2 GPAC). Tipoff is slated for 4 p.m. Concordia swept last season's pair of regular-season meetings with the Tigers.