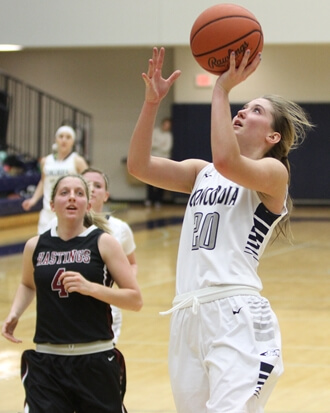 Third-ranked Bulldogs face another ranked foe in Wednesday home tilt
SEWARD, Neb. – The third-ranked Concordia University women's basketball team should be used to it by now. The Bulldogs will go head-to-head against another top 25 opponent when a budding 21st-ranked Doane squad visits Seward on Wednesday. Tipoff is slated for 6 p.m. from Walz Arena.
Fans are encouraged to dress accordingly for the Hawaiian-themed evening that includes a men's basketball game to cap the night. A live webcast of the contest will be available via the Concordia Sports Network.
Concordia mows down ranked opponents
The Bulldogs have already defeated four teams ranked among the nation's top 20 squads in the NAIA coaches' poll (see below). They also own a win over a team listed among others receiving votes. The only loss came at the hands of No. 2 Morningside, 78-70, on Nov. 15.
Wins over top 25 opponents
68-65 at No. 5 Hastings College
81-64 vs. No. 6 Saint Xavier University
90-72 at No. 7 University of Jamestown
89-79 at No. 17 Mayville State University
Home dominance
Since the beginning of the 2011-12 season, Concordia owns a record of 46-7 (.868) when playing inside Walz Arena. Of the seven losses, only one came against a team that was unranked at the time of the game. The other defeats came at the hands of No. 2 Morningside (2014), No. 8 Northwestern (2013), No. 9 Briar Cliff (2013), No. 10 Concordia-Ann Arbor (2013), No. 10 Jamestown (2013) and No. 13 Morningside (2011).
Seniors chase 100 wins
The 2014-15 Concordia senior class, led by All-Americans Bailey Morris and Tracy Peitz in addition to Kelsey Hizer and Jericca Pearson, owns a record of 92-19 (.829) since beginning their careers in 2011-12. The best four-year run in the history of the program occurred from 2001-05 when Concordia went a combined 123-21 (.854) and made two national tournament semifinal appearances.
Morris eclipses 1,500 points
Senior Bailey Morris surpassed 1,500 career points on Nov. 22 in a 69-59 win over Briar Cliff. Currently at 1,537 points, the point guard from Clay Center, Neb., ranks ninth on the program's all-time scoring list. She also ranks fourth in program annals in career steals (296) and eighth in career assists (363) over 109 games.
Morris year-by-year scoring
2014-15 – 16.4 ppg (148 points)
2013-14 – 19.3 ppg (616 points)
2012-13 – 14.6 ppg (467 points)
2011-12 – 8.5 ppg (306 points)
CAREER – 14.1 ppg (1,537 points)
Olson knocking on 200
On Nov. 12, ninth-year head coach Drew Olson (199-76, .724) became the Concordia women's basketball program's all-time winningest coach by claiming his 196th victory (surpassing Carl Everts' 195 wins). Olson now needs one more win to make himself the school's first-ever women's basketball coach to reach 200 career victories. In his first eight seasons, Olson has led the Bulldogs to six trips to the national tournament, a national semifinal appearance, two GPAC regular-season titles and one GPAC tournament championship. He has also guided the program to five seasons of 25 wins or more and an active streak of 41-straight top 25 national rankings.
Peitz seeking to become 23rd member of 1,000-point club
Senior Tracy Peitz stands at 934 points over 109 career games as she continues her pursuit of 1,000 points. In the history of Concordia women's basketball, 22 players have reached the 1,000-point mark. Over the past three seasons, Kristen Conahan (1,656 points), Bailey Morris (1,537 points) and Katie Rich (1,293 points) all eclipsed that mark. The program's all-time scoring leader is Sarah Harrison, who piled up 1,800 points from 2001-05.
Doane brings battle-tested squad to Walz
Like Concordia, Doane has played a tough early-season slate. Seven of the Tigers' first 11 games have been played against teams either ranked or receiving votes in the national coaches' poll. No. 21 Doane has defeated No. 5 Hastings (89-81, OT) and No. 15 Northwestern (73-60) and has won each of its last three GPAC games, claiming wins over Dordt, Hastings and Midland. The experienced Tiger squad, guided by 16th-year head coach Tracee Fairbanks, is led by star senior forward Hannah Dostal (16.3 ppg, 10.1 rpg). Doane possesses a national ranking for the first time in six years.