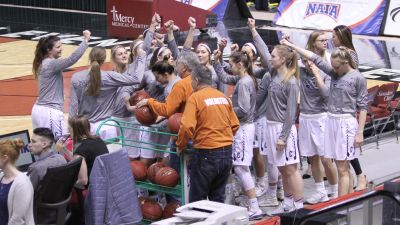 SIOUX CITY, Iowa – For whatever rhyme or reason, the Concordia University women's basketball team often has to go through the University of Jamestown (N.D.) if it plans on reaching the national semifinals. The two friendly rivals and future GPAC foes will clash once again when quarterfinal action tips off inside the Tyson Events Center at 3 p.m. CT on Saturday (March 10).
Saturday, March 10 | 3 p.m.
NAIA Division II Women's Basketball National Championships (Quarterfinals)
No. 2 Concordia (32-1) vs. No. 8 Jamestown (31-4)
Sioux City, Iowa | Tyson Events Center
Webcast: NAIA Network (fee required)
Radio: 104.9 Max Country
Live stats: Dakstats
This will be the third time in four seasons that the Bulldogs and Jimmies have locked horns with a trip to the national semifinals on the line. Concordia came out on top in both 2015 and 2017. These two programs know each other well.
"They're such a tough team and really well coached," said head coach Drew Olson following Friday's win. "Their guards are really good. Their post player is really physical. It's going to be a really tough game. It seems like every year we play them and it's always a battle. Hopefully our kids are ready."
Olson's 'kids' have been up to the task since opening up play with a breezy win over Stillman College (Ala.) in the first round. The Bulldogs' first two national tournament foes have posted shooting percentages of 31.0 and 32.7, respectively. Concordia turned up the heat on Friday by bringing back its full-court press. The result was 29 Taylor University (Ind.) turnovers, including eight that came on Philly Lammers steals.
Offensively, Quinn Wragge was nearly unstoppable versus Taylor. She made 8-of-13 shots from the floor while putting up 13 of her 20 points during a runaway third quarter. Wragge finished four points shy of her national tournament career high of 24 (versus Goshen College on March 9, 2016). Additionally, Brenleigh Daum reached 1,000 career points, becoming the fourth Bulldog to accomplish that feat this season.
Wragge and company are on a mission. They expect to be playing next Tuesday night, but they know they can't lose focus now, not with a top 10-ranked Jamestown team in front of them.
Said Wragge, "We're definitely excited. This is the goal all year. Right now. We want that game tomorrow bad and we have goals beyond that."
Concordia knows how dangerous the Jimmies can be. They had the Bulldogs on the ropes back on Nov. 10 in a matchup in Jamestown. Concordia rallied from a double-digit deficit behind Lammers' career game (31 points, 14 rebounds) and won in overtime, 91-83. North Star Athletic Association player of the year Bryn Woodside has been hobbled by a knee injury, but has continued to give solid minutes. The good news for head coach Greg Ulland is that he has other quality guards such as McKayla Orr, who tallied 18 points in the team's 82-63 win over ninth-ranked Indiana Tech on Friday.
Jamestown can also play some defense. They rank fifth nationally in field goal percentage defense (.350) and 10th in scoring defense (57.3). The Jimmies are 4-3 this season against GPAC opponents with two of the losses coming against Dakota Wesleyan. Notable wins were recorded over Morningside and Northwestern.
Saturday's winner will have Sunday off before playing in the semifinals at 8 p.m. on Monday (March 12). The opponent will be whichever team comes out of the Duer Bracket.
Projected lineups
Concordia (34-1)
G – MacKenzie Helman, So. (Lincoln, Neb.)
G – Dani Hoppes, Sr. (Lincoln, Neb.)
G – Mary Janovich, Sr. (Gretna, Neb.)
F – Quinn Wragge, Jr. (Crofton, Neb.)
F – Philly Lammers, So. (Omaha, Neb.)
Jamestown (31-4)
G – Mya Buffetta, Fr. (Mountain Iron, Minn.)
G – Paige Emmel, Sr. (Bismark, N.D.)
G – McKayla Orr, Sr. (Ypsilanti, N.D.)
F – Jory Mullen, Jr. (Pierre, S.D.)
C – Jenna Doyle, Jr. (Princeton, Minn.)