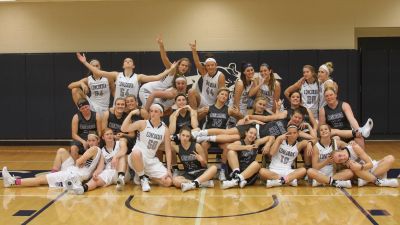 By Jake Knabel, Director of Athletic Communications
Prepping for the 10th-ranked Concordia University women's basketball team is like studying for an exam on neurosurgery. You think you've got the gist of it (OK, maybe not), but there's just so much material to cover. You'll want to contain 2014-15 GPAC freshman of the year Mary Janovich, sure, but she's just one of five players who average 7.5 points or more and one of 11 Bulldogs who play more than 10 minutes per game.
"I think it would be hard," says Janovich of preparing for Concordia, currently riding an eight-game winning streak. "They have to be ready for anyone to go off. We don't have a single player that's going to just take over the game at any time so they have to prepare for a lot of different players."
The Bulldogs have remade themselves in the 10th season under head coach Drew Olson. They are decidedly more balanced after relying heavily upon two-time All-Americans Bailey Morris and Tracy Peitz during their 2015 run to the national title game.
Contain Morris. Limit Peitz. Or so one would assume opposing coaches would say. What are they saying now? This year's squad knocks down 35.8 percent of its 3-point attempts and Olson would tell you that just about everyone has the green light – even from 25 feet out.
"I thought that we'd actually be a tougher team to guard because no one's going to know," Olson said. "If you're scouting us, who are you really going to guard or key in on? I thought that would be an advantage for us. We've learned that we don't need a go-to player at the end of games to get baskets. We just need to continue to play team basketball and look for the best available shot."
That approach has led to a lot of Quinning – err, winning – thus far for Concordia. After suffering three close losses to teams all currently ranked among the nation's top 10 squads, the Bulldogs just kept on shooting. Shelby Quinn assumed the starting point guard role on Dec. 9 versus Dordt and Concordia has responded by going 8-0 since then.
This bunch of 'splash sisters' has found an identity as a well-rounded team that drills 3-pointers (10.3 per game to be exact), plays solid defense and keeps fresh while Olson makes liberal use of his bench. Most impressive in this team's early season success is the rapidity in which it figured things out. The Bulldogs were plagued by fourth-quarter struggles in their early losses. Now they're the ones making clutch plays late in games.
"I think we started to find our identity late in the preseason when we realized Bailey's not here. Tracy and Kelsey (Hizer) aren't here," said sophomore Brenleigh Daum, another Bulldog known for letting it fly from long range. "Some of us need to step up. Mary did a really good job doing that and Becky (Mueller) has taken over her role. I feel like Shelby Quinn is a really huge leader. I feel like each one of us took on our roles and are getting better every day. We're stepping up and figuring out how each one of us can make plays."
In last week's win over then fourth-ranked Briar Cliff, Concordia had to rally from a seven-point fourth-quarter deficit to record its third win of the season over a top-25 opponent. Janovich made two crucial treys from the right corner and the fearless 5-foot-5 Quinn nailed the game winner from well beyond the arc. Said Olson, "I go back and look on video and I'm like, 'holy cow, that was really deep.'"
Teams that lean upon 3-point shooting are liable to run hot and cold, but the Bulldogs have remained frozen-pizza-just-out-of-the-oven hot throughout most of the season's first half. You might not find a Kristen Conahan (323 career 3-point field goals) on this year's roster, but the list of options are seemingly endless.
"It's easily the best shooting team I've had," Olson said. "We've had other phenomenal shooters – Amber Kistler, Kristen Conahan, Melissa Tinkham. They're some of the best shooters we've ever had in our program. I just don't think we've ever had a team that was just so full of shooters. In our starting lineup all five can knock down threes – and deep threes, too, like Shelby hit (versus Briar Cliff)."
After Hizer, Morris, Peitz and Jericca Pearson moved on, it was obvious that bigger roles and increased playing time would be up for grabs. Holdovers such as the aforementioned Daum, Janovich and Quinn took advantage. Others have done the same, including returnees Devin Edwards, Sydney Feller and Erin Vieselmeyer (Viesel fuel!) and a pair of freshmen in Maddie Egr and Quinn Wragge.
In stark contrast to the 2014-15 campaign, Mueller and Jenna Lehmann are the only seniors on this year's roster.
"It's definitely different (than last year)," Edwards said. "There's more opportunity for different people to step up in different games, knowing there's not necessarily one person we're really leaning on. It's on the whole team to come together and have someone step up and make a play."
Wragge has been everything her head coach hoped she'd be as a freshman. She's solid on the defensive end and the 6-foot-1 native of Crofton, Neb., excels at running the floor and beating opponents for easy buckets. After 15 games, she leads the team in scoring. If that holds up she'd be the first freshman to top Concordia in points since Sarah Harrison (Concordia Hall of Famer) did so in 2001-02. Wragge came to Seward eager for early playing time, but more than anything she's glad to be part of a young and thriving squad.
"I was excited for that reason but also for a new team," Wragge said. "I think we have a really young team and a team that can be good this year, but we had to kind of figure it out. It's challenging, but really exciting."
Egr has also found her way to the court in no time. Olson credits the native of Yutan, Neb., with saving the Bulldogs in wins at Doane and at Dordt. Her growth is one of many reasons why Concordia is surging.
"I know we lost a couple games right off the bat," Egr said. "Those were frustrating, but they weren't bad losses. We had some really good things we did during those games. Of course we had things we needed to work on, but I knew we'd get there. We've started to put those things together as a team. I think now we're getting there."
What is the ceiling for this revamped edition of Concordia women's basketball? Olson cautioned before the season that it would be unrealistic to expect a return to the national championship game. If the team-oriented Bulldogs improve over the second half of the season like they did during the first, March could provide more thrills – but the team's point guard isn't thinking about that just yet.
"I don't know (where we'll be). We just keep getting better," Quinn said. "I have a lot of confidence in our team. Ultimately it's a tough conference. We just have to play every game to the best of our ability and see where we end up."
Splash Sisters?
Daum: "At first I was like, 'what the heck is that?' Then I was like, 'yeah, that's actually kind of cool.' I like it."
More thoughts from the Bulldogs
Coach Olson: My questions going into the season were who's going to be the point guard and when we need baskets, who's going to be the person we can count on? We started with Mary at point guard and I thought that was OK, but I could tell that not all the pieces really fit together. We weren't really using Mary's strengths to our advantage. We ended up switching Shelby to point guard and moving Mary back to the wing. I think that's really helped our team because now we can use Mary as a weapon running the lane and getting transition baskets. We're able to play a little bit faster that way. I think Shelby gives us a little bit more steadiness at the point guard spot. She doesn't get rattled. She's the consistent player every single game regardless of how big a game it is. We've learned that we don't need a go-to player at the end of games to get baskets.
Brenleigh Daum: At the beginning of the season we realized quickly that we were a 3-point shooting team. Coach said, 'yeah, it's obvious that we shoot from the outside a lot,' but he still emphasizes that we need to look into the post a lot and try to get post touches. If those aren't open, just kick it. He has a lot of confidence in us as shooters – Becky, Shelby, Mary, myself and countless others. All of us can shoot. Coach made it a point that we're shooters.
I think we all kind of figured out our roles in the preseason. We just kind of went with it. In preseason we didn't know who was going to start. We were working really hard and battling each other for spots. Ultimately it makes each of us better. We continue to work each day and keep everyone on their toes because you never know. Nothing's guaranteed.
Devin Edwards: We definitely tried to find what we individually were good at during the summer. We just kept working on that knowing we had to step our game because those seniors were gone. In preseason we definitely worked on coming together as a team and working together as a team and using our individual skills as one.
It definitely would be hard (to prepare for us) just because you never know who's going to be on that night, who's going to be shooting well or who Coach is going to throw in there. It would definitely be hard for opponents to scout us out.
Maddie Egr: I was super excited (about playing at Concordia). I was excited when I met Coach Olson and the rest of the coaching staff. I just couldn't wait for the season to start. I just love this team. I'm excited to be here.
Coach Olson always says he doesn't promise you anything. He just tells you to work hard and see what comes out of it. I knew if I worked hard I could contribute in some way.
Mary Janovich: I'm honestly not surprised at all (by our 3-point shooting). We've always been able to shoot the three well. We're proving with our stats how good of a 3-point shooting team we are.
Shelby Quinn: I don't know if I prepared any differently (for this season). I've always been trying to do my best to do what I need to do for the team. This season I've had a bigger role. I just keep working hard.
A lot of being successful is having confidence in yourself and not being intimidated by the other players. I want them (our younger players) to know that we want them on our team and without them there's no way that we can be successful. You have to embrace that role and come along for the ride.
Coach always encourages us (to shoot). That's something that really helps our confidence when you have a coach who's willing to back you up. He encourages us also just to get in the gym and shoot. If we're doing that we're able to perform better.
Quinn Wragge: Having the diversity on our team you know that we're not going to rely on one person. Someone could have an off night, but someone else could step up. It's really cool.
I definitely wasn't expecting (to be leading the team in scoring). It's not something I'm used to. It's something I'm trying to get better at. My teammates make awesome passes. They really help me out. Coach has been working with me. It's a new opportunity for me.