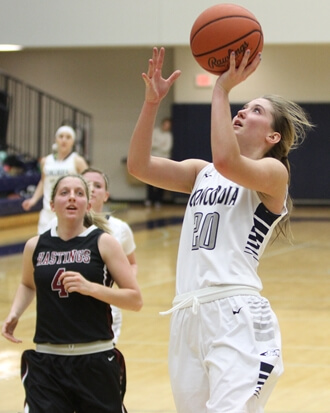 Suffocating defense drives 90-72 win at No. 7 Jamestown
JAMESTOWN, N.D. – The ninth-ranked Concordia University women's basketball team completed an impressive weekend in North Dakota by pulling away from No. 7 University of Jamestown, 90-72, on Saturday. The Bulldogs also defeated 17th-ranked Mayville State University on Friday, giving them road wins over ranked opponents on consecutive days to open the 2014-15 season.
A day after forcing 40 turnovers at Mayville State, head coach Drew Olson's squad pestered the Jimmies into 35 turnovers. That led to a 42-16 Concordia advantage in points off turnovers.
"It's a little different style defensively," Olson said. "We're a lot more aggressive and really anticipating passes. The freshmen have given us more depth and athleticism. Just having everyone healthy is big. We didn't have the numbers last year to keep up that kind of pressure."
Jamestown actually trailed by just two, 68-66, with 4:28 left after a pair of free throws by Kaeli Kraska. Concordia then punished the Jimmies with a 22-6 spurt to put the game out of reach. Sophomore Alayna Daberkow grew up during that stretch as she filled the stat sheet with five points, four rebounds, three steals and a block over the final four-and-a-half minutes alone.
Daberkow finished with 12 points and eight rebounds while going 3-for-3 from the field and 6-for-7 from the free throw line. It was the best outing in the young career of the Madison, Neb., native.
"Alayna just dominated for about a five-minute stretch," Olson said. "She was coming up with rebounds and knocking down free throws. She was awesome."
A great defensive effort got even nastier in crunch time as the Bulldogs held Jamestown to only two made field goals over the final five minutes. Concordia frustrated Jessica Beck, who was coming off a 32-point game in the Jimmies' 90-77 loss to the University of Winnipeg, into 2-for-8 shooting and six turnovers.
On the offensive end, electrifying point guard Bailey Morris led a group of five Bulldog double-figure scorers with 22 points – 16 of which came in a big second-half performance. Sophomore wing Becky Mueller emerged as a big reason for Concordia's 37-30 halftime lead. Mueller drained 13 first-half points and finished with 21 while knocking down 5 of 6 shots from 3-point range and grabbing eight rebounds.
Kelsey Hizer came up with 14 points and three rebounds. Hizer converted on a big three-point play late in the game as part of Concordia's game-finishing run. Fellow senior Tracy Peitz posted 10 points, seven boards and three steals.
Jordan Bridges came off the bench to top Jamestown with 13 points and 13 rebounds. The perennially powerful Jimmies are a member of the North Star Athletic Association. Last season head coach Greg Ulland's squad went 27-4 overall.
The scary thing about Concordia's start – it hasn't come close to reaching its peak and still has two road victories over top-20 teams to begin a season with a great deal of promise.
"We can get a lot better," Olson said. "We've got a lot to work on. We're definitely happy to get two wins on the road. I thought Becky, Alayna and Brenleigh (Daum) were highlights for us this weekend. Bailey was solid and Kelsey was phenomenal today. She did all the little things for us."
The Bulldogs will play host for the first time this season when the 15th annual Cattle Classic tips off on Friday, Nov. 7. Concordia will challenge No. 6 Saint Xavier University on Friday and then Valley City State University the following day as part of the four-team invite set to be played inside Walz Arena.