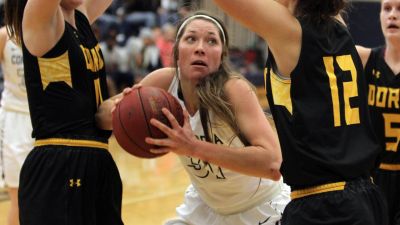 FREMONT, Neb. – It's not supposed to be easy all the time, but the top-ranked Concordia University women's basketball team has made it seem that way for most of the 2017-18 season. No one outside the Midland locker room likely expected the Bulldogs to fall on Wednesday night (Jan. 31), but upsets of stunning magnitudes sometimes happen in sports. The Warriors shocked Concordia, 86-77, in Fremont.
In the few instances this season where a loss seemed inevitable, the Bulldogs always found a way. Not this time. Twelfth-year head coach Drew Olson's squad now stands at 24-1 overall and at 14-1 in conference play. Olson had never lost to Midland during his head coaching career.
"We didn't make plays. We didn't step up defensively and get stops," Olson said. "I thought ultimately we lost our composure. They outplayed us today. They stepped up and hit big shots. They made the plays to win the game. You can make excuses about our sickness, but honestly, we didn't play well enough. We weren't focused enough."
With an unblemished record and No. 1 national ranking, Concordia couldn't expect to see anything other than the opposition's best shot. There were uncharacteristic mistakes made by the Bulldogs, who turned it over 20 times and missed too many shots right near the bucket. But to be frank, Midland's star players outplayed Concordia's standouts.
Joelle Overkamp exploded for 27 points to power the Warriors (12-14, 7-9 GPAC) to their first win this season over a ranked opponent. Overkamp, Amanda Hansen and Madison Severson combined to go 9-for-18 from 3-point range and former Bulldog Maddie Egr served as the team's lone effective post presence. She piled up 19 points and eight rebounds.
Freshman Taylor Cockerill (all 15 points in the second half) did her best to lead the Bulldogs back for yet another comeback win on the road. Concordia had already turned in memorable road rallies for victories at No. 9 Jamestown and No. 4 College of the Ozarks. But in this case, Concordia dug an 11-point hole quickly out of the gate in the second half and never recovered. The dagger came from Hansen with 1:33 left when she buried a trey to extend the Midland lead to 11 (78-67).
The Warriors pulled off the stunner despite being outrebounded, 50-30. However, they did well to limit their turnovers to 17 and to avoid being victimized by Philly Lammers (2-for-7 from field), who played under the weather. Midland also had a big edge at the free throw line (23-for-35 compared to 14-for-17) and knocked down 11 3-point field goals.
Cockerill equaled Mary Janovich's 15 points for a team high. Quinn Wragge added 10 points and eight rebounds. A beast on the boards, sophomore Colby Duvel (13 rebounds) recorded double figures in rebounds for the third-straight outing.
The Bulldogs will look to extend their 30-game home win streak on Saturday when 10th-ranked Northwestern (18-5, 13-2 GPAC) pays a visit to Walz Arena. Tipoff in Seward is set for 2 p.m. CT. Concordia is encouraging fans to wear white to support the 'white out.' The first 100 students will receive a free T-shirt. In addition, it will be a special alumni day for the Bulldog women's basketball program.
In this season's first meeting held in Orange City, Iowa, Concordia rallied to clip the Red Raiders, 84-80, on Dec. 15. Northwestern sits just one game behind the Bulldogs atop the conference standings.
"Our goal was not to go undefeated this season," Olson said. "Our goal is other things. We have to keep getting better each day. The ultimate goal is still there, but I hope this is something that we can learn from."