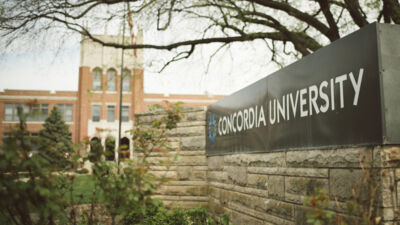 SEWARD, Neb. – A group of six Bulldogs from the Concordia University women's basketball program have earned 2018 Daktronics-NAIA Scholar-Athlete recognition, as announced by the NAIA on Monday (March 12). The list includes seniors Sydney Feller and Dani Hoppes along with four juniors (complete list at bottom).
In order to be nominated by an institution's head coach or sports information director, a student-athlete must maintain a minimum grade point average of 3.5 on a 4.0 scale and must have achieved a junior academic status. A total of 278 women's basketball student-athletes across the nation were named 2017-18 Scholar-Athletes by the NAIA.
Concordia University ranks as the NAIA's all-time leader in number of Daktronics-NAIA Scholar-Athletes with 1,333 and counting. The Bulldogs have been a regular national leader for both scholar-athletes and scholar-teams and are coming off a 2016-17 academic year that resulted in 78 more scholar-athletes and 19 scholar-teams. The 2015-16 season produced a GPAC best 92 Bulldog scholar-athletes and a national best 20 NAIA Scholar-Teams. The 2014-15 season culminated with GPAC-leading totals of 94 Bulldog scholar-athletes and 17 NAIA Scholar-Teams. During the 2013-14 academic year, Concordia garnered 101 Scholar-Athlete honorees (most in the NAIA) and 17 NAIA Scholar-Teams (tied for fourth nationally).
2018 Concordia women's basketball Scholar-Athletes
Sydney Feller, Sr. (Papillion, Neb.)
Jaydn High, Jr. (Bertrand, Neb.)
Dani Hoppes, Sr. (Lincoln, Neb.)
Jerrica Tietz, Jr. (Bancroft, Neb.)
Megan Vieselmeyer, Jr. (Holyoke, Colo.)
Quinn Wragge, Jr. (Crofton, Neb.)