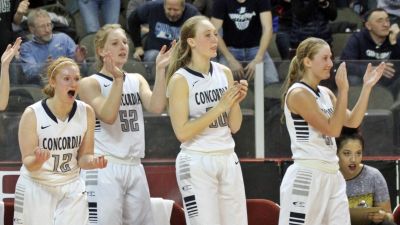 SEWARD, Neb. – The same six Bulldogs from that earned All-GPAC honors have also been named to the NAIA All-Nebraska team by the Omaha World-Herald, as announced on April 29. The news outlet recognized both Philly Lammers and Quinn Wragge with first team honors and Mary Janovich with second team accolades. Honorable mention went to Dani Andersen, Shelby Quinn and Erin Vieselmeyer.
Lammers enjoyed arguably the best freshman season ever by a Bulldog. No Concordia rookie in school history had ever garnered All-America honors before Lammers was placed on the second team. The most dominant player in the GPAC on per-game average basis, the Omaha native topped the Bulldogs in scoring (13.2), rebounding (7.0) and blocked shots (1.24) while shooting 56.0 percent from the floor. In her first taste of the national tournament, Lammers averaged 12.8 points and 9.8 rebounds over her team's four-game run in Sioux City. Lammers is also the program's second GPAC freshman of the year in three seasons.
Janovich, the 2014-15 GPAC freshman of the year, collected GPAC defensive player of the year honors this season and was selected as an honorable mention All-American. The native of Gretna, Neb., averaged a career best 10.9 points as a junior in 2016-17. She also averaged 3.0 assists, 2.6 rebounds and 2.3 steals and shot 52.5 percent from the field, 43.9 percent from 3-point range and 80.0 percent from the free throw line. In her career, Janovich has tallied 890 points and 186 steals over 86 games since arriving in Seward in 2014.
A two-time first team All-GPAC honoree and 2016-17 honorable mention All-American, Wragge has already piled up 899 points over her first two collegiate seasons. Also a star as a freshman, the Crofton, Neb., native averaged 11.5 points, 6.3 rebounds, 1.9 steals and 1.6 assists as a sophomore. She shot 56.8 percent from the field and 73.9 percent from the free throw line while playing in all 37 games.
Andersen, an honorable mention All-GPAC and national championships all-tournament selection, averaged 9.2 points and shot 35.9 percent from the 3-point arc in her first season as a Bulldog. Andersen lit it up in the national semifinals, going for 21 points on 7-for-11 shooting from 3-point range. Quinn played the role of steady point guard, averaging 6.8 points, 4.4 assists, 3.4 rebounds and 1.9 steals in 37 games. Vieselmeyer was one of the top reserve post players in the nation. She averaged 6.1 points and 3.6 rebounds and shot 52.7 percent from the field.
The six All-Nebraska honorees were instrumental in steering head coach Drew Olson's squad to GPAC regular season and tournament titles and to the national semifinals. The Bulldogs finished 34-3 overall and were ranked No. 3 in the postseason national coaches' poll.
Omaha World-Herald NAIA All-Nebraska
Honorary captain: Hanah Barnard
First Team
C, Philly Lammers, Concordia, Fr., 13.2
G, Hanah Barnard, Doane, Sr., 20.9
F, Quinn Wragge, Concordia, So., 11.5
F, Joelle Overkamp, Midland, Jr., 16.9
F, Holly Hild, Hastings, Jr., 11.5
Second Team
G, Mary Janovich, Concordia, Jr., 10.9
G, Shandra Farmer, Hastings, Fr., 9.6
G, Megan Kucks, Midland, Jr., 14.1
F, Caletria Curtis, Bellevue, Jr., 11.2
G, Caitlin Navratil, N. Wesleyan, Fr., 14.8
Honorable mention: Ryleigh McCartney, Bellevue; Pilar Aldrich, Justice Ross, College of St. Mary; Dani Andersen, Shelby Quinn, Erin Vieselmeyer, Concordia; Morgan Hill, Doane; Rachel Jelden, MacKenzie Willicott, Hastings; Addie Wetzel, Nebraska Wesleyan; Abigail Niebrugge, Deandra Williams, Peru State; Greer Kleber, York.