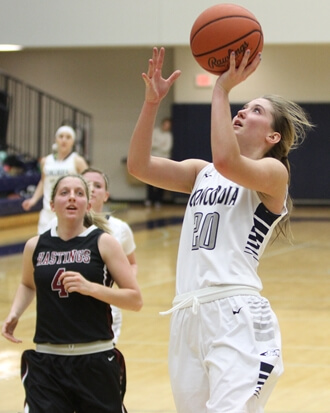 Sioux Falls holds on for 83-81 win over Concordia
Chelsa Baxa scored in the closing seconds to lift the University of Sioux Falls to an 83-81 women's basketball win over Concordia on Saturday afternoon in Seward. The visiting Cougars improved to 21-3 overall and 11-3 in conference play with the win. Concordia slipped to 13-13 overall and 5-9 in the GPAC with the loss.
The Bulldogs scored the first eight points of the game and led by as many as nine in the opening minutes of the game. USF rallied and took their first lead of the game at 20-19 with just under 10 minutes to play in the half. The Cougars led by as many as eight (34-26) with three minutes left in the half and took a 39-35 lead into halftime.
Concordia quickly tied the game in the opening minutes of the second half. Following a basket by USF that gave the Cougars a 44-42 lead, Concordia used a 9-0 run to grab a 51-44 advantage with just over 15 minutes left in the contest. The Bulldogs built a lead as big as 17 on two occasions and led 76-59 with less than eight minutes left in regulation.
From there, it was all Sioux Falls. The Cougars scored the next 21 points over a six minute stretch, and USF took an 80-76 lead with two minutes to play. A three point play by Treva Nutter (Thedford, Neb.) pulled the Bulldogs within one at 80-79, and a pair of made free throws by Kristen Conahan (Omaha, Neb.) gave Concordia a slim 81-80 lead with just over a minute remaining.
Baxa was fouled on USF's next possession, and she made one of two at the line to tie the game at 81-81. Following misses by both teams and a Concordia turnover, Baxa hit a jumper in the closing seconds to give the Cougars the 83-81 lead. Conahan had a desperation 3-pointer bounce off the rim, and USF held on for the 83-81 victory.
Both teams had balanced scoring. Five players scored in double figures for the Cougars. Holli Aggen scored a game-high 22 points, while Baxa delivered 21 and six rebounds. Laura Johnson added 15 points, while Baileigh O'Brien and Elizabeth Hildreth scored 10 apiece for the Cougars.
A total of five players scored in double figures for the Bulldogs in the loss. Amber Kistler (Minatare, Neb.) scored 19 to lead the way. Conahan added 15 and seven rebounds, while Kristin Miller (Jefferson City, Mo.) and Kat Ommen (Jefferson City, Mo.) each delivered 13. Katie Rich (Tilden, Neb.) scored 10 points and pulled down a game-high eight rebounds for the Bulldogs.
Concordia hosts Briar Cliff University on February 9. Tip is scheduled for 8 p.m. at the Health, Human Performance and Athletic Center.