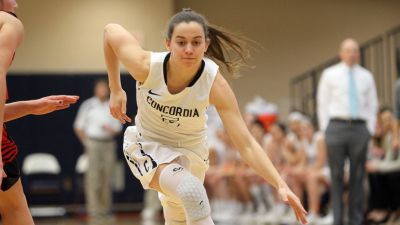 SEWARD, Neb. – There's a lot the Concordia University women's basketball team hopes to accomplish in Sioux City, Iowa, both this week and this upcoming March. The Bulldogs desire to maintain their grip upon first place in the GPAC while visiting Briar Cliff on Wednesday and 13th-ranked Morningside on Saturday. Concordia bounced back nicely from its first loss of the season by toppling Northwestern, 80-67, on Feb. 3 in a matchup between teams that held the top two spots in the league standings.
This week's schedule
Wednesday, Feb. 7 at Briar Cliff (9-17, 6-10 GPAC), 6 p.m.
Saturday, Feb. 10 at No. 13 Morningside (18-8, 11-5 GPAC), 2 p.m.
The unbeaten season may have went out the window, but 12th-year head coach Drew Olson's squad has put itself in the driver's seat for a second GPAC regular-season title in a row. The Bulldogs (25-1, 15-1 GPAC) own a two-game lead over Dakota Wesleyan (13-3) and Northwestern (13-3) atop the standings. The Red Raiders missed a chance to pull even with Concordia when they saw their 10-game winning streak end inside Walz Arena. On the other hand, the Bulldogs proved that their confidence had not been rattled by their surprising 86-77 loss at Midland earlier in the week.
The days leading up to Wednesday's contest will give players like Philly Lammers and Quinn Wragge an opportunity to recover from sicknesses they have been battling recently. Lammers did not start versus Northwestern, but came off the bench to put up 15 points. In Lammers' place, sophomore Colby Duvel made her first career start. Duvel has been on a rebounding tear, pulling down 47 over the past four games. She went for 13 points and nine rebounds versus Northwestern. A critical stretch in that game occurred late in the third quarter when Dani Hoppes went on a personal 8-0 run in a one-minute span.
Briar Cliff has won only once in its last seven outings. Included in that run was a 95-57 loss at Concordia on Jan. 10. In their most recent outing, the Chargers shot only 34.0 percent from the floor in a 69-48 home defeat versus Dakota Wesleyan. In terms of percentage, Briar Cliff is one of the nation's top 3-point shooting teams with a clip of 37.7 percent. Head coach Mike Power is in his 18th season (two separate tenures) for the Chargers. He has led the program to three national semifinal appearances.
Morningside currently resides in a tie for fourth place in the league standings. The Mustangs will attempt to avenge a 95-64 loss to the Bulldogs that came back on Jan. 6. Morningside fell just short of picking off No. 11 Hastings last week on the road in a 73-72 defeat. Saturday's matchup will feature two of the conference's top freshmen in Taylor Cockerill for Concordia and Sierra Mitchell for Morningside. Mitchell (11.6 ppg) ranks third on the team in scoring behind star senior guard Madison Braun (19.5 ppg) and sophomore Sydney Hupp (12.8 ppg). Both the Bulldogs (90.3 ppg) and Mustangs (81.0 ppg) rank inside the top 10 nationally in scoring average.
Concordia will be at home for the final week of the regular season. The Bulldogs will entertain Doane (7-18, 2-15 GPAC) on Feb. 14 and No. 12 Dakota Wesleyan (22-4, 13-3 GPAC) on Feb. 17. The Doane game will serve as senior day for the program.
Projected lineups
Concordia (25-1, 14-1)
G – MacKenzie Helman: 4.7 ppg, 3.0 apg, 2.2 rpg, 1.7 spg, .344 fg%, .337 3-pt fg%
G – Dani Hoppes: 11.3 ppg, 1.8 spg, 1.7 rpg, 1.4 apg, .417 fg%, .397 3-pt fg%
G – Mary Janovich: 9.8 ppg, 3.2 apg, 2.5 rpg, 2.2 spg, .535 fg%, .458 3-pt fg%, .846 ft%
F – Quinn Wragge: 13.5 ppg, 5.5 rpg, 1.9 apg, 1.6 spg, .640 fg%, .821 ft%
F – Philly Lammers: 12.6 ppg, 8.1 rpg, 2.3 spg, 1.2 bpg, .502 fg%, .700 ft%
Briar Cliff (9-17, 6-10)
G – Julie Targy: 4.3 ppg, 3.0 rpg, 3.0 apg, 2.2 spg, .506 fg%, .684 ft%
G – Taylor Wagner: 8.7 ppg, 3.2 rpg, 2.8 apg, 1.6 spg, .425 fg%, .231 3-pt fg%, .741 ft%
F – Faith Troshynski: 7.4 ppg, 2.1 rpg, .392 fg%, .417 3-pt fg%, .769 ft%
F – Johanna Vaske: 12.7 ppg, 5.5 rpg, 2.0 apg, .438 fg%, .354 3-pt fg%, .663 ft%
C – Taylor Vasa: 5.3 ppg, 3.5 rpg, 0.9 bpg, .447 fg%, .740 ft%
Morningside (18-8, 11-5)
G – Madison Braun: 19.5 ppg, 4.0 rpg, 2.9 spg, 2.3 apg, .486 fg%, .452 3-pt fg%, .905 ft%
G – Sierra Mitchell: 11.6 ppg, 1.9 rpg, 1.7 apg, .376 fg%, .354 3-pt fg%, .871 ft%
G – Jordyn Moser: 6.2 ppg, 3.4 apg, 1.7 rpg, .465 fg%, .400 3-pt fg%, .714 ft%
F – Rachelle Housh: 5.0 ppg, 4.3 rpg, 1.1 apg, .389 fg%, .294 3-pt fg%, .667 ft%
F – Sydney Hupp: 12.8 ppg, 7.2 rpg, 1.2 spg, 1.2 apg, .571 fg%, .772 ft%