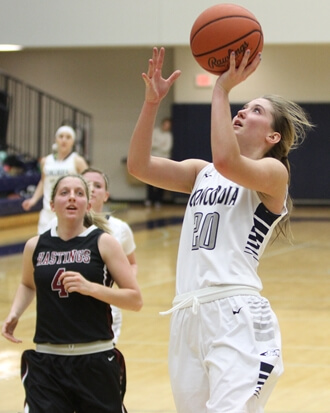 Shooting woes cost Concordia in 79-63 loss to Morningside College
Morningside College pulled away for a 79-63 women's basketball win over Concordia on Saturday afternoon in Sioux City. The Bulldogs kept it close for much of the game, but the Mustangs used a run midway through the second half to secure the win. Morningside improved to 22-4 overall and 13-3 in conference play with the victory. Concordia dropped its third straight to fall to 13-15 overall and 5-11 in GPAC play.
Morningside led from start to finish. The Mustangs jumped out to a quick 14-5 lead in the opening five minutes of the contest and built a lead as big as 11 (29-18) in the first half. However, Concordia kept it close and trailed by just five (33-28) at halftime.
The Mustangs again built the lead back to nine in the early stages of the second half, but the Bulldogs continued to hang in there. Concordia pulled within two points on multiple occasions in the second half, but Morningside maintained the lead.
The Bulldogs pulled within eight (59-51) on the 3-pointer by Kristin Miller (Jefferson City, Mo.) with just under nine minutes remaining. From there, Morningside used a quick 10-0 run to create some separation at 69-51 with six minutes left in regulation. The Mustangs led by as many as 20 down the stretch and preserved the 79-63 win.
Concordia struggled offensively in the loss, hitting just 20-of-72 shots on the day for 27.8 percent. The Bulldogs were 17-of-21 (81 percent) at the foul line, but managed just 6-of-29 (20.7 percent) shooting from deep.
Katie Rich (Tilden, Neb.) was the only player in double figures with 17 points. Rich also added seven rebounds. Miller finished with nine points and seven boards, while Lori Laboda (Parker, Colo.) delivered nine off the bench for the Bulldogs.
Morningside College placed four players in double figures on the day. Chelsie Trask had a double-double of 13 points and 14 rebounds, and Bobbi McManaman also scored 13 for the Mustangs. Tanaeya Worden and Brittany Alfredson added 10 apiece for Morningside College.
Concordia hosts Nebraska Wesleyan on February 16 at 6 p.m. It will be Senior Night at the Health, Human Performance and Athletic Center.