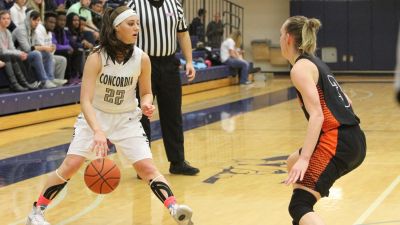 SEWARD, Neb. – Visiting Doane put an end to the Bulldogs' series dominance with a scorching shooting performance. The Tigers stunned the seventh-ranked Concordia University women's basketball team, 91-55, inside a building that had housed only eight Bulldog losses since the beginning of the 2011-12 season.
Tenth-year head coach Drew Olson's program fell to Doane for the first time in more than five years. In the process, Concordia dropped to 15-6 overall and 10-6 in conference action following its second-straight defeat. It was just its second home loss of 2015-16.
"(Doane) just played a whole lot better. They played as a team," Olson said. "They moved the ball and they shot well."
Concordia endured an excruciating first-half stretch during which Doane went on a 33-3 run spurred by white-hot guard Hanah Barnard. The Bulldogs played into their rivals' hands by committing 11 turnovers over the game's first 20 minutes. Barnard proved to be one of the biggest beneficiaries, storming by her season average of 14.0 points before the two sides reached the halftime break. By the time the miserable second quarter concluded, Doane led 72-39.
Barnard and the Tiger shooting emerged as stories of the night. Doane (13-10, 6-9 GPAC) had entered the contest averaging 68.5 points and shooting 31.2 percent from beyond the arc. They dwarfed those numbers on Wednesday, making 13 of 21 shots (.619) from 3-point range. Barnard sank all four of her 3-point attempts on her way to a game high 26 points. She teamed with Heather Broman (21 points, eight rebounds) on an effective inside-outside punch.
Very few things went right during the first half. Brenleigh Daum nailed a trey and then Doane proceeded to score the next nine points in a row. Concordia actually recovered to take a 13-11 lead before the wheels came off. Barnard dropped in 12 points during a period of less than four-and-a-half minutes spanning the latter stages of the first quarter and infancy of the second stanza.
Daum served as one of the lone bright spots. She delivered four long balls and went for a team high 12 points. Meanwhile freshman Quinn Wragge, who had sizzled in her previous four games, was harassed into 3-for-9 shooting from the field. She finished with eight points and two rebounds.
The Bulldog perimeter defense again suffered without 2014-15 GPAC freshman of the year Mary Janovich, who missed her third-straight game due to injury. Concordia has surrendered a combined 27 triples over the past two outings.
Next up is a trip to the 65th annual Concordia Invitational Tournament. In the event's opening game, Olson will match wits with his former graduate assistant and now Concordia Ann Arbor head coach Thad Sankey. The Bulldogs and Cardinals will tip off at 1 p.m. CT from Concordia University Chicago on Friday.
The electric energy of CIT may be just what the Bulldogs need after consecutive league losses.
"We have to move on. We have to figure out how to win together," Olson said. "It's up to them to figure out how to play as a team and find ways to win with this group."