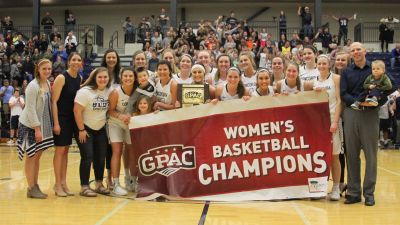 Greatly admired Hall of Fame basketball coach John Wooden made famous the quote, "It is amazing how much can be accomplished if no one cares who gets the credit." Such a quote perfectly embodies what the 2017-18 Concordia women's basketball team stands for.
It's not an easy thing to do, but 12th-year head coach Drew Olson has assembled a selfless team of stars who have taken on the personality of their coach. No need for wild celebrations after winning CIT or clinching another outright GPAC regular-season title. Those are the expectations. Win with class and never worry about who scores.
Says senior Dani Hoppes, "During a game, we're all in for the team. We're all in for the win and to get better in that game. Whoever's playing well is probably going to get more minutes. The awesome part is that everyone's OK with that on this team. We're excited for each other."
Go ahead and look. You won't find any egos. A second team All-American as a freshman last season, Philly Lammers is about as humble as they come. Olson's up-tempo system has allowed for nine Bulldogs to play more than 15 minutes per game. Selflessness is a must.
It's obvious this team has talent, but the GPAC championship season and game-to-game excellence would not be possible without positive attitudes and a team-first approach. There are games where the matchup would seem to allow Lammers to easily score 30 or more points. She's a dominant player, but it always comes down to: what's best for the team?
"I think it's a really special group," Olson told the Lincoln Journal Star earlier this season. "It's a group of some tough players that have experienced a lot of big-game moments, so they have great composure when the game's on the line, and great composure when we're down, when we're facing adversity. And I think the biggest thing is they really love each other, and care for each other and push each other to be at their best."
The togetherness of this team combined with the limitless number of weapons has given opponents nightmares. Lamented Morningside head coach Jamie Sale, "They're a team with great shooters. I thought we played OK on defense and they still scored 88 points."
It really doesn't seem fair does it? You say you're going to pinpoint Lammers (13.2 ppg) as the player you have to stop? You will still have to account for five other players who average 9.5 points or more per game: Quinn Wragge (13.0 ppg), Brenleigh Daum (10.4 ppg), Hoppes (10.0 ppg), Taylor Cockerill (9.6 ppg) and Mary Janovich (9.5 ppg) and. Each player has reached 18 points in a game at least once this season.
When you're game planning against the Bulldogs, pick your poison carefully.
"We have so many girls who can play," Wragge said. "If you're going to say this girl is a shooter, you have to probably list six or seven. You never know who's going to go off that night. It's crazy. I really don't know how teams prepare for that."
Another aspect that has made Concordia difficult to prepare for has been its ability to change defenses on the fly. As a way of keeping his team fresh, Olson has backed down on the full-court 'gnats-at-a-picnic' zone press that was used for nearly all of last season. The Bulldogs are playing more man-to-man again, but they aren't afraid to do whatever's necessary in a particular game.
In the win at Morningside, Concordia was forced to adjust offensively while going up against a Mustang team that broke tendency and went with a man-to-man defense instead of its usual zone. A team effort helped get the job done, just as it has so many times for this program, one built upon trust.
Said Lammers, "It's definitely a challenge sometimes to play so many defenses with so many different people. I just think about how much of a family we are and how close together we are. We know and trust each other so well that we're able to just flow around and figure it out on the fly and work together."
Added Wragge, "We roll with it and we change. We're good at that. Our identity is in being able to change. We had Mary miss a game. Taylor missed a game. With everything that happens, we've been able to adapt and still figure out how to win and how to perform without them."
It seems so fitting for this team that three different players have each eclipsed 1,000 points in their careers during this season. On lesser teams, 1,000-point club members like Hoppes, Janovich and Wragge would have their chance to be the star. Here, each of them is one of many – and they're OK with that.
Said Hoppes of the flurry of 1,000-point scorers, "It shows a lot about this program and this team. We share the ball. Anyone can score on any given night. It's a cool thing for a lot of people to accomplish that."
The personal achievements are nice, but that's really not what this season is about. There are bigger goals in mind – team goals. Olson hinted at that when chatting with a reporter in Sioux City, Iowa, where the team hopes to make an extended stay during the month of March.
Said Olson, "At this point we've won a conference title but they really didn't care. They want the ultimate goal and hopefully we have a chance at it."
No matter what happens this March, opponents and observers at the national tournament will see a team and program the way that Hoppes saw it during her two seasons at Midland. Said Hoppes, "I just remember there was always so much effort and there was always so much joy for each other. You could just tell it wasn't selfish basketball. They were sharing the ball and excited for each other."