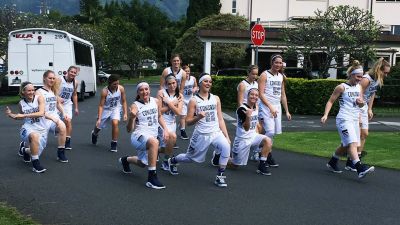 HONOLULU, Hawaii – Monday's opening game at the Hoop N Surf Classic for the second-ranked Concordia University women's basketball team was further evidence of a special team. Fractured into travel groups, the Bulldogs slipped off separate planes and grinded out a 68-57 win over 17th-ranked Indiana Tech in a contest played at St. Francis High School in Honolulu, Hawaii.
It may not have been its most crisp performance of the 2016-17 season, but 11th-year head coach Drew Olson's squad ran its win streak to 14 and triumphed by a double-digit margin for the 12th time this season. Concordia is now 14-1 overall.
"They're a good team," Olson said of Indiana Tech. "I thought our win today was awesome considering the opponent and because we were so out of rhythm. We didn't have the legs to defend like we normally do. Offensively, we couldn't run any of our sets.
"I really thought that was a great win considering everything."
After falling behind 6-1 early on, Concordia rallied back and led nearly the entire afternoon in The Aloha State. The Bulldogs built an advantage as large as 14 points late in the fourth quarter. Though Concordia had an uncharacteristic turnover margin in the red (minus-three), it overcame that with the work inside of freshman Philly Lammers (14 points, 12 rebounds) and sophomore Quinn Wragge (12 points, 10 rebounds). Both players recorded double-doubles.
Those efforts were crucial in an outing when Indiana Tech (11-3) did not appear as mystified by the Concordia press as most foes this season.
"We had some really good performances from some individuals," Olson said. "Brenleigh (Daum) saved us a little bit offensively in the second quarter. Aubri (Bro) played really well. Colby (Duvel) had some good minutes. Philly and Quinn were amazing. Mary (Janovich) played well down the stretch. Seriously, Philly and Quinn dominated."
Janovich turned in an all-around impressive line, going for a team high 16 points to compliment her five rebounds, four steals and four assists. Shelby Quinn added nine points. Daum led all Bulldogs off the bench with seven points. As a team, Concordia shot 41.3 percent (26-for-63) from the floor.
The Warriors, a member of the NAIA's Wolverine-Hoosier Athletic Conference, have actually dropped two in a row against Concordias. Indiana Tech fell, 61-54, at Concordia-Ann Arbor, coached by Bulldog alum Thad Sankey, three days earlier. Keanna Gary spearheaded the Indiana Tech efforts with 19 points and 11 rebounds. But Gary and company got eaten up on the boards by Lammers, Wragge and the rest of the Bulldogs, who outrebounded the Warriors, 51-30. Indiana Tech also shot just 35.6 percent (21-for-59) from the field.
Concordia is making its second appearance in Hawaii in five years. Playing at the same event in December 2012, the Bulldogs defeated No. 16 University of the Cumberlands (NAIA Division I) and Doane
Action from the Hoop N Surf Classic resumes on Tuesday with another matchup with sizzle. The Bulldogs and eighth-ranked College of the Ozarks (Mo.) (11-3), a perennial titan, will tip off at 12:30 p.m. HST / 4:30 p.m. CST from Honolulu. The Lady Bobcats were upset by Menlo College (Calif.), 73-71, on Monday morning at the Hoop N Surf Classic.