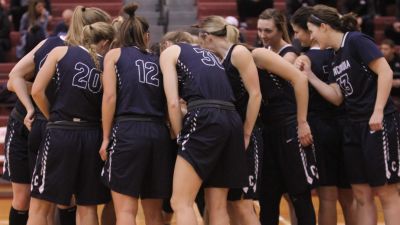 ORANGE CITY, Iowa – If the Concordia University women's basketball team is to repeat as GPAC champions, it's going to have to make some great escapes and avoid tripping over landmines on the road. Even head coach Drew Olson wondered aloud afterwards how his team pulled this one out. Despite trailing by double digits in the second half, the Bulldogs toppled host Northwestern, 84-80, inside the Bultman Center on Friday (Dec. 15) evening.
Olson's squad remains unbeaten at 11-0 overall and 7-0 in conference play. That unblemished mark appeared in serious jeopardy throughout most of Friday's affair. This program just knows how to win.
"Northwestern was phenomenal. They played so well," Olson said. "Really it came down to our kids just staying composed and getting a little bit grittier defensively. We were able to cause a lot of turnovers in the second half. That's really the only way we were able to get stops and that was allowing us to get easy baskets."
All evening, the Red Raiders (8-5, 5-2 GPAC) seemed to have an answer any time Concordia threatened to wipe away its deficit. The Bulldogs waited until the 2:30 mark of the fourth quarter to finally take their first lead of the game. It came as a result of a backdoor layup by Dani Hoppes off the feed from Janovich as part of a 13-2 run that defined the game. Six different Concordia players scored during the splurge that provided a 73-71 lead.
Only when Philly Lammers drained a pair of free throws in the closing seconds could the Bulldogs finally breathe easy. In the final minute, Concordia went 7-for-8 from the foul line and got an uncontested layup from Quinn Wragge to ultimately fend off a Red Raider team that played plenty well enough to claim victory.
The biggest wart on the stat sheet for Northwestern was its minus-14 turnover margin. Point guard Renee Maneman committed seven of the team's 24 turnovers – 18 of which came after halftime. Those miscues were too much to overcome despite the Red Raiders' sizzling 56.3 percent shooting (27-for-48) from the floor. Northwestern managed only 34 points in the second half.
"They played a really good game against us," Wragge said. "When it came down the stretch, we just dug in and had some big stops and made some big plays. It wasn't the most conventional way to win a game but when it came down to it, we got it done."
Wragge is a big time player. She went off for 27 points in a Nov. 18 win at eighth-ranked Dakota Wesleyan. She was similarly effective on Friday, using her quickness to get to the bucket and pour in a game high 20 points. Lammers finished with 17 points, nine rebounds and three steals. Four of the team's five starters pilfered at least three thefts. Janovich proved guilty of larceny on four occasions. Taylor Cockerill (12) and Hoppes also found themselves into double figures in scoring.
Out of the break, Concordia tightened the screws on post player Anna Kiel, also a standout on the volleyball court. Kiel put up 14 of her team high 19 points in the first half. Returning All-American Kassidy De Jong added 17 points and seven rebounds.
The Bulldogs will be back on the road next week when they journey to Point Lookout, Mo., for a top-five clash with fourth-ranked College of the Ozarks (13-0) in a battle of undefeated clubs on Dec. 19. Tipoff from Keeter Gymnasium is set for 6 p.m. CT. Concordia also met the Bobcats in Hawaii last season with the result being a 78-68 Bulldog victory. The Bulldogs own noteworthy road wins over No. 8 Dakota Wesleyan and No. 9 University of Jamestown in addition to Friday's victory.
Said Wragge, "I think it's going to be fun going down there. It's a lot of team bonding. We have six games in a row on the road against good teams. We're just going to prepare for those games one-by-one and keep going."