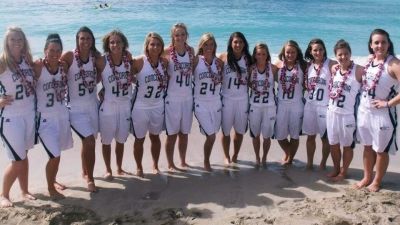 SEWARD, Neb. – The red hot second-ranked Concordia University women's basketball team will escape the icy cool Nebraska temperatures and journey to island paradise. For the second time in five years, 11th-year head coach Drew Olson's program will take part in the Hoop N Surf Classic in Honolulu, Hawaii. The Bulldogs will fly out of Omaha early Saturday morning en route to the Aloha State. Concordia will play two teams ranked in the top 20 of the national poll (see schedule below).
Hoop N Surf Classic schedule
Monday, Dec. 19 – vs. (17) Indiana Tech, 12:30 p.m. HST / 4:30 p.m. CST
Tuesday, Dec. 20 – vs. (8) College of the Ozarks, 12:30 p.m. HST / 4:30 p.m. CST
*Both games will be staged at St. Francis High School in Honolulu
Owner of a 13-game win streak, the Bulldogs (13-1, 8-0 GPAC) will attempt to claim their fourth and fifth wins over ranked opponents. Concordia has already defeated No. 1 Dakota Wesleyan, No. 9 Morningside and No. 25 Haskell Indian Nations University (Kan.). The team's lone loss came in the season opener against then top-ranked Marian University (Ind.). The Bulldogs also own four wins over squads that were receiving votes at the time the games were contested.
Concordia also played at the Hoop N Surf Classic in December of 2012. At the event, the Bulldogs moved to 14-0 by toppling NAIA Division I No. 16 University of the Cumberlands (Ky.), 59-53, and then GPAC rival Doane, 66-53. Prior to 2012, the program's most recent trip to Hawaii occurred in 2005 as part of Todd Voss' final season as head coach. The 2005-06 squad went 1-1 at the Hoop N Surf Classic.
The Bulldogs have been so dominant this season that only two of their 13 victories have come by single-digit margins. The large spreads have made for frequent substitutions. Twelve different players average more than 10 minutes per game. While playing only 17.9 minutes per game, freshman Philly Lammers is averaging 12.9 points and 5.9 rebounds and is shooting a national best 66.0 percent from the floor. In GPAC games only, junior Mary Janovich has paced the Bulldogs with 14.4 points per game.
Indiana Tech (11-1), member of the Wolverine-Hoosier Athletic Conference and located in Fort Wayne, Ind., has also suffered just one loss so far this season. The Warriors possess one of the nation's most potent offenses. Among all NAIA Division II teams, they rank first in field goal percentage (.507), third in 3-point field goal percentage (.415) and fourth in scoring offense (88.6). Star guard Haley Cook (19.2 ppg) and company will go up against a Bulldog team that forces 27.9 turnovers per game.
Head coach Becky Vest's College of the Ozarks program has a long established tradition. The Bobcats (11-2) were recently defeated by Morningside, 83-63, on Dec. 3. Like Concordia, College of the Ozarks has scoring balance. Five Bobcats average 8.4 points per game or more, led by the 15.3 of guard Cass Johnson. Ozarks played in the national championship game as recently as 2014 when it fell to Saint Francis (Ind.), 75-68.
Concordia will have a break in its schedule after Tuesday's game versus College of the Ozarks. Following the Hoop N Surf Classic, the Bulldogs will welcome Briar Cliff to Walz Arena for a 6 p.m. CT tipoff on Wednesday, Jan. 4. Concordia was originally scheduled to play at Dordt on Friday (Dec. 16), but the game was postponed until Jan. 6 due to impending inclement weather.
Projected lineups
Concordia: 13-1, 8-0 GPAC
G – Shelby Quinn: 7.6 ppg, 4.9 apg, 2.9 rpg, .837 ft%
G – Dani Andersen: 10.8 ppg, 1.7 spg, .406 fg%, .375 3-pt fg%
G – Mary Janovich: 11.7 ppg, 3.4 rpg, 3.0 spg, .530 fg%
F – Quinn Wragge: 10.8 ppg, 4.6 rpg, 2.3 spg, .566 fg%
F – Philly Lammers: 12.9 ppg, 5.9 rpg, 2.6 spg, .660 fg%
Indiana Tech: 11-1
G – Bella Lozano-Dobbs: 3.9 ppg, 4.6 apg, 2.5 rpg, .514 fg%
G – Haley Cook: 19.2 ppg, 3.8 rpg, 3.5 apg, 2.4 spg, .478 fg%
G – Taylor Seiss: 13.2 ppg, 3.6 rpg, .449 fg%, .400 3-pt fg%
F – Kendall Knapke: 13.6 ppg, 5.8 rpg, 1.3 bpg, .569 fg%
C – Keanna Gary: 15.5 ppg, 10.8 rpg, 1.6 spg, .648 fg%
College of the Ozarks: 11-2
G – Hannah Wisdom: 10.4 ppg, 3.2 apg, .431 fg%, .792 ft%
G – Cass Johnson: 15.3 ppg, 3.5 rpg, .404 fg%, .385 3-pt fg%
G – Kelsie Cleeton: 12.5 ppg, 10.2 rpg, 2.5 spg, .371 fg%
F – Maggie McMenamy: 5.8 ppg, 2.9 rpg, .437 fg%
C – Lakin Simmerman: 11.8 ppg, 6.2 rpg, .588 fg%, .623 ft%