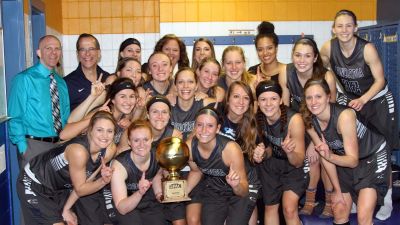 All Concordia women's basketball did in 2016-17 was reaffirm its status as one of the elite programs in the nation. The only NAIA Division II program that can claim at least three national semifinal appearances over the past six seasons resides in Seward, Nebraska.
The latest Bulldog squad to remain as one of the last four standing drew rave reviews for its immense depth, relentless zone press and a team-wide selflessness that meant no one cared who got the credit. One year after a 'rebuilding' season that ended with a first-round national tournament loss, GPAC coach of the year Drew Olson had reloaded the program with a very different set of key players than the ones that powered the national runner-up finish in 2015.
"It's a lot of pride in what we're doing," Olson said. "I'm very thankful for the kids we've been able to have in our program and what they've done for our program. I think it speaks a lot to their character and their hard work. It's three (national semifinal advancements) in six years and it's almost three different teams. The Bailey (Morris), Tracy (Peitz) class was freshmen the first round (2012) and seniors the second time around (2015). All three were very different teams. It's cool to be able to say that."
At the end of the road, the 2016-17 team's list of accomplishments included not only a national semifinal appearance, but a No. 3 postseason national ranking, GPAC regular-season and tournament titles, a 26-game winning streak, the third most overall wins in school history (34-3) and yet another Concordia Invitational Tournament title. Some of the highlights along the way were the dismantling of Morningside in Sioux City, the GPAC tournament championship nailbiting win over Dakota Wesleyan in front of a spirited Walz Arena crowd and the three national tournament victories.
Additionally, the players on this year's team are unlikely to forget the surprise postgame locker room appearance of President Brian Friedrich after the Bulldogs clinched the outright GPAC regular-season championship with a win at Briar Cliff on Feb. 11. Toting the shiny gold trophy, Friedrich emerged from behind a wall, causing an uproar inside the visiting locker room. No one had any idea.
It was the type of storybook season that can't be taken for granted. Concordia turned the perennially powerful GPAC upside down with its revamped press that Olson unleashed after the season had already begun. Of the Bulldogs' program record 19 conference wins, a preposterous 15 of them came by margins of 20 or more points.
"Truthfully, I thought we were going to be pretty good," Olson said. "But yeah, I didn't think we were going to be that dominant to be able to beat teams by a consistent 20 to 30 points just about every game. To almost go undefeated in the conference is a pretty impressive feat. I was really proud of them."
Significant depth has been a characteristic possessed by many Concordia teams during Olson's 11-year tenure (six of which have finished seasons with top 10 national rankings), but this year's edition also had its share of star power. Don't believe what the NAIA All-America teams showed. Mary Janovich, Philly Lammers and Quinn Wragge are each some of the best players at their respective positions, in the nation. And Dani Andersen is liable to go off at any time, like she did when she nailed seven treys versus Saint Xavier in the national semifinals.
"Beast" was the most common word used by coaches and teammates to define Lammers, who led the team in scoring (13.2), rebounding (7.0) and blocked shots (1.24) on her way to GPAC freshman of the year accolades. She showed no fright on the national stage, posting 20 points and 14 rebounds in the second round win over Cardinal Stritch. The additions of Andersen, a transfer from Midland, and Lammers were the perfect compliments to the existing roster.
"That's why I knew we were going to be pretty good," Olson said. "I knew what a great player Dani was. We knew that we were going to get Mary back from injury and I kind of knew this incoming class was going to be really good. I thought Philly, Colby (Duvel) and Maggie (Goltz) would be great pieces of this team. You never know what freshmen are going to be like when they come. Some don't really adapt to the physicality of the college game or maybe it's understanding the system or whatever. Philly came in and it was immediate. You just knew what a dominant player she was going to be."
The seniors may appear to be the unsung heroes, but Olson has been quick to sing their praises. Seniors like point guard Shelby Quinn and reserves Devin Edwards, Laurel Krohn and Erin Vieslemeyer were the glue that kept the Bulldogs together. Their leadership helped Concordia maintain an unflappable game-to-game focus. Said Olson of the seniors, "They did a lot of things that went unnoticed to outsiders."
Of course, the only real disappointment was again coming up agonizingly short of the ultimate prize. Olson has accomplished just about everything that can be attained. The only thing missing is a national championship, something the Bulldog women's basketball program remains in search of. This time around, Concordia had to tip its cap to Saint Xavier, which drained 16 treys while eliminating the Bulldogs in the semifinals.
"To be able to win three games at the national tournament is really special," Olson said. "I don't want to take that for granted. At the same time, we were that close. That's the hard thing about college athletics. It's not like we laid an egg or played bad. I thought we played a really good game. It's just that Saint Xavier was amazing. It's just kind of hard for our kids to accept that and take that in. We know at the end of the day that it was an awesome season and we have nothing to be ashamed. Yes, it definitely fuels our fire that we were that close. We feel like we still have something to prove next year."
With four starters returning for 2017-18, Concordia is a virtual lock for a top-five preseason national ranking. Olson will spend the offseason shaping a new identity for another Concordia team hopeful of a big postseason run. Every year at this time, Olson likes to stress that each season is different. "You can't just assume because we have a lot of people coming back that it will be the same thing," says Olson.
A senior-to-be, Janovich has the right attitude. Says the native of Gretna, Neb., "I really believe we'll be in position to accomplish special things again next March. It's time to go to work for next season. Concordia is definitely a special place and I'm so blessed to be a part of such a great program with such amazing people."